A Guide to Designating and Updating Your Beneficiaries
When was the last time you updated the designated beneficiaries on your insurance policies and retirement accounts?
If you can't remember, you're not alone. Financial advisors say that out-of-date beneficiaries are a common and costly error.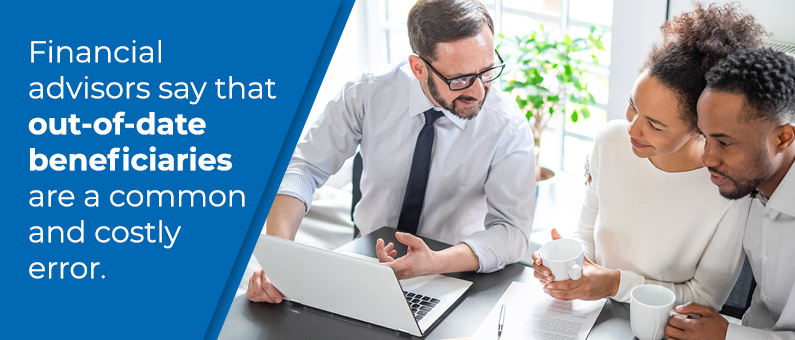 This is because the instructions in your will don't override the designated beneficiaries. So if you got divorced but never removed your ex-spouse as the beneficiary, your asset will still go to your ex, even though you may have re-married or made your children your sole heirs in your will.
In this guide, we'll help you understand what a designated beneficiary is, why it's important, and how you can keep yours updated and organized.
What is a designated beneficiary?
A designated beneficiary is who or what will receive your assets from certain contracts and accounts, such as life insurance policies, annuity contracts, 401(k) plans, or IRAs. Designated beneficiaries can be a person, such as a spouse or a child; an estate; trust; or charity. In addition to naming specific individuals, you can also use language like "the person I'm married to at the time of my death" or "my descendants who survive me."
Naming a designated beneficiary is a fairly simple and straightforward process. You just need to make sure you've correctly provided your beneficiary's full legal name or used specific language like the phrases offered as examples above.
Naming a secondary/contingent beneficiary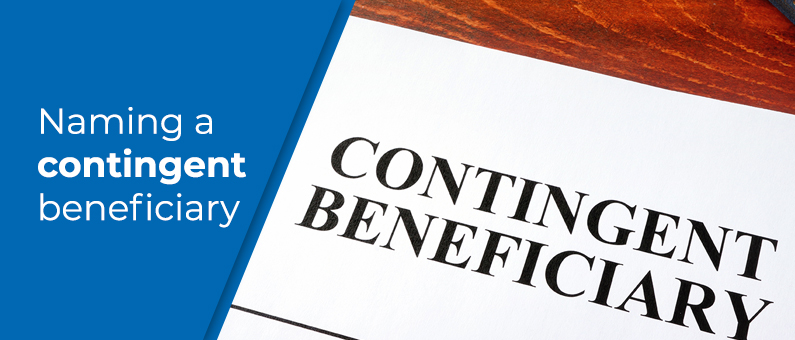 You can also select a beneficiary to receive your assets if your primary beneficiary is no longer living at the time of your death or refuses to accept the inheritance. For example, your primary beneficiary could be your spouse and your back-up could be a child or trust for multiple children.
Reviewing and changing your designated beneficiary
Every so often, a major life event will be cause for changing your designated beneficiary. For example, a marriage or divorce, death of a loved one, or the birth of a child could all be reasons to make a change.
Keeping your designated beneficiaries up-to-date is an important part of estate planning. It gives you peace of mind that the people you want to take care of, or the institutions you want to support, will get the assets you intended for them. It also ensures a swift and smooth transfer of assets. Here are a few other natural times to review your designated beneficiary:
Upon receipt of your annual beneficiary notification
If you make changes to your will or trust
Roll over a 401(k) or IRA or Roth IRA conversion.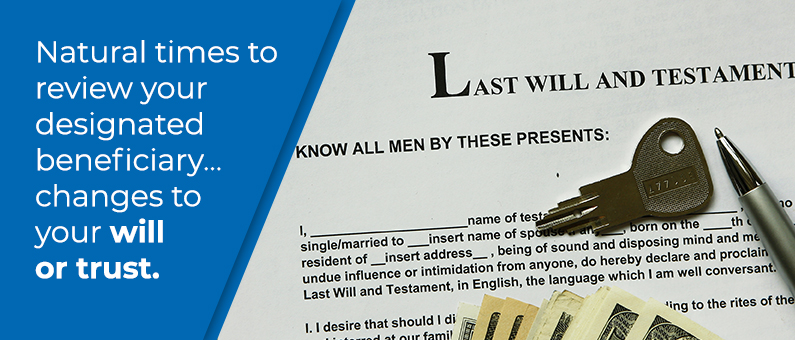 What does "per stirpes" designation mean?
If all of your children survive you, your assets will be divided equally among them.
If one or more of your children predeceases you, that child or children's portion of the inheritance will be divided equally among their surviving children (your grandchildren).
If there are no grandchildren, the predeceased child's portion will be divided equally among his/her surviving sibling(s).
Common Beneficiary Mistakes and How to Avoid Them
Not naming a beneficiary: If you don't have a designated beneficiary, your assets may go to your probate estate (especially if you're not married), which has income tax ramifications for your heirs as well as the hassle and expense of hiring a lawyer and going to court to claim their rightful inheritance.
Naming a minor beneficiary: If you die with a designated beneficiary who is under 18, a court-appointed conservator will be named to manage the money until your beneficiary turns 18. The costs of this arrangement can eat into your child's inheritance.
Typos in your beneficiary's name: It's very important to spell out your beneficiary's name exactly as it appears on their birth certificate or current driver's license, etc. People also change their names over time, so it's important to keep this information up-to-date.
Not updating your beneficiaries as needed: If you don't have the right beneficiary designated, your asset could go to the wrong person, such as a sibling instead of a spouse, or to an ex-spouse instead of the current one.
Palisades Credit Union is your local financial partner.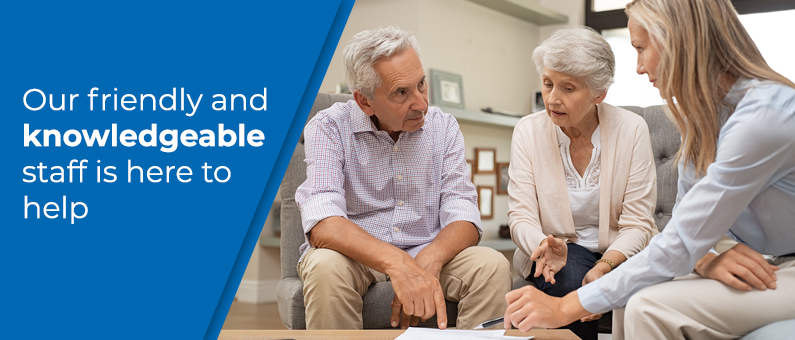 As your local credit union, we offer Traditional and Roth IRA accounts to help you save for retirement. Our friendly and knowledgeable staff is here to help with any questions you may have about designating beneficiaries for any of your Palisades accounts. Contact us today or visit one of our locations in Nanuet, New City Branch, or Orangeburg.
« Return to "Blog"
Go to main navigation