Budgeting For A Car
Whether you're looking to buy your first car or upgrade your current vehicle, it's important to consider every aspect of what buying and running a car looks like before you make a purchase.
Besides the actual price of the car itself, there are many other ownership costs to include in your budget. According to AAA, the average cost of owning and operating a new car in 2022 was just over $10,000.
While the price of the car will vary, it's generally recommended that you spend no more than 10-15% of your monthly income on your transportation costs, including gas, insurance, and any car payments you might have.
Budgeting for car expenses can feel overwhelming, so we're here to walk you through the most common costs you can expect when you're in the market for a new vehicle.
Insurance
One of the biggest car ownership costs you'll have to pay every year is your insurance. You're required to carry liability insurance in almost every state, but some drivers also choose to add collision or damage coverage to protect themselves should repairs be needed following an accident.
Insurance premiums vary based on where you live, your age, and your driving history, along with the type and age of car you buy. When you're thinking about the cost of car ownership in New York, you need to factor in that insurance averages around $1,371 a year for minimum coverage and $3,139 for full coverage—this is roughly 56% higher than the national average of $2,014 for full coverage.
To save money on your car insurance, you could consider dropping collision and comprehensive coverage if your vehicle is older and valued at less than 10 times what you would be paying for this coverage. If you were to make a claim in this situation, it's likely that what you're paying in premiums and deductibles is actually more than what your car is worth in total.
For people with some savings for car costs, opting for a higher deductible can save you on monthly premium costs. You could even reach a point where saving the difference between what you would have paid at a lower deductible and what you currently pay with a higher deductible could actually be enough to cover your deductible in total should you need to make a claim.

Another good way to save on your car insurance is bundling it with other insurance you hold with the same provider. Home insurance or renter's insurance companies often have car insurance policy options too and will give small discounts if you take out multiple policies with them. Student discounts or safe driver discounts are also a good way to save on your monthly premiums.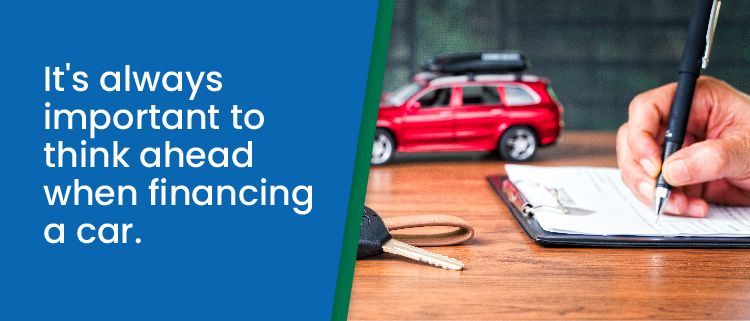 Loan Payments
As soon as you drive your new car off the lot, its overall value drops—this is known as depreciation. After even one year of owning your car, you could see a drop in value of up to 25%. Buying used will almost always give you better value for money than a brand-new vehicle.
This is why it's always important to think ahead when financing a car. If you were to have an accident, you may not have enough money to pay off the remainder of your car loan if it's totaled, or if you need to sell it for some other reason. Always check your insurance coverage too as most policies only cover the value of the car at the time of an accident, not the full replacement cost.
One of the best ways to prevent an "underwater loan", where your car is worth less than what you have left to pay, is to put down a bigger down payment when you make your purchase. 20% of the car's value is a good starting point.
Use an auto loan calculator before you make a decision, as this will also factor in current loan rates, the loan length, and your down payment, and ultimately give you a more accurate estimate of what you'll be paying each month.
Maintenance and Repairs
Regular maintenance is the most effective way to ensure the long-term reliability of your car. The average maintenance cost for most vehicles is about nine cents per mile, with bigger cars like SUVs and trucks slightly more.
Your maintenance needs will depend on the car's age, condition at purchase, and how and where you drive. If you travel around 12,000 miles each year, you're likely looking at around $1,000 annually for maintenance.
Average repairs and maintenance throughout the year that need to be budgeted for as part of your car ownership costs include:
Oil changes - $25-60 each
Windshield wipers - $50-80 with labor
New battery - $60-200
Brake pads - $150+ not including labor
New tires - a set of four can easily run beyond $1,000
Tire rotation - $40-50
Air and fuel filters - $20+
Always know where your closest auto repair shops are and look for discounts or specials they may have.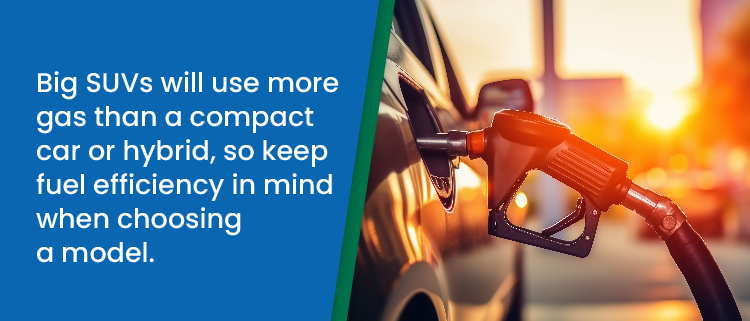 Fuel
Gas costs continue to fluctuate, with the average cost in 2021 around $179 per month or $2,148 a year. In August 2023, New York averages were around $3.90 a gallon.
Remember that big SUVs will use more gas than a compact car or hybrid, so think about fuel efficiency when deciding on a car model. You can save even more when using apps like Waze or GasBuddy to compare costs at local gas stations and plan your route according to where you can refuel for less money.
Driving at slower speeds will improve your miles per gallon (MPG)—for every 5 mph over 50 mph, you're paying the equivalent of 16 cents more per gallon of gas. Lightening your overall car load and making sure your tire pressure is correct can also improve MPG. For every 100 lbs of weight added, you lower your MPG by around 1%. So keep your heavy loads to a minimum.
Take advantage of local fuel rewards through apps like GasBuddy or local stores like Stop and Shop in Nanuet, New City, and Orangeburg.
Tolls
Depending on where you live, you may find yourself using toll roads fairly frequently and these costs can quickly add up.
In Rockland County, Bear Mountain Bridge is $1.25 for E-ZPass holders and $1.75 in cash for passenger vehicles. Driving from New York City to the Pennsylvania state line will cost you between $21 and $25. Before making a bigger trip, you can use a toll and distance calculator to see what your expected costs might be.
Take advantage of E-ZPass discount plans if you drive on toll roads often. This can save you significant dollars over a year of driving around the state and beyond. E-ZPass works in other surrounding states, so frequent drivers should consider picking one up.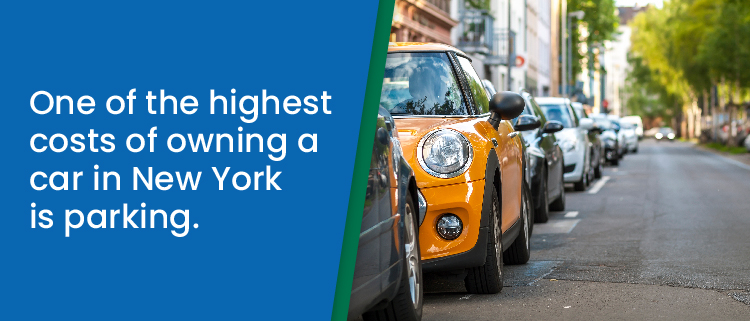 Parking
One of the highest costs of owning a car in New York is parking. Street parking in NYC can be anywhere from $1.25 to $7.50 an hour, while average monthly parking can be around $500. If you're using a valet service, that will cost you even more. Apps like ParkNYC let you skip meters and pay more easily directly from your phone.
Throughout Rockland County, there are 23 park and ride services that can save you from paying more expensive city fees. Some require permits and fees paid ahead of time, while others can be used as and when you need them.
Start saving for your next car
At Palisades Credit Union, we're here to help you find the best financing for your situation and get the car that's right for you.
Take a look at our current loan rates for Rockland and Bergen County, and apply for your new auto loan today. Contact us or stop by one of our Nanuet, Orangeburg, or New City branches to meet with our team.
« Return to "Blog"
Go to main navigation