Buy Now Pay Later vs Credit Cards
Whether you're hitting the shops for a "treat yourself" day or stocking up on gifts for your loved ones, you're more than likely going to reach for one of your credit cards rather than paying in cash when you get to the checkout. But with the rise of Buy Now Pay Later services, handing over your plastic doesn't have to be your only choice.
To help you make the smartest decision for your financial situation, we're comparing Buy Now Pay Later services with standard credit card options. Let's dive in!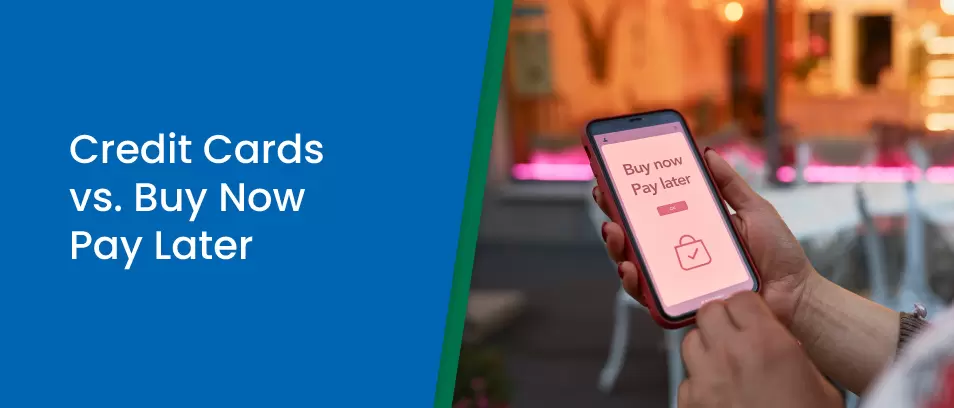 How Does Buy Now Pay Later Work?
You may have seen logos for companies like Afterpay, Klarna, or Affirm when you've gone to pay for items both instore and online. These are all Buy Now Pay Later, or BNPL, providers, but how exactly does this work?
BNPL operates like a small personal loan on your purchases, between yourself and the retailer. After you've paid an initial deposit on your balance, typically around 25% of the total amount, you'll be charged in smaller installments over several months until the total is cleared. This kind of financing usually comes with no interest or fees, unless you fail to make your payments on time.
Credit cards, on the other hand, continue to accrue interest on the balance at the card's annual percentage rate (APR) until it's fully paid. There's only a requirement to make the minimum payment each month, so if you hold a balance, you could end up paying quite a bit more than your original purchase costs.
It's no wonder, then, that so many people are turning to these services when it's a choice between credit cards vs BNPL.
Pros of BNPL
One of the biggest reasons that people choose to use BNPL over a credit card is that there's no hard credit check when you apply. This means that there's no drop to your credit score and, if you don't have the best credit history, you may still be approved for BNPL. This can be particularly useful if you want to buy on credit but are struggling to open a credit card.
Along with little to no interest and no annual fees, BNPL services typically offer cash back rewards for you to make money out of anything you spend. You won't find premium rewards like you would with a credit card, but if that's not a problem, BNPL can be a great alternative.
Most BNPL providers offer digital services only, but some do also offer a physical card. You can apply online quickly and easily, with most people being approved within a few minutes.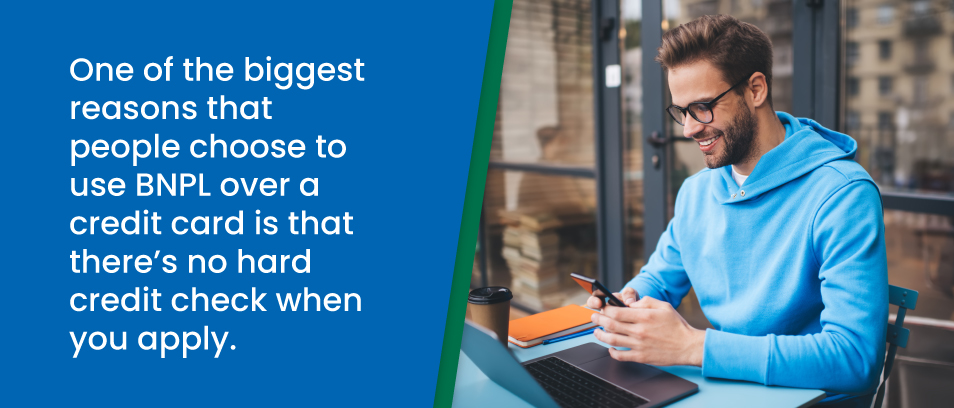 Cons of BNPL
It's not all sunshine and rainbows with BNPL, though. There are several significant disadvantages that you'll need to keep in mind before you sign up.
Without a physical card or obligation to pay instantly, it's incredibly easy to overspend when using one of these services. Not all retailers accept BNPL too, so that's worth remembering before you head out for a shopping trip.
You're not able to carry a balance like you would with a credit card, so you're locked into the installment plan that you set up at the beginning. If your financial situation changes halfway through the repayment plan, this could be a problem.
An important drawback to keep in mind is that BNPL doesn't build credit for you, but any late payments can be held against you and negatively impact your credit score. You also won't be able to make use of many of the perks of credit cards, like different types of rewards and zero-fraud liability protections.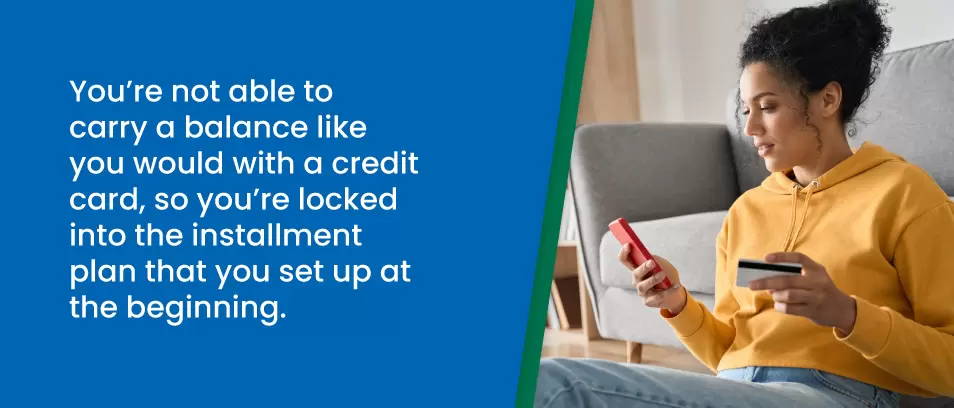 Using A Credit Card Instead
While there are certainly many perks that come with BNPL services, a traditional credit card may still be a better option for you.
Pros of Credit Cards
If you're trying to decide between credit cards vs Buy Now Pay Later, one of the biggest pros is that credit cards are accepted anywhere that takes cards. They help you to build your credit score, especially if you're able to pay the balance of each month.
And if you can't pay off that balance for any reason, you can carry that over to the next month. All you're responsible for is meeting the minimum payment. Interest can start to add up, but you may be able to extend an interest-free period on new credit cards that you've recently opened.
Many credit cards often come with additional rewards. Zero liability fraud protection, extended warranties, cashback, and even discounts at particular retailers are all perks that you can look for in a credit card, like the Palisades CU Platinum Rewards Mastercard.
Thanks to the increase in popularity of BNPL services, some credit card companies are now offering a BNPL service directly through their credit cards. If you're already a customer, you'll be able to get the best of both worlds – a physical and digital card, all with the ability to pay in installments for your purchases.
Cons of Credit Cards
When you choose to open a new credit card, the first hurdle to get through is the credit check. While BNPL usually doesn't require this, any credit card company will want to do a hard pull on your credit report to make sure you're reliable when it comes to repayments.
That can often make the eligibility requirements more difficult to overcome than with a BNPL service. Your current income, credit history, and any existing debts that you have will all be taken into consideration before an approval is made. This can take some time, so if you need to make a purchase soon, a credit card may not be the best choice.
You'll also be subject to interest on any balance that you carry on your credit card from month to month. Some providers may also charge you an annual fee, along with any late payment fees if you fail to repay your minimum balance on time.
These late payments can be highly damaging to your credit score, so it's always best to spend within an amount that you know you can pay back quickly.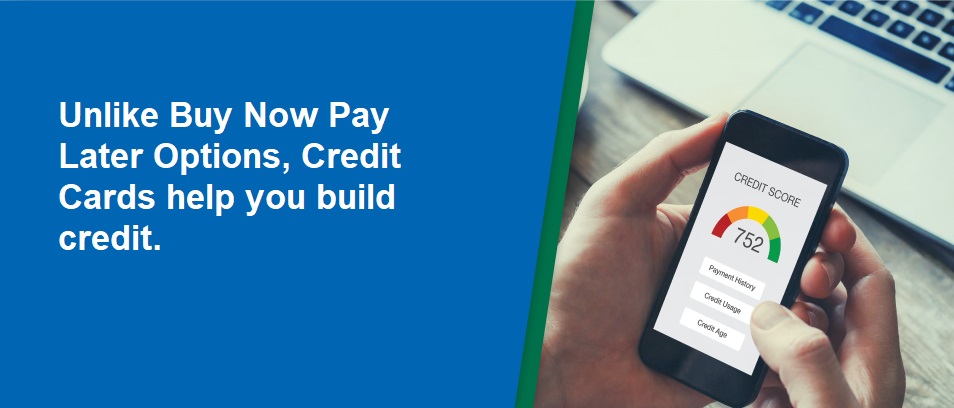 Making The Right Decision For You
If you're new to the credit system or in the process of building your credit, a BNPL service can be a good way to start buying what you need on credit. You won't be contributing positively to your credit score, but it can help if you're still taking steps to be approved for your first or a new credit card.
But ultimately, credit cards have more perks than any BNPL provider can give to their customers. They offer more flexibility when it comes to repayments and if you can pay off your balance each month, there won't be any interest racking up on your account.
A credit card without an annual fee, like the Palisades Mastercard, also means that you won't be paying anything extra to make use of all the features and benefits the card comes with.
Most importantly, you'll be continuing to build your credit score each time you use and pay off your card. If you ever need to take out a loan, like a mortgage or personal financing, having a good credit score will be essential.
Apply For A Credit Card With Palisades CU
As a credit union, Palisades exists to meet the needs of its members, and that includes you. If you're concerned about not being approved for a credit card, talk to one of our team to see what we can do for you. We've helped many people with less-than-perfect credit, so contact us today or apply for a credit card online.

Related Blogs:
Reasons to Shop with a Credit Card
How Can I Pay off My Credit Card Debt Faster?
« Return to "Blog"
Go to main navigation