Buying A Second Home? Here Are Some Things To Consider
Even in today's housing market, a second home can be a great long-term investment, or a way to earn extra income on the side by renting! However, there are some things to consider when buying a second home.
When shopping around for that second home, it is important to think about location, the current housing market, your personal finances and how you plan on financing your second home. Before you apply for a loan to purchase a second home, take a look at these things to consider.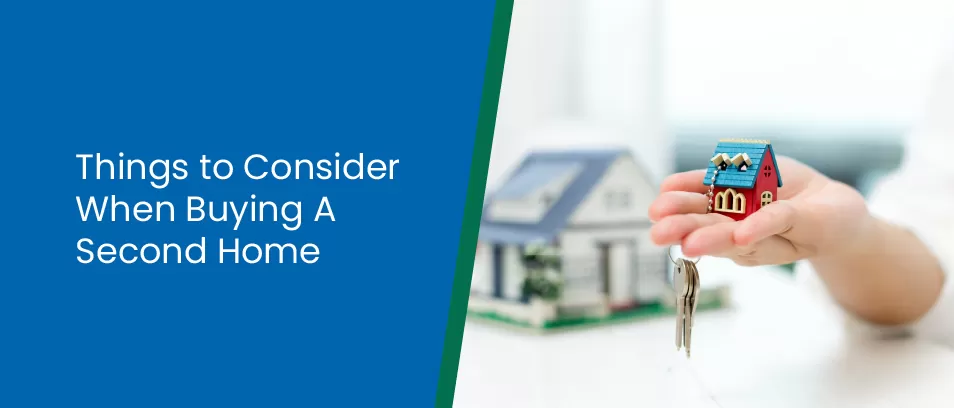 Know How Much You Can Afford
Buying a second home isn't that much different than buying your first home. Mortgage lenders calculate affordability based on your personal information, including income, expenses and size of down payment. A standard rule for lenders is that your monthly housing payment (principal, interest, taxes and insurance) should not take up more than 28 percent of your income before taxes.
How You Plan To Use The Home
When factoring in whether you can afford a second home, you must think about what the purposes of your second home is. If you're buying an investment property to rent out, you will have rental income to consider. If you're buying a vacation home that may or may not bring in additional income, you will need to factor in the maintenance and upkeep costs. A vacation home may be harder to fit into your budget than a rental property. You may want to consider renting out your vacation home while you are not there to help offset the cost.
If you're buying a vacation home that you will not be using during the winter, you will want to winterize your home while you are away.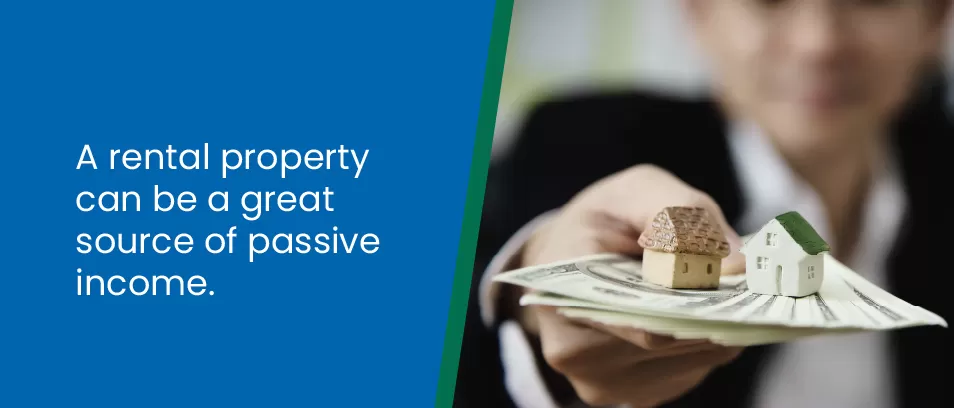 Where You Want To Buy A Home
The location of the second home can have a big impact on your budget. If you are purchasing a home in a city or state that you are not familiar with, research the area to understand the local housing market. You should also work with a local real estate agent who can help you find a house that meets your needs.
Interested in a vacation home with the possibility to rent? Many Homeowners' Association (HOA) communities, and condos have rental restrictions and guidelines. Be sure to read the fine print before you make a purchase.
Property Maintenance
In addition to the cost of maintenance, you will need to think about who will maintain the property. If you are not able to do so yourself, you may need to hire a property manager. A rental property may require less maintenance because someone is living there, but they will still need routine maintenance.
For homes with an HOA, the association may be responsible for a certain level of maintenance, but if you are unable to routinely check on the property, you may want to hire a property manager or ask a trusted friend or neighbor to keep an eye on your property and let you know if anything need attention.
Tax Implications
Owning a second home can have implications on your taxes. You will need to pay property taxes on your second home. If you plan to rent your home out to tenants, you will need to pay income tax on your rental income.
You can claim the mortgage interest as a tax deduction. For rental properties, you may also be able to claim repairs, maintenance, and other operating costs. Tax implications differ depending on how you are using your second home. Discuss tax deductions and other tax implications with your accountant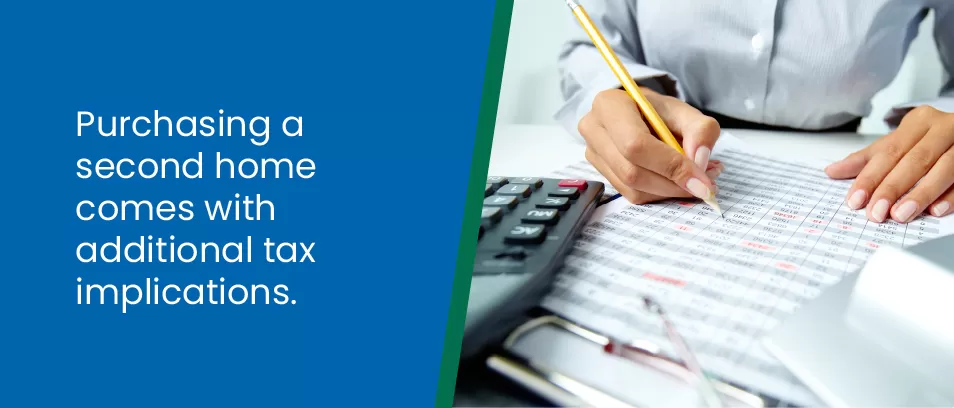 Additional Ongoing Costs
Aside from maintenance, taxes, and potential HOA fees, there are other costs to consider when buying a second home.
Insurance
In addition to insuring your primary residence, you will need to insure your second house. Homeowners insurance on a second home can cost more than if the home was your primary residence. Some policies may require additional coverage, depending on how the home will be used.
Utilities
For a rental home, you will be able to pass this cost along to your tenants.
You will not be able to recoup the cost of utilities for a vacation home if you are not renting it out. Budget for paying for additional utilities bills each month. You may want to investigate putting certain utilities, such as cable and internet on hold when you are not there.
Travel
If you purchased a vacation home, which is likely some distance from your existing home, you will need to pay to travel to and from the house. Though it may be easy to budget for a planned trip, you should keep some money aside in case of an emergency and you need to travel to your second home unexpectedly.
Benefits Of A Second Home
While owning a second home does come with various expenses, it also comes with several benefits. A rental property can be a great source of passive income, especially if you hold on to it and continue to rent even after you pay off the mortgage. A vacation home makes vacation planning easier and saves you the cost of hotel lodgings. You have your own private oasis to get away and relax anytime you want or gather with your family and make memories.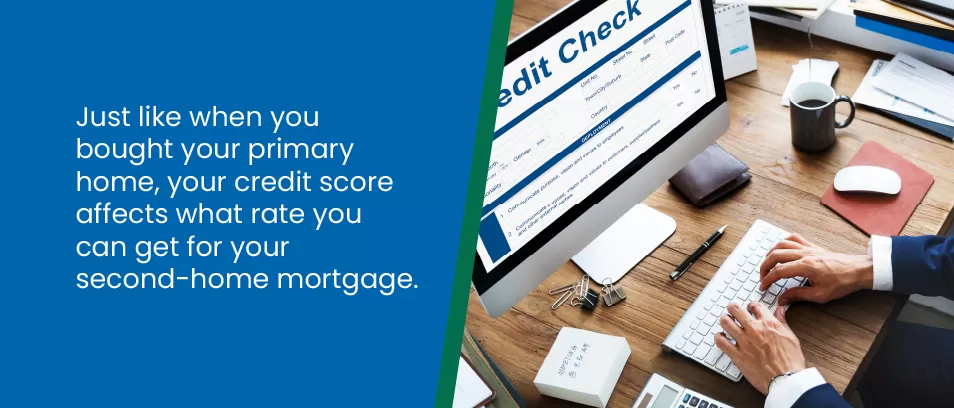 Start Saving Now
If you are planning to purchase a second home, especially a vacation home, it's a good idea to start saving money as soon as possible. Many lenders require home buyers to have at least two months of mortgage payments in the bank, but how much is required may depend on your credit score.
Know Your Score
Just like when you bought your primary home, your credit score affects what rate you can get for your second-home mortgage. The higher your credit score, the more attractive the rate and the more you save over the life of your loan. The lower your credit score, the more cash the bank will expect you to have in reserve. Read more about paying off your credit card and improving your credit score.

Finance Your Second Home With A Mortgage From Palisades CU
At Palisades Credit Union, we strive to help our members finance the home of their dreams. We understand that finding the right home and mortgage sets a solid foundation for successful homeownership. Whether it's your first home or your second we are here to help! Contact our mortgage lenders to learn more about home financing in Nanuet, Orangeburg, and New City. View current Rockland and Bergen County mortgage rates and apply for a mortgage online.
Find more tips and information by following Palisades Credit Union! Connect with us on Facebook, Twitter, Instagram or LinkedIn.
Related Blogs:
Everything You Need to Know About Home Loans
When Is A Good Time To Buy Apply For A Mortgage
« Return to "Blog"
Go to main navigation