College Majors That Pay!
Everyone knows going to college is a great way to make money.
A recent study found college graduates earn $1 million more in their lifetime than high school graduates. But some majors earn more money than others. Here are some of the highest paying college majors!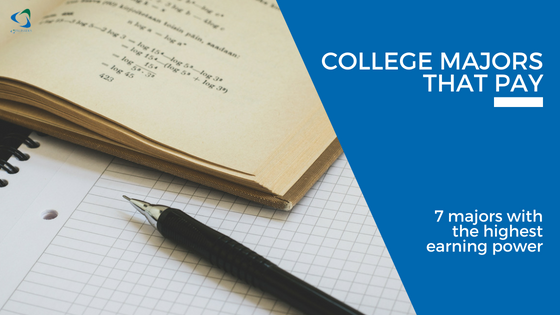 Computer engineering: The median income for computer engineering majors is $87,000. With this degree you can become a computer hardware engineer, software engineer, a computer programmer and more.
Geological and geophysical engineering: The median income for this major is also $87,000. Geological and geophysical engineering majors can become environmental engineers, sustainability consultants, and drilling engineers.
Petroleum engineering: This is the highest-earning college major at median income of $136,000. Petroleum engineering majors can seek jobs as drilling engineers, reservoir engineers and production engineers.
Pharmaceutical Sciences: The median income for pharmacy, pharmaceutical sciences and pharmaceutical administration is $113,000. People with this major can become pharmacists, or work as researchers and pharmacologists.
Applied Mathematics: Applied mathematics majors make a median income of $83,000. Career choices for applied mathematics majors include consultants, actuaries, and investment analysts.
Physics: People who major in physics have a median income of $81,000 and they can pursue jobs in education at higher levels, design engineers, and laser engineers.
Economics: The median income for economic majors is $76,000. Economic majors can get jobs as personal financial advisors, statisticians, and financial analysts.
These majors have major earning power down the line, but you may need help in paying for these degrees now, and PCU can help. We offer student loans that can help you pay for tuition, room, and board or any of the costs associated with college. Need a student loan in Bergen County or Rockland County? Apply online today or visit any of our locations in Orangeburg, New City or Nanuet to talk with a financial representative. Learn more about our student loan programs. View student loan rates in Rockland and Bergen County.
Related Blog: Guide to Student Loan Options
« Return to "Blog"
Go to main navigation