Fact or Fiction: Common Credit Union Myths
Credit Unions have been around for over 100 years, but there is still a lot of misinformation surrounding them.
Below are seven common credit union myths including PCU and how we prove them wrong!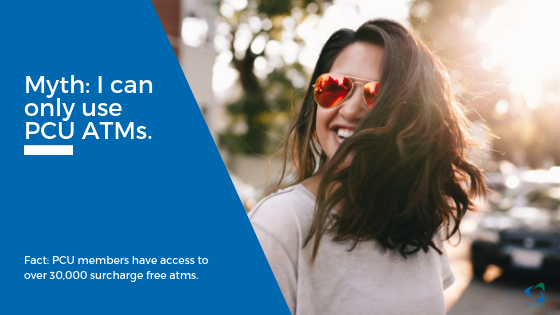 Myth: There are strict eligibility requirements to become a member.
Fact: Eligibility requirements are not strict! At PCU to become a member you have to live, work, worship, volunteer, or got to school in Rockland county, New York or Bergen county, New Jersey.
Myth: I can only use PCU ATMs.
Fact: While we have ATMS at all of our locations, we also participate in Co-Op Financial Services which gives you access to over 30,000 ATMs without a surcharge! With that many ATMs, there is always one near you.
Myth: Credit unions don't offer rewards programs.
Fact: As a PCU member, you get to take advantage of all the Palisades Perks including debit and credit card rewards programs, as well as Love to Shop perks, Sprint discounts, and 20% off Rockland Boulders Tickets!
Myth: Credit unions are not regulated.
Fact: We are held to the same laws and regulations as banks, and we are insured by the National Credit Union Administration.
Myth: Credit unions don't have the same mobile and online options as a bank.
Fact: PCU offers our members both online banking and mobile banking. You can access your accounts, pay bills, transfer money, and deposit checks!
Myth: They aren't safe.
Fact: The NCUA offers the same insurance to our members as a bank's customers!
Myth: They just don't offer the services I need and want.
Fact: PCU has a variety of services that will work for you no matter what your goal is. We offer the same services as a big bank including checking and savings accounts, mortgages, auto loans, and financial advising.
If you're looking for a Credit Union in Bergen County or Rockland County, PCU has a lot to offer! If you're ready to become a member of a credit union that puts people over profit contact us about opening an account today!
Read more about the benefits of joining a credit union.
« Return to "Blog"
Go to main navigation