How to Pay for Home Renovations
When it comes to upgrading your living situation, you generally have two options. You can buy a new home that is bigger, newer, or smarter than your existing house or you can renovate your existing home by adding space or upgrading your appliance, fixtures, and flooring. In the current real estate market, the housing supply remains low and home prices are high. Renovating your current home will not only provide you with the changes you desire, it will also increase the value of your home in the long run.
Before you can start transforming your dream home, you need to determine how to pay for home renovations. Unless you have a large amount of cash sitting around, start looking at the best options for home renovation loans. You can pay for home renovations with a home equity loan, mortgage refinance, personal loan, or even credit cards. At Palisades CU, we offer the best home improvement loans in Rockland and Bergen County. This article explains how to pay for home renovations so you can make the best choice for your unique situation.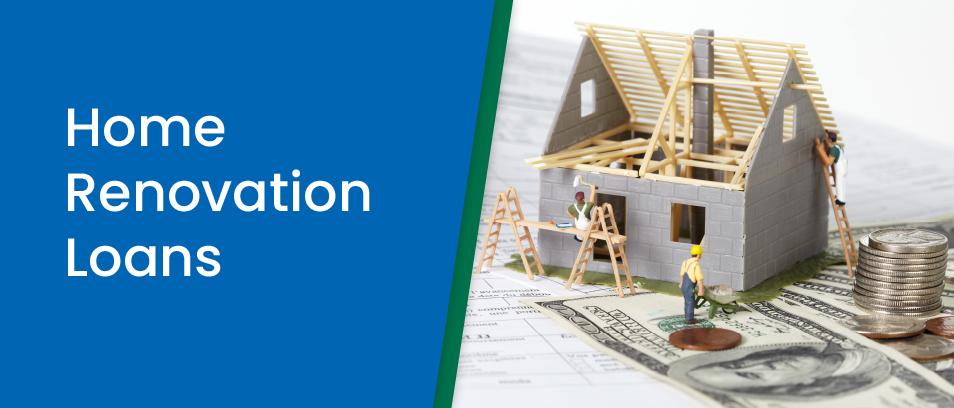 Home Equity Loan for Renovations
If you're wondering if you can use a home loan for renovations, the answer is "Yes!" A home equity loan allows you to borrow money based on the current value of your house. Also known as a second mortgage, a home equity loan is great for borrowers who have paid down some of their original mortgage principal and seen an increase in their home's value since purchase. Your home equity is calculated by taking the current market value of your home and subtracting the amount of principal you still owe on your mortgage. At Palisades Credit Union, members may be eligible to borrow up to 100% of their home's equity. If your home's value is $250,000 and you owe $120,000 on your mortgage, you could possibly borrow up to $130,000 with a home equity loan ($250,000 - $120,000).
A home equity loan comes with a fixed interest rate just like your primary home loan. The application and closing process of a home equity loan is similar to a primary mortgage. A lump sum loan, home equity loans are paid out in one large disbursement. You are free to use your home equity for any project or need. Your home equity loan is paid back in monthly payments over a set length of time.
Home Equity Line of Credit
In many ways, a home equity line of credit (HELOC) is similar to the home equity loan discussed above. Instead of receiving a lump sum loan disbursement, a HELOC gives you access to funds that you can borrow as needed. Instead of paying interest on the entire approval amount, you only accrue interest on the amount of loan you spend.
The amount of time that HELOC funds are available to you is called the draw period. During this time you can pay for your home renovations as the bills come in. This is extremely helpful when you have a major renovation that you are paying for in stages. Rather than accrue interest the entire time, you can save some money by only paying for the funds as you need them. Some HELOCs come with an annual fee or early termination fees, so be sure to read the fine print before accepting a loan.
Cash-Out Refinance
Refinancing your home means you close your current mortgage and reopen a new home loan. If mortgage rates have dropped or your credit score has improved since your initial home purchase, a new loan at a lower rate could save you hundreds of dollars each month. This monthly savings could be money you need to pay for renovations around your home.

A cash-out refinance allows you to open a new home loan at the current market value of your house. You close your current home loan and pay off the amount owed with your new refinance. The difference in the two loan amounts comes to you as cash. A cash-out refinance is simply another way to access your home's equity.

If interest rates have dropped since you bought your house, you'll also benefit from locking in a lower mortgage rate. Expect to pay appraisal fees, origination fees, taxes, and other closing costs if you decide to refinance. If you're wondering if a cash out refinance for home renovation is right for you, learn more in our article To Refinance or Not To Refinance.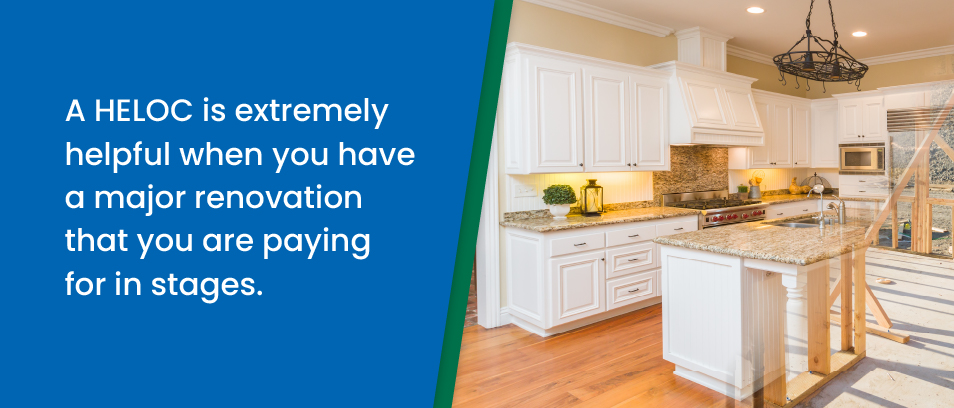 Personal Home Improvement Loan
Another financing option is a personal loan for home improvement. Unlike the previous loans mentioned, a personal loan is not associated with your home equity. Approval for an unsecured personal loan will depend on your income and credit history. At Palisades Credit Union, our unsecured personal loans have a maximum loan amount of $30,000. Because these loans don't require collateral, you don't risk losing your home should you default on the loan.
The approval process is fast and generally comes with fewer fees than a home equity loan. The disadvantage of a personal loan for home renovation is a higher interest rate. Using a personal loan for home renovations will cost you more in interest payments but can be a good option for borrowers with poor credit or very little home equity.
While a traditional personal loan is a lump sum loan, personal lines of credit are available for borrowers who desire access to funds over time. Depending on your project, a personal line of credit or personal loan could be the right choice for your home renovations. See more ways a personal loan can help you.
Credit Cards
Using credit cards to carry debt is typically one of the most expensive ways to borrow money. The exception is borrowing money using a 0% APR credit card offer. If you have good credit, the chances are high that you can find a credit card with a 0% introductory offer. As long as you pay off the credit card within the introductory time frame, you can benefit from borrowing money for home renovations with zero interest. Many introductory offers are 12 to 18 months, so be sure you can pay back the loan in that time to avoid high credit card interest rates.
Another bonus of using a credit card for home renovations is finding a credit card that offers cash back or other rewards. The Palisades Platinum Rewards Mastercard offers an introductory 0% APR for 15 months, has no annual fee, and rewards you for every dollar spent. By spending money on renovations, you'll earn points redeemable towards:
Travel expenses such as plane tickets, hotel rooms, and rental cars
Merchandise from your favorite stores
Gift cards for popular brands
Cash back to apply toward your statement balance
Not all home improvement contractors accept credit cards, so you may need to have cash on hand for some projects. Many credit cards offer extended warranties, which is perfect if you're buying new appliances for your renovation. Even if you plan to use cash savings to fund most of your project, paying with a 0% APR credit card can increase your benefits and savings.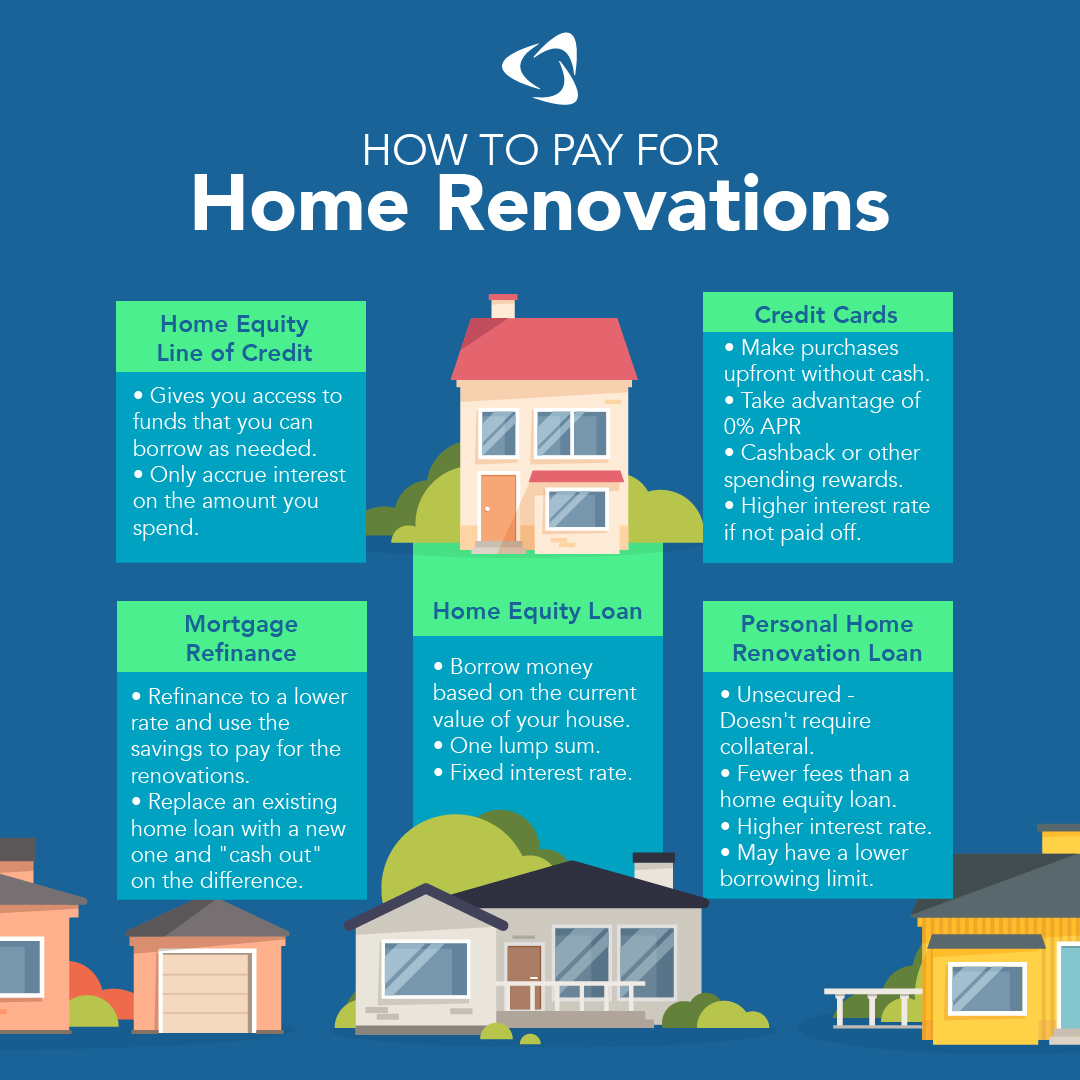 401k and Retirement Savings
It may be tempting to dip into your 401k or other retirement savings to pay for a home renovation. There are limits and risks associated with accessing your 401k funds, and at Palisades CU we believe that there are better financing options than jeopardizing your retirement savings. Our knowledgeable lenders will work with you to explore the best types of loans for home renovation.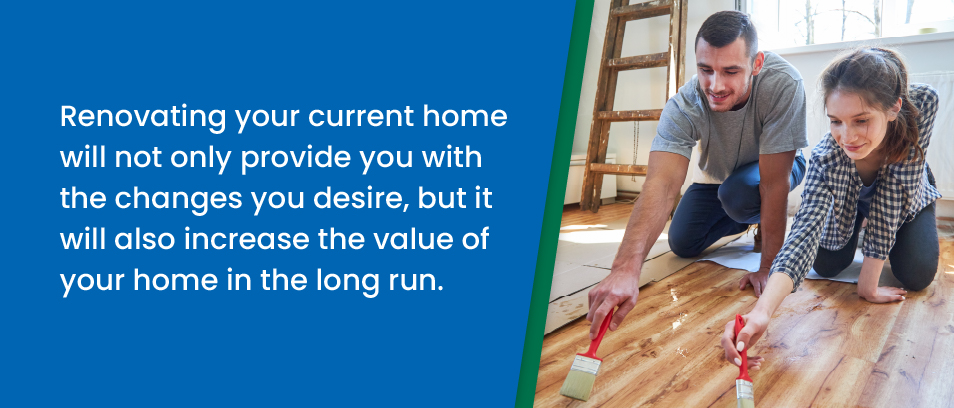 Choosing the Right Financing for your Home Improvement
When it's time to decide how to pay for home renovations, Palisades CU is here to help with your home lending needs. We can help you find the right loan to pay for your home renovations. We'll consider all facets of your project including:
Renovation goals
Expected project timeline
Credit Score
Current Mortgage amount and interest rate
Home equity
View current home loan rates or contact one of our local loan officers to get started. With convenient locations in Nanuet, New City, or Orangeburg, NY, PCU is here for your home improvement loan needs. Stop in today! We'll show you how you can increase your home's value and create your dream home with simple home improvement financing.
Related Blog: The Best Upgrades to Increase Your Home Value

« Return to "Blog"
Go to main navigation