How To Pay Off Your Mortgage Faster
Owning a home is a big milestone for many people but taking on a mortgage can be overwhelming at times. It can sometimes feel like you'll be paying off your house forever.
But there are plenty of ways that you can make a significant dent in the amount you owe, without having to spend too much extra money. Read on to find out how to pay off your mortgage faster and become a debt-free homeowner.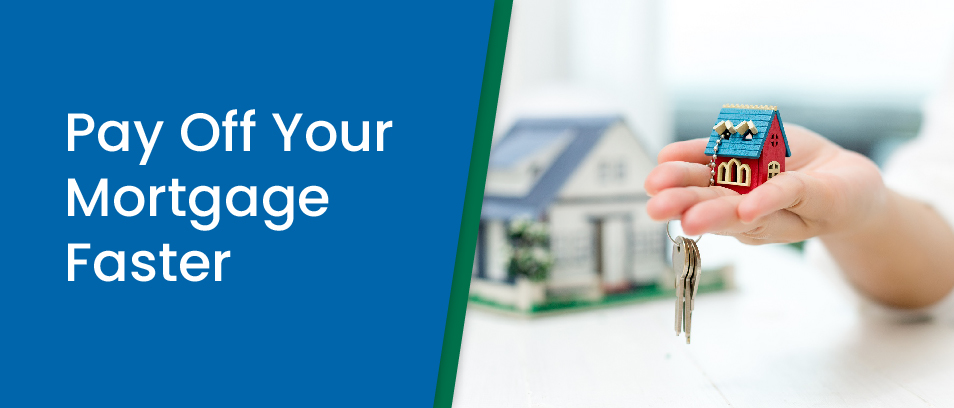 Make Extra Payments Towards Your Mortgage
One of the quickest ways to pay off your mortgage faster is to make extra payments towards the amount whenever possible. Add a little extra to your principal payment each month or even think about paying biweekly rather than monthly.
Biweekly payments mean that you're paying half the amount owed every two weeks, but thanks to the way this works out across the year, you'll end up making 13 monthly payments – that whole extra month can cut at least four years off a typical 30-year mortgage and save over $25,000 in interest!
If you'd prefer to stay on a monthly payment, there are still ways that you can contribute extra cash towards your mortgage. If you receive a bonus from work, get a substantial tax or escrow refund, or find yourself inheriting a lump sum (or winning the lottery!), you can put this money towards your mortgage.
Before you make any sizable payments or completely pay off your mortgage, remember to check with your lender to see if there are any prepayment penalties that you might owe.
Adjust Your Budget To Pay Off Your Mortgage Faster
If you're tempted by the idea of extra or biweekly payments on your mortgage, you may need to adjust your household budget to accommodate this. Decide how much you want to increase your payment by each month and think about where that money could come from in your budget.
You may need to consider cutting down on some expenses to make it work. It's important to keep your savings healthy, especially any emergency cash or retirement accounts that you have. Never pull from these unless you have to and try to find other areas in your budget that you can repurpose.
Having a goal to pay off your mortgage early is great, but don't stretch yourself too thin if your budget simply won't work. Don't push yourself to the point where finances become stressful for you. Remember that your home is a long-term investment and you should still take the time, and money, for the things you love like vacations or dinner out.
If your focus is on reducing the amount of interest you'll have to pay, consider refinancing your mortgage rather than paying off the existing one early. It's always best to look at your options and find what works best for your budget before making any big financial decisions.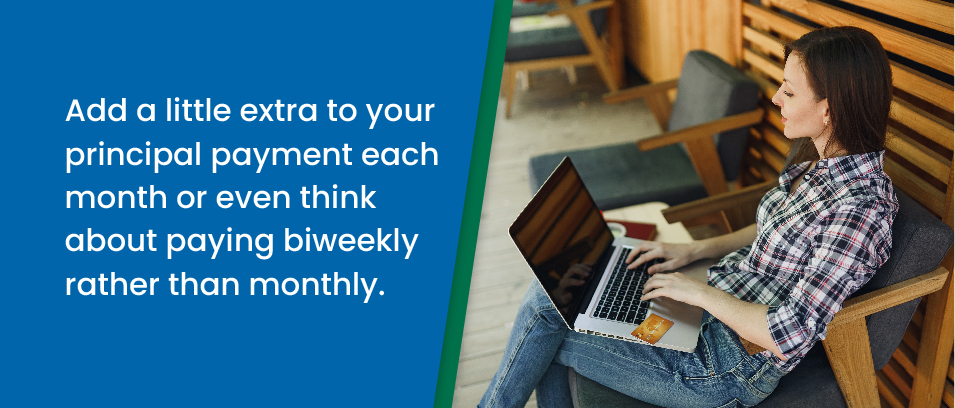 Pay Down or Consolidate Other Debt
To safely adjust your budget without sacrificing too many expenses, consider lowering any other debts that you might have first. Student loans, car loans, and even credit card debt can all be a drain on your monthly budget and stop you from paying off your mortgage faster.
This is especially true of "bad debt" like credit cards, so you should prioritize paying this off before anything else. Look into balance transfers with other credit card companies, where you can move your debt from one credit card to another with a 0% APR introductory rate.
For those who are still interested in keeping a credit card, look for a lender that offers perks or rewards to help you save money. The Palisades CU credit card has no annual fee (a big saving on many credit cards that you can put towards your mortgage!), points for gift cards or travel expenses, and even travel accident insurance and auto rental collision cover to help you out on vacations too.
Consolidating other debts like your student loans can also save you money long-term and give you more space in your monthly budget to pay down your mortgage. Taking out a personal loan to consolidate your debts is certainly an option, or you can look into a specific student loan consolidation plan to help you manage this debt. Paying off your student loans first can help to put you in a great financial position to pay more towards your mortgage.
As you already have a home mortgage and equity in your property, you may be able to leverage this to pay down non-mortgage debt. A home equity loan or home equity line of credit (HELOC) may offer you a better interest rate than a personal loan and help you to pay off those other debts faster.
If you're considering debt consolidation, it's best to speak to a financial advisor or lender first to decide if debt consolitation is right for you.
Refinance To Pay Off Your Mortgage Faster
If current mortgage interest rates are lower than when you bought your home, you may want to look into refinancing your mortgage. This means that you'll pay off your existing mortgage with a new loan, at a lower interest rate. Those extra interest savings can then be reinvested back into your new mortgage, without ever increasing the amount you owe each month.
Refinancing to a shorter-term loan could increase your monthly payment, but can give you significant savings on your interest and, generally, interest rates will be better on these shorter loans. If your financial position has improved since you bought your home, this could be a good option.
Another option is a cash-out refinance. This is where you refinance with a larger mortgage amount than what you owe on your previous loan, letting you use your mortgage to gain some additional cash. Most people use this type of refinancing to pay off higher interest debts like student loans or credit cards.
Alternatively, if you have a large amount of cash that you're looking to contribute to your mortgage, refinancing with a cash-in mortgage can also save you money. During the refinancing process, you'll put this money down as a cash payment, which will lower your principal payment amount on your new loan. This means a lower monthly payment for you and more room in your budget for paying off your mortgage faster.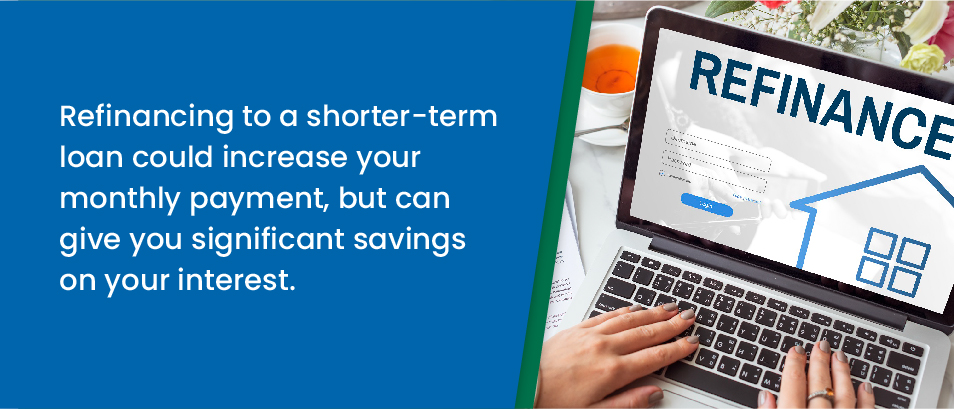 Earn More On Your Savings
Looking to your savings for extra cash is a more long-term strategy but can be helpful. Consider investing in a high-yield savings account to earn more interest, which can later be put towards your mortgage.
A Certificate can also be a good option and earn you higher returns on your savings. A 60-month certificate will likely be your best choice as, after five years, these savings can really add up and help to pay off a large portion of your mortgage.
Using your savings like this is a good financial practice and helps to build healthy savings habits. The more money you can save, the fewer adjustments you'll have to make to your budget to put money towards your mortgage.
In addition to your savings accounts, look for high-interest checking accounts where possible. If you're not already a member, consider joining a credit union like Palisades CU. As a nonprofit, credit unions are able to offer higher interest rates on checking accounts and cashback checking accounts to their members, something that you could be benefiting from straight away.
Should You Pay Off Your Mortgage Faster?
Now that you know some of the best ways for how to pay off your mortgage faster, you need to decide if this is the right financial move for you. The first thing to consider is whether or not the interest or gains that you'll make by putting extra cash towards your mortgage are actually going to be higher than the amount you would be paying in mortgage interest. Think about what makes the most financial sense in helping you to become debt-free.
Always check for any prepayment penalties on your mortgage before making any substantial payments. You don't want to be penalized for being smart with your savings!
You should also think about other financial needs that you have in the immediate future. Do you have kids that are about to go to college or is there a home renovation that you're hoping to work on? If you pay off your mortgage early, you will no longer be eligible for a home equity loan or HELOC so other payment methods for those expenses will need to be considered.
Make sure that you have good credit before deciding to pay off your mortgage. While removing this loan completely should only result in a small credit drop, if building your score is your focus, think about how an early repayment could impact this goal.
You should also be aware that, if you pay off your mortgage early, you will now be responsible for some of the payments that had previously been escrowed like your homeowners insurance and property taxes.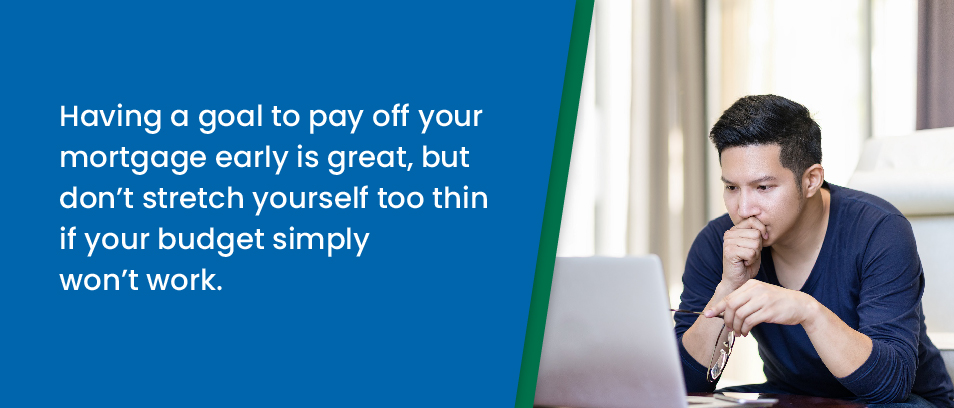 Talk To A Lender About Your Mortgage Today
If you have questions about your mortgage or how you can make your savings work better for you in Rockland or Bergen County, contact the team at Palisades CU. You can also visit any of our convenient locations in Nanuet, New City, and Orangeburg. We're here to make your finances more effective for your goals. Get in touch with a financial representative today for help in finding the right savings, lending or payment strategy that's right for you.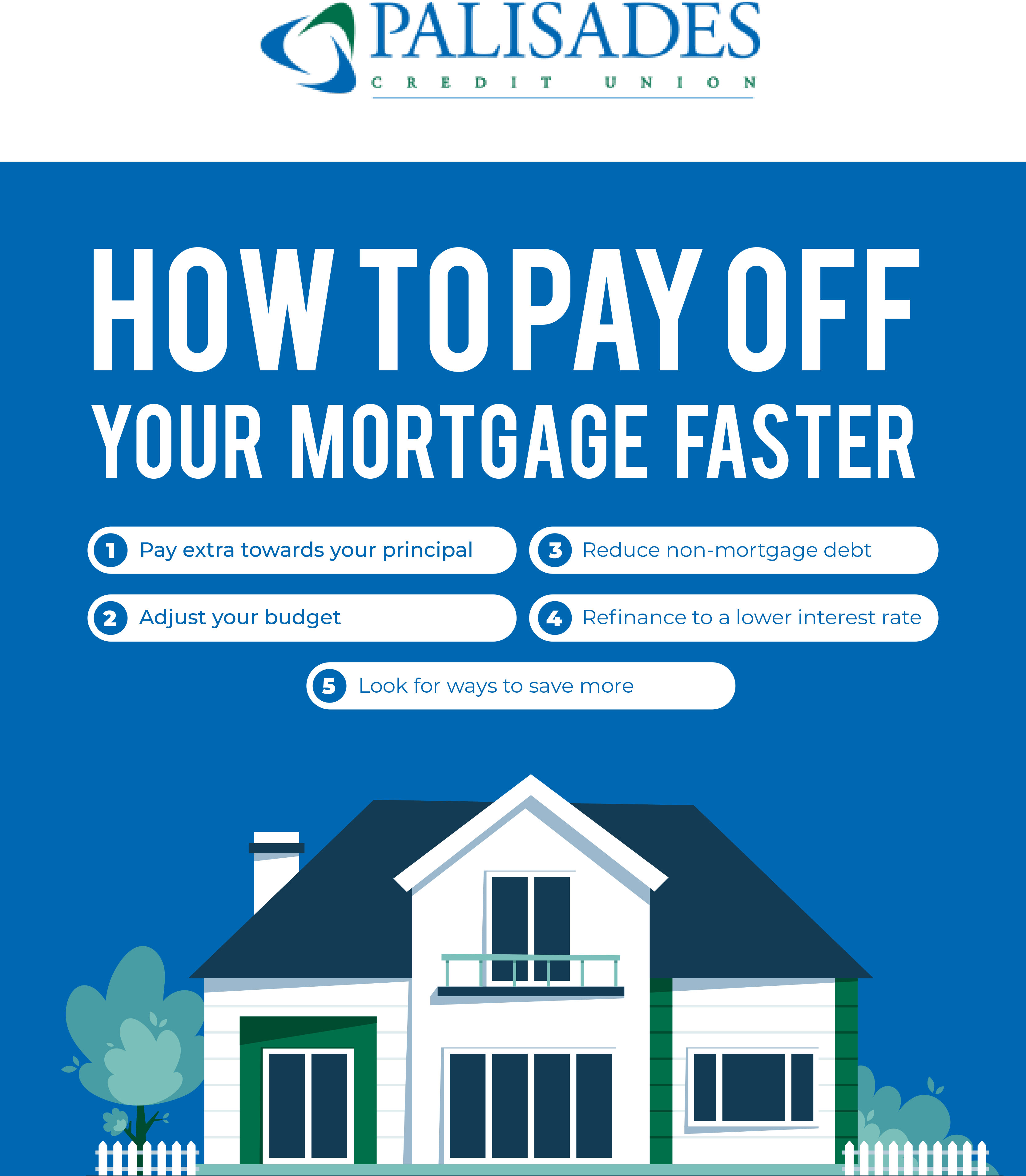 Related Blogs:
Home Equity Loan vs. Home Equity Line of Credit
To Refinance or Not To Refinance
« Return to "Blog"
Go to main navigation