Prepare Your Child For Their Future With Student Savings and Checking Accounts
"Financial education combined with a deposit account experience at an early age can shape a young person's financial identity, attitudes, and habits in a way that can last for a lifetime," states the FDIC. However, it's never too late to get started, whether you have a teen at home or a freshman heading off to college this year.
Back to school season can feel like a fresh start for everyone. We've settled into the new school year. Now is the time to help your kids, teens, and young adults get their finances in order and set goals and habits for the coming year. Whether you're homeschooling or sending your kids to in-person school this year, we'll help you break down the ABCs of saving and spending.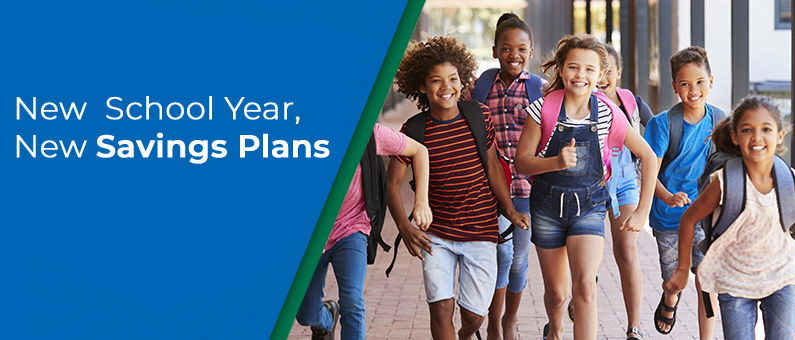 What is a Youth Savings Account?
Also known as Child or Minor Savings Accounts, youth savings is a deposit account jointly owned by the child and their parent or guardian. Kids, parents, and other adults can deposit money in the account and earn interest on the balance, helping to teach children and teens the value of compound interest. Funds can also be withdrawn as needed. With a low minimum deposit and no monthly fees, a youth savings account is a great introduction to the world of personal finance.
Save for short and long-term goals.
Teach your kid(s) to be smart about money by understanding that money is essentially a resource to help you get what you want and need out of life. Sit down with them to brainstorm financial goals such as saving for a first car, college, etc. They can also save for the smaller things they want, such as a new smartphone or video game console. By setting priorities and delaying gratification, kids can make their money work for them instead of frittering it away on smaller stuff.
Learn how your money grows.
The magical thing about a savings account is that you can end up with more money than you originally deposited. This is the principle of compound interest and teaching it to your child at a young age can foster a life-long appreciation of saving.
For example, let's say you deposited $100 upon opening your youth savings account and then nothing more for five years. Meanwhile, your balance earns 1% in interest each year:
After…
One year: $101
Two years: $102.01
Three years: $103.03
Four years: $104.06
Five years: $105.10
As you can see, even if you did nothing after your initial deposit, your money would continue to grow. Each interest payment you receive becomes part of your balance and then earns more interest. That's why the more you save, the faster your balance will grow. Even younger kids can understand this principle when they look at an account statement.
An added bonus of opening a Youth Savings Account with Palisades Federal Credit Union is that you will also earn dividends. Accounts earn 1.50% APY on balances up to $2,000. (Balances in excess of $2,000 will earn 0.04% APY.)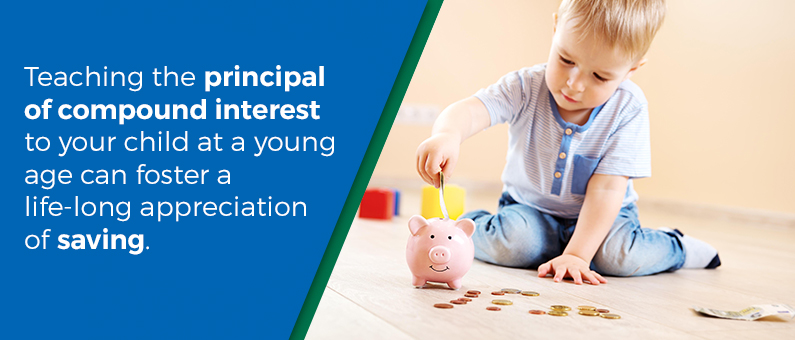 What is a Young Adult Checking Account?
Turning 16 is a big milestone for teenagers. Not only can you learn to drive and apply for your first job, but you can also open your first checking account. Here's what you need to know about managing your youth checking account.
Account Holders under 18 will need a parent or guardian to be a joint owner on the account.
You will receive an ATM/Debit card with your checking account. This plastic card is easy to use for everyday purchases and billpay, but be careful--the amount you "charge" to your debit card comes out of your checking account right away. If you spend more than your available balance, you may have to pay an "overdraft fee."
While checks are less common these days, there are still times when you may need to pay by check.
Here's a breakdown of how to fill out a check: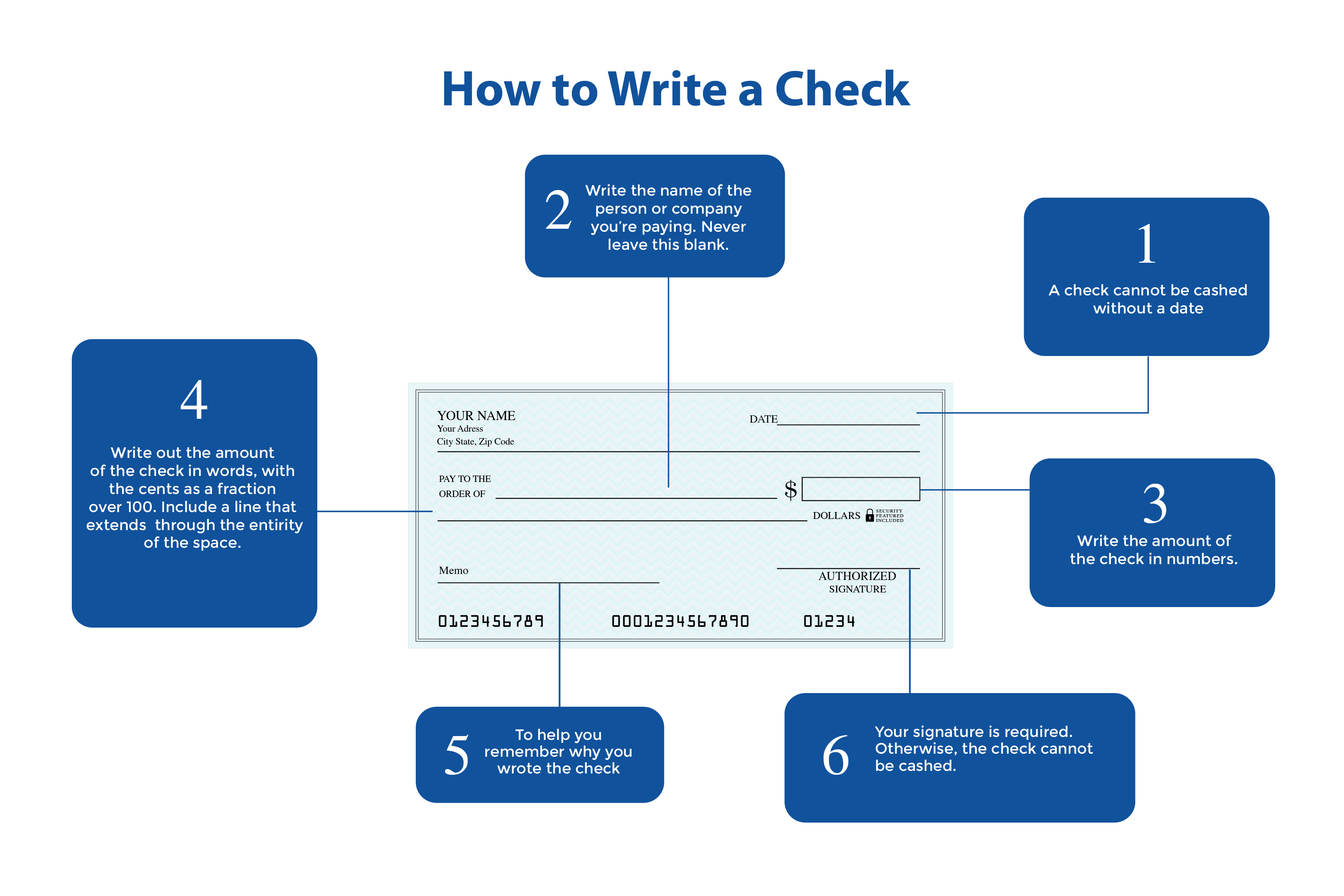 The ABCs of Budgeting
Once you have money flowing in and out of your deposit account(s), it's time to start budgeting. A budget is simply a roadmap for how you save and spend your money to meet your goals and obligations. For example, a teenager or young adult who pays for their own cell phone service and gas will need to budget for those expenses, as well as discretionary spending such as on entertainment, clothes, and dining out. A good rule of thumb is to "pay yourself first" by putting 10% of each paycheck or gift money you receive into your savings account, then budget with what you have left.
Basic Budget Template
Income: Gift Money, allowance, and/or paycheck from part-time job.
Savings: 10% of your income (feel free to adjust this amount up or down).
Bills: For example, a cell phone bill, utilities, monthly rent.
Expenses: Gas, groceries, and other necessities.
Discretionary: Also known as "fun money" to spend on whatever you want.
Learn more about youth savings from Palisades Federal Credit Union!
As your local member-owned credit union, we love helping kids open their first savings account. Learn more about our savings accounts for kids, teens, and young adults, and open a children's savings account online today! You can also visit your nearest PFCU branch in Nanuet, New City, or Orangeburg. Membership is open to individuals who live, work, worship, volunteer, or attend school in Rockland County, New York, or Bergen County, New Jersey. New York State employees who work in one of the five boroughs can also join.
Check savings account rates in Rockland and Bergen County.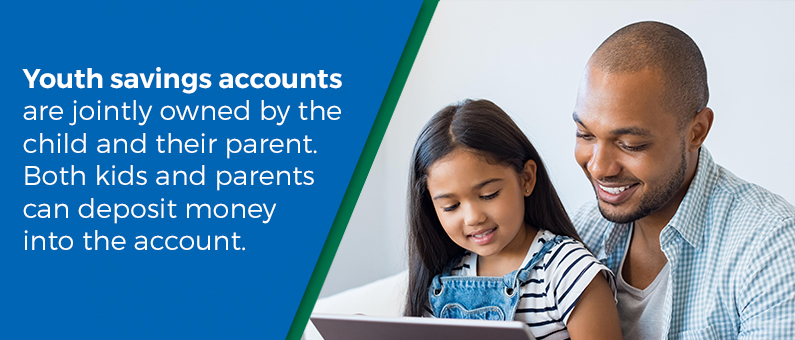 Looking for more personal finance education for kids? Read our article on "7 Good Money Habits to Teach Your Kids."
Help your kids and teens stay safe online with our "Cybersecurity Best Practices for Kids and Teens."

Related Blogs:
Choosing the Right Checking Account
Guide to Opening A Financial Account For A Child
« Return to "Blog"
Go to main navigation