Safe Shopping Online
While in-person shopping is still more common, online shopping now accounts for nearly 15% of all purchases, and has become the second most common way of buying goods in the US. With continuous simplifications for the checkout process, improvements to search functions, and the convenience of being able to shop, wherever and whenever, online shopping is the preferred choice for many. When you shop online, you are able to access a world of goods, right from the comfort of your own home.
However, the flipside to this advantage is that individuals and companies around the world—including cyber criminals and their organizations—have increased access to you, too. Email, text messages, social media direct messages, and spoofed websites all provide opportunities for scammers and hackers to deceive consumers, stealing credit card information, charging for products that never arrive, or gaining access to personal information that can lead to identity theft.
So how do you avoid falling victim to online shopping schemes? In this post we'll offer our 10 best tips for safe online shopping, from spotting scams before they harm you to choosing the right places to conduct your online shopping and the safest payment methods to ensure you don't lose out to this growing form of cybercrime.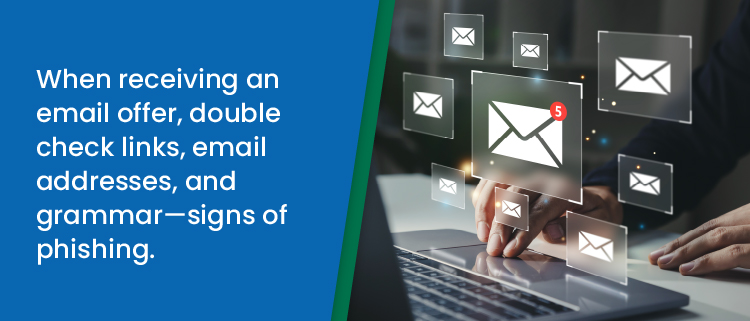 Watch Out for Phishing
Email is one of the most common forms of online scams. Known as "phishing," scammers posing as legitimate stores and companies will send convincing-looking emails that lure you to spoofed websites and enter login of financial information or trick you to download malware designed to steal sensitive data.
When receiving an email offer, double check links, email addresses, and grammar—signs of phishing. Never download email attachments unless you are sure of the sender. And remember, if an offer seems too good to be true, it usually is.
Shop at Sites You Know
If the website is associated with a store you normally shop at, chances are it is less likely to be a scam. Places like Amazon.com and Target.com are well known and protected—just be careful to not go to a false link. Sometimes cyber criminals copy entire sites, using web addresses that resemble that of the actual site (like targetshopping.com or amaz0n.com).
Bookmark your favorite sites or use verified apps for shopping to avoid patronizing fake stores.
Do Your Research
Find a cool new product from a seller you haven't heard of before? Check online reviews, comments on social media, and the Better Business Bureau website to verify an unfamiliar business's authenticity.
You can also do a simple search for reviews for the site to see what others have to say. Look for a mixture of reviews—all 5 star reviews could indicate fake reviews, and all 1 star reviews could be a targeted attack by one unhappy customer.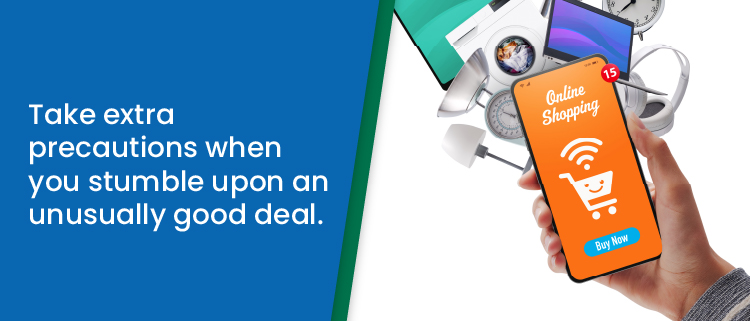 Too Good to Be True
That amazing deal you found on social media? Chances are it's a scam. From fake Facebook marketplace ads to emailed free offers, take extra precautions when you stumble upon an unusually good deal. And unfortunately, these scams proliferate on social media; social media scams reported the highest overall losses in 2022.
Google the product and the seller, or search on Facebook to see what others have to say before making the purchase. If working with an individual seller, never pay before you receive the offered goods—and never pay with gift cards (a common scammer request).
Protect Your Information
Firstly, it's important to only enter your personal or financial information into trusted sites, taking extra care when following links from emails or text messages.
Secondly, try to avoid entering credit card or financial information when using public Wi-Fi. While shopping at Starbucks may sound relaxing, hackers can sometimes break into public Wi-Fi to steal private information. Consider using a Virtual Private Network (VPN), or your phone's data plan or hotspot instead.
If you do need to use free, public Wi-Fi, here are some tips from PC Mag on how to secure your search.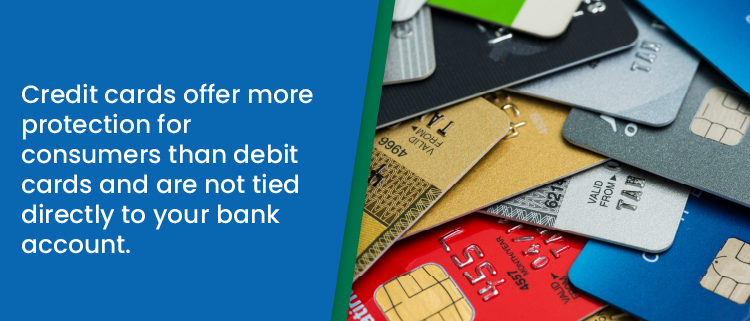 Choose Credit, Not Debit
Debit cards are directly connected to your bank account, and a scammer can quickly drain your funds. And, if you don't act quickly, these funds may be gone for good—even if you had nothing to do with your card theft.
Credit cards offer more protection for consumers than debit cards and are not tied directly to your bank account—if you dispute fraudulent charges before your statement is due, you'll never have to pay a cent. And the responsible use of credit cards can also help you build good credit.
Password Protect
Always use strong passwords for all your accounts: email, financial websites, frequented stores, and social media. For adequate cybersecurity, passwords should contain a combination of letters, numbers, and special characters to make it harder to hack your accounts. And never reuse passwords—data breaches are real, and if a hacker gains access to a password on website that you use for others, it's like giving them the keys to your personal information.
Too many passwords to remember? Having trouble coming up with a new one that meets security standards? You can use a password manager, like those offered by Google, Apple, and legitimate third-party apps, to help keep them straight, securely stored with encryption—and they'll even generate strong passwords for you.
Check for the 'S'
When websites use SSL encryption, your sensitive data will be encrypted end-to-end, and individuals hacking the site won't be able to view or interpret your information. If a site doesn't use SSL encryption, never enter any credentials or financial details.
How do you know when a site uses this protection? Firstly, the URL (web address) will start with "https" rather than just "http". Additionally, a locked padlock will appear in the browser bar, typically in front of the URL. You may also get warnings from your web browser when a site isn't secure. Never ignore these.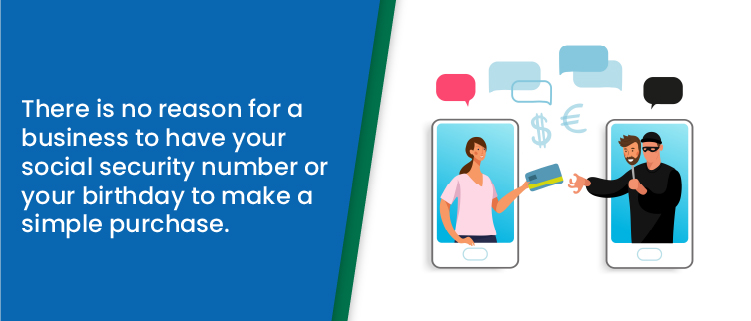 Keep Your Information to Yourself
Watch what online retailers are asking you. There is no reason for a business to have your social security number or your birthday to make a simple purchase—but with that information, scammers can easily steal your identity.
Give as little information as possible when completing a purchase, and if it seems like you're giving away too much, take a step back.
Check Your Statements Regularly
Even taking the utmost care, sometimes cyber criminals are able to access your financial information, whether through online data breaches or other forms of credit or debit card theft (like card skimmers). That's why it's so important to keep an eye on your credit card and bank account statements, scrutinizing them each month.
Look for any suspicious charges, or vendors you don't recognize. If something seems off, call your bank or credit card provider immediately. The sooner you report a problem, the better. You can always contact us directly at 833-735-1894 to report a fraudulent transaction made with your Palisades debit card.
Shop Safely with Palisades
Despite all the wonderful local shopping experiences in Rockland and Bergen, chances are you rely on online shopping for convenience and ease for some of your purchases. When you do choose to make shop online, be sure to do so with a secure Palisades Credit Card.
Our credit cards pair the benefits of working with a dedicated, local credit union with the robust protections only Mastercard can offer, so you know that you're always protected from fraudulent purchases. And if you are ever concerned about fraudulent activity on any of your Palisades accounts, we're only a phone call or quick visit away. Call the number on the back of your card, reach out to us at 800-449-7728 to report a lost or stolen credit card, or stop by a branch office in Nanuet, Orangeburg, or New City for personal, one-on-one assistance
« Return to "Blog"
Go to main navigation