Save Money on Last Minute Gifts
It happens to the best of us, it's just three days before Christmas and you're still not done shopping for gifts.
If you're scrambling to get gifts and stick to your budget here are some tips. And don't worry, there are no DIY presents on this list!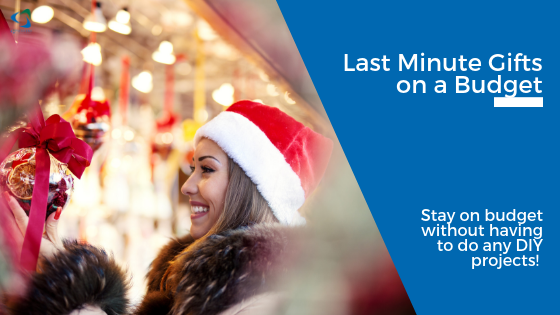 Don't Order Online
This close to Christmas Day, if you can even find someone who can still get you your order in time, you'll be slammed with expensive rush shipping. You'll have much better luck going to the store yourself to get the best prices. If you don't want to deal with crowds you could take advantage of in-store pick-up.
Get a Group Gift
Team up with the other last minute gifters in your life! You can all give a little bit of money to get one great gift. You can find a way to spend the amount of money that works with your budget while still giving the people you love what they deserve!
Wait Until After Christmas
If there are people on your list you won't see until December 26th or later wait to get them a gift! Not only will you save yourself some stress and time, but you can save money shopping the after-holiday sales.
Know What's Discounted
Did you know there's a best time of year to buy everything? As the holiday and winter shopping season draws to a close seasonal holiday items, sweaters, coats, and winter weather accessories will all be discounted. This time of year, many big box stores also have slashed prices on electronics. Maybe you can't afford a new phone, but you can get a great deal on companion items like Bluetooth speakers, chargers, and headphones.
Use Your Palisades Perks!
As a PCU member, you can use some of your Palisades Perks to get a great gift! All PCU members get 20% off Rockland Boulders tickets, concessions, and merch making a day at the ball park affordable. You can also use Love to Shop Perks, and earn cashback on online retailers, on top of the rewards points you get from your everyday debit card purchases with a Cash Back Checking Account. Or use your credit card rewards points from a Platinum Rewards Mastercard to buy gifts for everyone on your list without spending a dime! Read more about the benefits of shopping for holiday gifts with a credit card.
The winter and holiday season can be hard on your wallet, but PCU is here to help! Use these tips to make the most of your Christmas while staying on budget!
« Return to "Blog"
Go to main navigation