Guide To Student Loan Options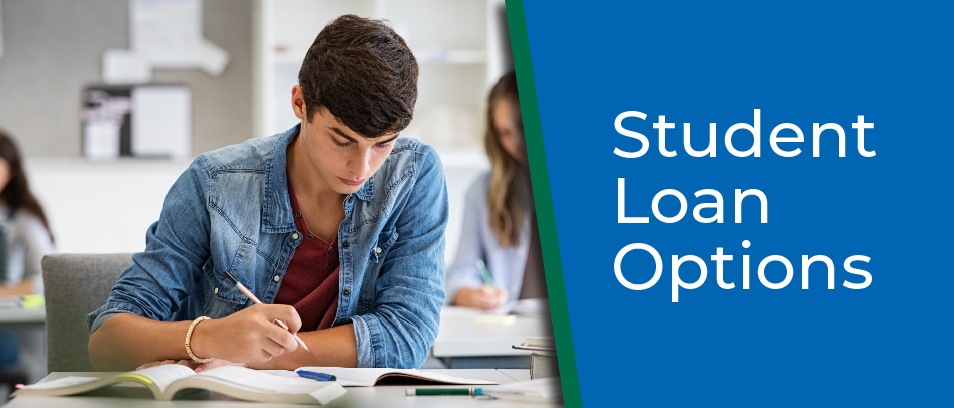 As high school seniors apply to college, it's time to think about how to pay for their education as well. For many college students, this means a mix of scholarships, family support, income from a part-time job, and/or student loans. In this article, we'll explain everything you need to know about federal and private student loans including how to apply, how they work, and what to expect in repayment.
What is a student loan?
A student loan is a term loan, usually with a fixed interest rate, that is specifically designed for college students and their parents to finance some or all of a college education and associated expenses. Depending on the type of student loan, it may come with special features such as no credit check and a grace period before payments begin.
How does a student loan work?
There are two types of student loans, federal and private, and they each work differently.
Federal Student Loans
The U.S. Department of Education is your lender under the Direct Loan Program. There are four types of Direct Loans:
Direct Subsidized Loans: Only for undergraduate students. Eligibility is based on financial need. Subsidized means that the Department of Education pays the interest on your loan while you're in school at least half-time, for the six-month grace period after you graduate or leave school, and during any periods of deferment. Loan limits vary depending on your year in college and other factors.
Direct Unsubsidized Loans: For undergraduate, graduate, or professional students. No financial need requirement. The Department of Education does not pay the interest on this type of loan, so you can choose to make interest-only payments while in school and during the grace period or interest will accrue and be added to your principal loan amount. Loan limits vary depending on your year in college and other factors.
Direct PLUS Loans: Only for graduate and professional students or the parents of dependent undergraduate students. To be used for education expenses not covered by other financial aid and a credit check is required. The maximum loan amount is your cost of attendance after any other financial aid received.
Direct Consolidation Loans: An option to consider after you finish school. Combines all your eligible federal student loans into a single loan with one monthly payment.

Private Student Loans
This type of student loan is made by a lender that is not the Department of Education. For example, some financial institutions like Palisades Credit Union offer private student loans. Qualifying for a private student loan may require a credit check or a cosigner if you don't have an established credit history yet. At Palisades, we put our members first with student loan perks such as academic-based underwriting, a cosigner release, and more.
How to Apply for a Student Loan
Now that you understand the different types of student loans, learn when and how to apply for student loans.
Federal Student Loans
The first step in applying for a federal student loan is to complete the Free Application for Federal Student Aid (FAFSA®). You must submit your FAFSA by the deadline for the upcoming academic year. For example, here in New York the next state deadline is June 30, 2022, which is also the federal deadline. Check with your college to see if they have an earlier deadline.
Your school will review your FAFSA results and offer you a financial aid package, which may include a federal student loan. To accept the loan, you need to complete entrance counseling and sign a Master Promissory Note.
Private Student Loans
You can apply for a private student loan directly from the lender; for example, Palisades Credit Union offers a convenient online application for student loans. While there is no deadline to apply for a private student loan as with the FAFSA, it's best to apply for a private loan once you've chosen a school and know how much you need to borrow. If you can't qualify for a private student loan on your own, you'll need a cosigner with good credit such as a parent, grandparent, or another friend/relative.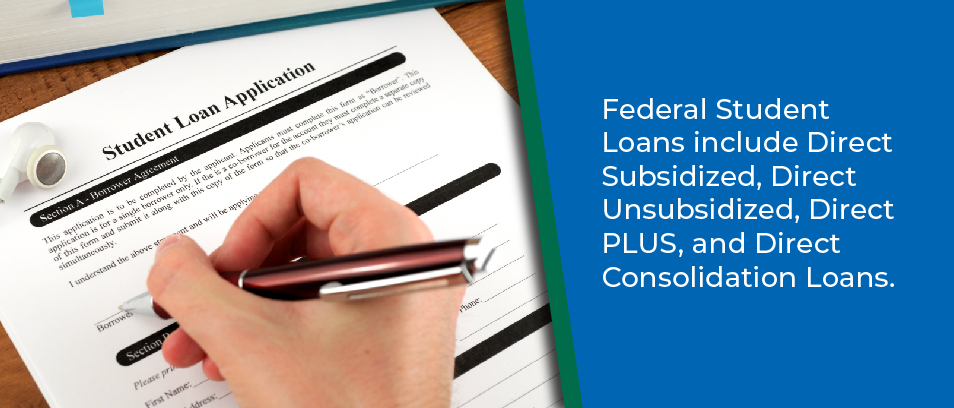 Understanding Student Loan Repayment
Federal student loans go into repayment after you graduate, drop below half-time enrollment, or leave school altogether. As mentioned above, there is a six-month grace period before payment begins. You can also make payments on your loan earlier than that, including while still in school (like the example of interest-only payments on unsubsidized loans).
The Department of Education has eight repayment plans for federal student loan borrowers. You may want to consolidate multiple loans before choosing a repayment plan. All borrowers are eligible for the standard plan, which sets your payments for a term of 10 years or up to 30 years for Consolidation Loans.
Private student loans may also come with a six-month grace period depending on the terms set by your lender. Both private and federal student loans can be consolidated with a private Student Loan Consolidation. Consolidating has the potential to lower your interest rate as well as offering the convenience of only having one monthly payment.
Ultimately, it's best to only borrow what you need; try to cover as much of the out-of-pocket costs as you can with scholarships, family help, or income from working during college; and pay back what you borrow as soon as possible. The longer you carry your student loan balance into your adult life, the more it can hold you back from big life steps like buying your first home, starting a business, getting married, or having a family. Try to choose a college major that pays and remember that your student loan will continue to accrue interest until it's paid back, so the sooner you pay it off, the less interest you'll pay overall. Get off to the right start by learning financial essentials for first-time college students.

Find better student loan solutions at Palisades Credit Union!
Since 1941, Palisades Credit Union has been offering financial solutions for every stage of life. Learn more about our Student Loan and Student Loan Consolidation options and apply online today or contact us with questions. We also offer checking and savings accounts for students up to age 21!
Interested in student loans in Nanuet, Orangeburg, or New City? View current student loan rates in Rockland and Bergen County.
« Return to "Blog"
Go to main navigation