New, Used, or Refinanced: We'll help you get behind the wheel.
At Palisades Credit Union we offer a comprehensive range of products and services to make the purchase and financing of a new or used vehicle swift and stress-free. Whether you want to let your hair flow freely in a new convertible or taxi the kids to piano lessons in a sleek minivan, your search should start here. Learn more about auto loans in Rockland and Bergen counties.

Why choose Palisades Credit Union for your auto loan?
Credit Unions are not-for-profit, member-owned financial institutions that exist to serve the financial needs of their member owners. At Palisades Credit Union, our focus has always been our members and local community. Founded in 1941, we've grown from serving employees of the American Cyanamid Company to extending our services to all persons who live, work, worship, or attend school in Rockland County, New York and Bergen County, New Jersey, as well as New York State employees who work in one of the 5 NYC boroughs; members of Radio Television Broadcast Engineers Local 1212, International Brotherhood of Electrical Workers, AFL-CIO, in New York, NY; and USA Networks employees who work in or are paid from New York, NY.
Today, we have over $200 million in assets and over 14,000 members, but our primary goal remains the same: to build valued relationships through a lifetime of financial solutions by providing our members with personalized assistance and first-class financial services. If you're looking for the best auto loans in Orangeburg, New City, or Nanuet, we are confident that you'll find what you're looking for at Palisades Credit Union.
As a member of Palisades Credit Union, you can become eligible for certain benefits such as our Palisades Perks (free notary service and special discounts on other popular services).

Benefits of financing your auto loan with Palisades include:
Comprehensive range of products and services for purchasing and financing new or used vehicle
Swift and stress-free process and approvals with low rates and no hidden fees
No restrictions on type of vehicle
Get pre-approval and 100% financing
Refinance an existing loan on a vehicle and save on your monthly payment
Learn more about the benefits of financing a car through a credit union vs. a car dealer.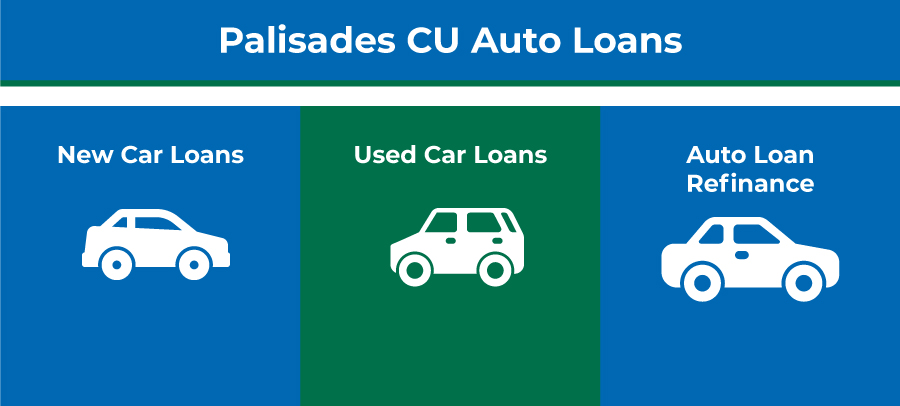 Palisades Vehicle financing extends beyond new and used cars. We also offer financing for boat loans, motorcycle loans and RV loans.
Get Approved For A Vehicle Loan Today!
Palisades Credit Union provides auto loans to eligible individuals in Rockland County, New York, New York City, and Bergen County, New Jersey. We are proud to serve the dynamic New York City metro area with personal, friendly customer service. Our employees are longtime members of their communities, just like us. You can count on Palisades for local expertise and experience. To learn more about auto financing in Orangeburg, New City, Nanuet, and more, give us a call or visit your nearest location.
*APR=Annual Percentage Rate. Rates as low as 4.99% APR as of 1/25/2023. Rate and approval subject to lender's credit criteria, certain conditions and restrictions apply. Loan must fund by 12/31/2023 to qualify for offer. To qualify for the bonus, funded loan amount must be at least $15,000; 1% bonus will be credited based off of the funded loan amount, up to a maximum of $500. The 1% bonus amount will be forfeited and added to the loan payoff amount, if the loan is closed within 18 months of opening. Finance charges will accrue during 90-day payment deferral period. Bonus funds will be credited to member's share savings account within 30 days of loan funding. Offer is not valid on auto loans currently financed with the credit union and may end at any time without notice. Federally insured by NCUA.
Go to main navigation