7 Benefits of Joining A Credit Union
As record numbers of smaller banks are sold and merged into larger, national banks with fewer brick-and-mortar locations, many customers lament the loss of the personal, local service and the one-on-one assistance they have grown to depend on. And it's not just those customers who have been banking for a long time. Rising generations, including millennials, also aren't big fans of big banks.
Today's customers are looking for more than just an institution to help them manage their money. They want to find a place that not only takes care of its members, providing good rates and competitive services, but also contributes to the well-being of their communities, rather than that of their stockholders. Banks and credit unions offer many of the same types of financial services from the outside but are quite different when it comes to how those services are extended and how they ultimately benefit their customers. Keep reading to learn more about the benefits of joining a credit union!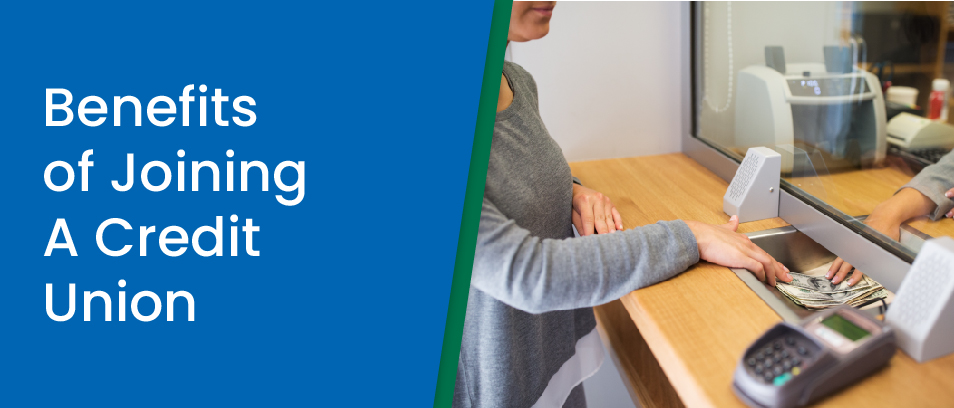 What Is A Credit Union?
As mentioned above, credit unions serve very similar functions as banks. They offer checking and savings accounts, mortgages and other loans, investment accounts, and even financial advice. So what makes them different? As Forbes Advisor explains, "Unlike banks, which are owned by shareholders and must distribute profits to their owners, credit unions are owned by their members, who are also their customers." The upshot of this is two-fold: Firstly, the primary function of credit unions is to support their members, not please shareholders. Secondly, not having to distribute profits to shareholders means that those profits go right back to their customers, often in the form of lower fees and interest rates on loans.
Another major difference between a bank and a credit union is that credit unions are nonprofit organizations, exempt from federal income taxes because their mission is to serve the financial well-being of their community. As the Credit Union Membership Access Act states, "Credit unions, unlike many other participants in the financial services market, are exempt from Federal and most State taxes because credit unions are member-owned, democratically operated, not-for-profit organizations generally managed by volunteer boards of directors and because they have the specified mission of meeting the credit and savings needs of consumers, especially persons of modest means." In other words, credit unions like Palisades Credit Union earn their special designation because they are expressly there to serve and benefit you, their customers and members, no matter who you are.
Can Anyone Join A Credit Union?
One common misconception is that credit unions operate something like an exclusive club, and that the average person isn't qualified to join one. Credit unions do serve specific communities; there are some credit unions that are just for people employed at a certain place, attend a certain school or place of worship, or belong to a specific labor union or homeowner's association. However, even if you don't qualify for one of the credit unions described above, you may qualify simply based on the community you live or work in.
At Palisades Credit Union, if you live, work, worship, volunteer, or attend school in Bergen County, NJ or Rockland County, NY, you're qualified to join. You're also qualified if:
you're a New York State Employee and work in one of the five New York City Boroughs
your immediate family members is already a member
you work for USA Networks of in NYC, or
you're a member of Local 1212 IBEW AFL-CIO NYC.
At Palisades, we strive to be an inclusive community, and we are here to serve those who make our region an important part of their lives. If this applies to you, chances are you can be a member, too! Check your eligibility to join.
Benefits Of Joining A Credit Union
So how does the non-profit and member-owned attributes of a credit union specifically help its members? By focusing instead on members and passing on the benefits to them, credit unions can offer the following benefits.
1. Better Rates
A credit union's focus on its members, not its profits (and the accompanying nonprofit, tax-exempt status), means that instead of making money off of customers, excess profits and savings are passed onto customers. This doesn't mean that credit unions simply give money to their members. Instead, one major benefit of nonprofits is that members can get better interest rates:
Lower interest rates on loans. From mortgages to auto loans, credit unions are often able to offer the lowest interest rates on loans.
Higher interest rates on savings. If you're looking for a place to grow your savings, the interest rates on savings accounts, money market accounts, as well as certificates can be much higher than those offered at banks.
2. Lower Fees
In addition to offering better rates, credit unions can also offer lower fees than traditional banks on accounts. Many accounts are even free. At Palisades, this includes: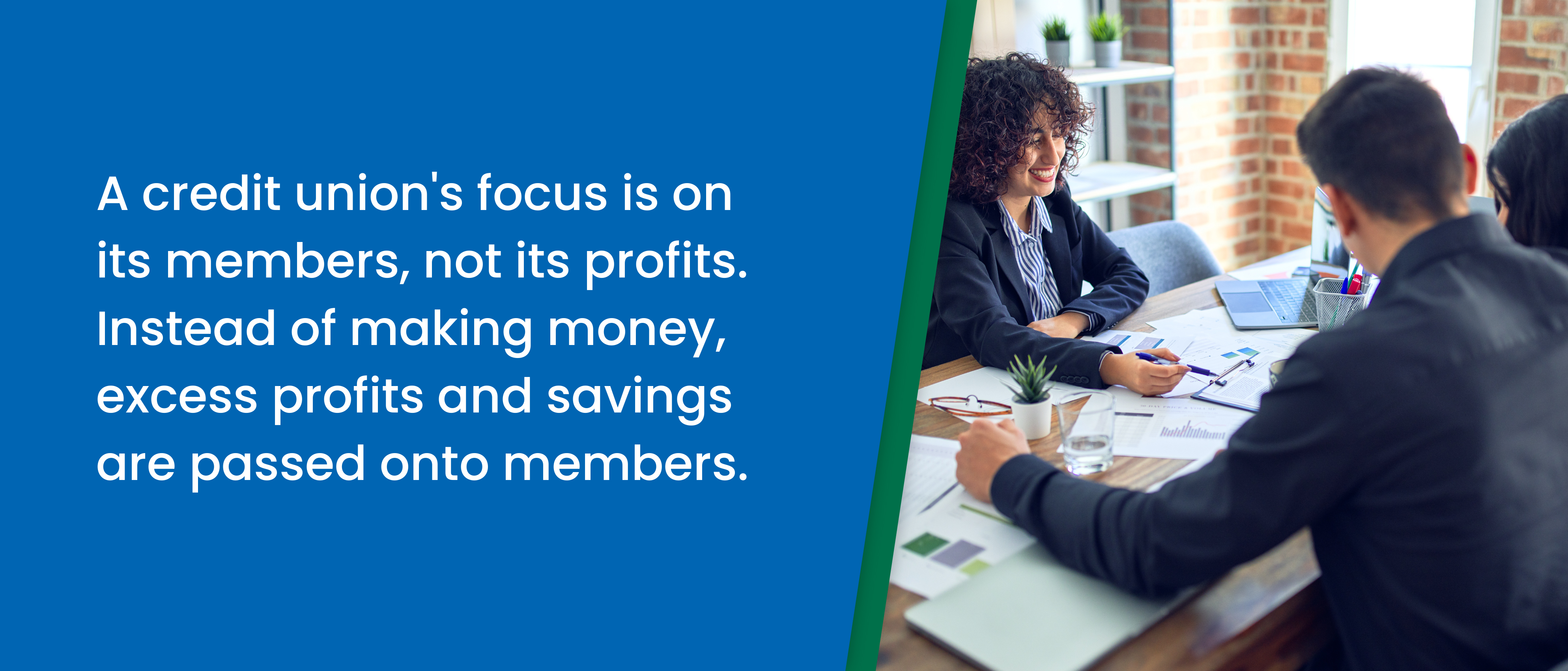 3. Better Mortgage Accessibility and Service
Credit unions can lower the barriers to obtaining a home loan for their customers. Even if your credit is less-than-perfect, a credit union might be able to help you secure a home loan when banks turn you away. This is because credit unions are less focused on ensuring profit, and more interested in promoting the financial growth and wellbeing of their members—and buying a home is a great way to achieve long-term financial stability.
Another benefit of getting a home loan through a credit union is that your loan stays at your credit union. When you get a home loan through a bank, your loan is often sold off to another, usually larger national lender within the first year, and all the interest proceeds go to that national lender, too. As The Balance explains, this is because the investment prospects of a home loan take 15 or 30 years to recoup. But banks often need those funds sooner, while those larger financial institutions can often afford to wait. You, as the customer, have no choice in the matter—you can't stop the loan from being sold, and you can't choose who the new servicer will be. If you
Another major downside to having your loan sold to a new servicer is that larger institutions often don't offer the same level of accessibility and service as your local financial institution. If you have questions or problems with your loan, you will need to work with the new servicer, who may be less flexible or available to answer your questions or discuss your concerns. When you get a mortgage through a credit union, beyond the proceeds of your loan staying in the community, you will continue to work with the same friendly financial representatives throughout the life of the loan.
For more information on how credit unions can help you get the best home loan, check out our blog post, Mortgages: CU Vs. Bank!
4. Protected Deposits
Accounts at for-profit banks are protected by the FDIC, for up to $250,000. But the FDIC doesn't provide protection for credit unions. So are your accounts safe with credit unions? Absolutely! Credit Unions have the equivalent level of protections (up to $250,000) on the same accounts as banks through a different organization, the NCAU. An acronym for the National Credit Union Administration, the NCAU is an independent federal agency that insures and regulates all federal credit unions, including Palisades. As their Mission and Values page explains, the goal of the NCAU is to "strengthen communities and protect consumers by ensuring equitable financial inclusion through a robust, safe, sound, and evolving credit union system." Just like a credit union itself, the NCAU is there solely for the benefit of members of credit unions.
5. Personalized Financial Services
Credit unions are more localized than larger banks, and employ people who live in the same community that you do. Because the number one focus of a credit union is to benefit its members, they are often able to spend more time with their customers, offering more personalized assistance as well as regionally specific advice. Whether it's getting a mortgage for your dream home or financing your education, credit unions will work with you through the tough times and reach your goals!
6. Higher-Rated Customer Service
Just as the financial services at credit unions can be more tailored to your individual needs, on a day-to-day basis, the level of customer service is also more member-focused than at larger financial institutions and banks. As a member of a credit union, you are a part owner, which means you get to vote in elections for board members and are an integral part in their operation. This also means that employees there will strive to keep you happy. In fact, according to Consumer Reports, 96% of members of credit unions are "highly satisfied" with their financial institution, vs. only 80% of customers at the three largest national banks.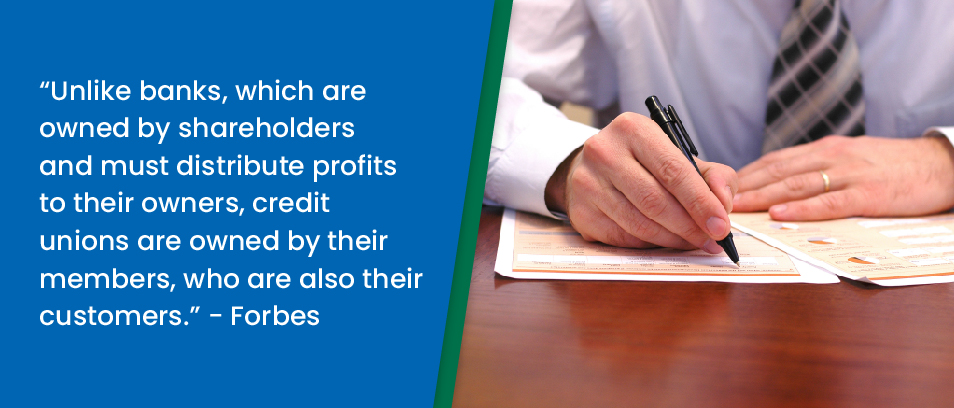 7. You're a member of a socially conscious community
Perhaps the most important perk of being a member at a credit union is that instead of simply finding a place to keep and manage your money, you become part of something for the greater good of your community. As a democratically run organization, inclusion of its members is the heart of what makes a credit union unique. Credit unions operate for the benefit of their members and only their members. From offering scholarships to our students and sponsorships to local charitable organizations, to financial education to help all our members achieve financial independence and stability, at PCU we strive to be a vital and beneficial part of our community.
Ready to Join?
Whether you're looking to open your first account at a financial institution or ditch your bank and join a credit union, at Palisades Credit Union we can't wait to have you as our newest member. With our great rates on savings accounts and loans and highly rated customer service, you not only get to be part of a community-oriented organization, you will also receive an unrivaled banking experience. Visit our website to open an account or stop by one of our many area locations in Rockland and Bergen Counties, Nanuet, Orangeburg, and New City to talk to us about joining today!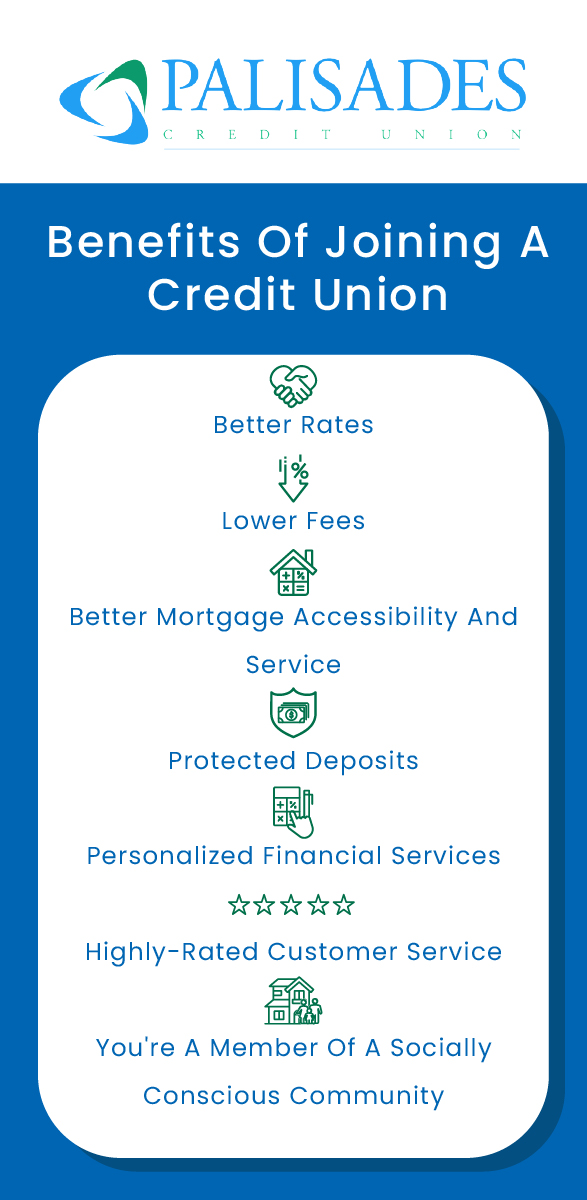 « Return to "Blog"
Go to main navigation