Going on Vacation? Use These Tips to Save
Summer vacations are super fun, but they can be expensive!
The best way to save money is to plan and save up for it accordingly, but even if you haven't, you can still save money while on your trip. Use these tips to save while you're gone and remember to let PCU know where you're going so there's no interruption in your service!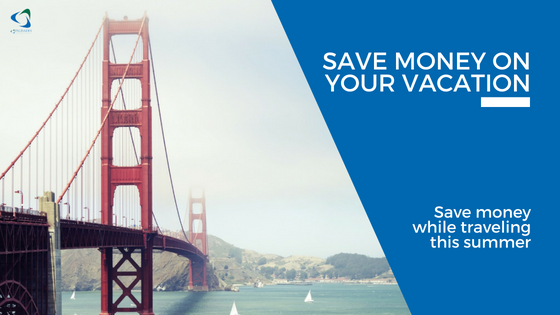 Getting Around Town
Renting a car may seem like the most convenient, but it can add up quickly. Instead you should use public transportation like subways and buses. Ride share apps like Uber and Lyft can also be a great way to save money. In many large metropolitan cities, you can participate in bike share systems, and in smaller vacation towns, bike shops will often rent bikes for the day as well.
Seeing the Sights
You can see and experience all the best your vacation has to offer without breaking the bank. Many big cities offer multi-attraction passes or discount cards that allow you to see some of the cities best sights at a great price! You can also do a walking self-tour and make sure to take advantage of free or pay-what-you-want museum days to see world class art and culture. Another great way to live like a local is to check community calendars for free and cheap events.
Find Deals on Food
There are many ways to save money on food while you're on vacation! Start the day off right by staying at a hotel or hostel that has free continental breakfast to load up and have plenty of energy for sightseeing during the day. If you want to try a nice restaurant you should plan on going at lunch, not dinner! Lunch menus are often less expensive than dinner, but you'll get the same quality and level of service. Don't be afraid of street food either, as many food trucks are cheaper than a sit-down restaurant but can be just as delicious!
Your summer vacation doesn't have to set you back if you plan and get a little creative with your transportation, meals and sight-seeing options. If you do need help with your vacation PCU has personal loans or a Platinum Rewards Mastercard to get you where you're going! Learn more about options for credit card rewards in Rockland and Bergen County.
Open a savings account to start saving for your trip. Contact us today to visit any of our convenient locations in Orangeburg, Nanuet, or New City.
Related Blogs:
Traveling Safely During The Pandemic
Can You Afford Your Dream Vacation?
Using A Personal Travel Loan To Fund Your Vacation
« Return to "Blog"
Go to main navigation