14 Ways A Personal Loan Can Help You
Life is unpredictable and unexpected or large expenses often come along with that. If you need to borrow money for whatever reason, a personal loan can be a good option.
In this post, we'll share some of the most common ways that a personal loan can help you and answer questions like "how do personal loans work?" and "what is an unsecured personal loan?" before you start your loan application.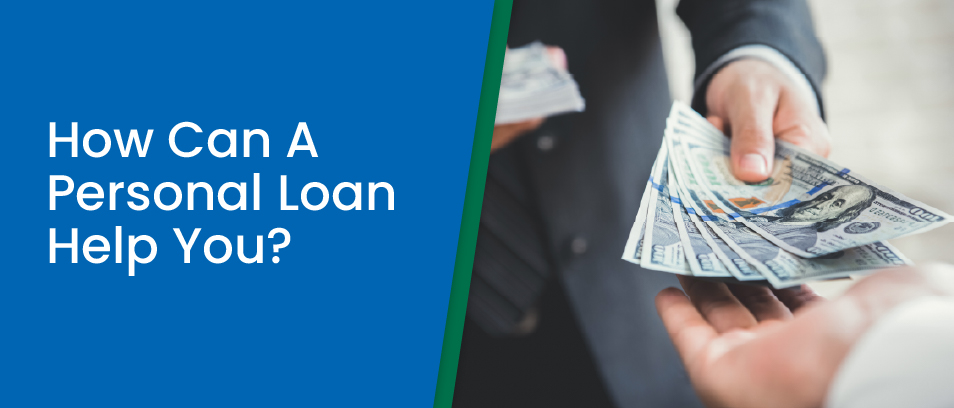 What Is A Personal Loan?
Before you think about how to apply for a personal loan, you should be familiar with what these types of loans are and how they work. A personal loan allows you to take out a fixed amount of money with a bank, credit union, or other financial institution, which you'll pay back each month with a set amount and interest rate.
Personal loans work in a similar way to other loans you might already have, like a mortgage or car payment. The difference here is that you can use those funds to pay for almost anything, like an emergency home repair or a vacation that would otherwise take months, even years, to save for.
What Are The Different Types of Personal Loans?
Secured Personal Loans
A secured loan means that you're putting up some kind of valuable asset as collateral against the amount you're borrowing. If you fail to repay the loan, the lender can take this asset as payment to reclaim the funds. The collateral is used as an incentive to encourage borrowers to make regular payments and to pay the loan back in full and on time.
Unsecured Personal Loans
Most personal loans are unsecured, which means that you don't need to provide the lender with any collateral. While this is good news for you, it also means that you'll need to have a high credit score and be in good financial standing in order to take out the loan in the first place. When you're thinking about how to take out a personal loan, making sure that your credit is good and other debts are being paid off is the best step that you can take.
Other Types of Personal Loans
Personal Line of Credit
Personal lines of credit are another type of personal loan that you can take out. This is where you'll be approved to borrow up to a certain amount of money, but you don't have to take all of it at once (or at all). Instead, you can borrow any amount up to the maximum within a set period of time, known as the draw period.
You'll only have to repay the balance and pay interest on the money that you actually borrowed, rather than the full amount of the loan. These types of loans work in a similar way to a credit card, but without a physical card for you to use.
Personal Loan for Debt Consolidations
Many people use a single personal loan to pay off multiple large debts at once. Whether it's credit card debt, medical bills, or other personal loans that you've taken out in the past, consolidating everything into one monthly payment can work out cheaper long-term.
Not only do these types of loans help to simplify your finances, you may also be able to benefit from a better interest rate than any of the other loans that you currently have.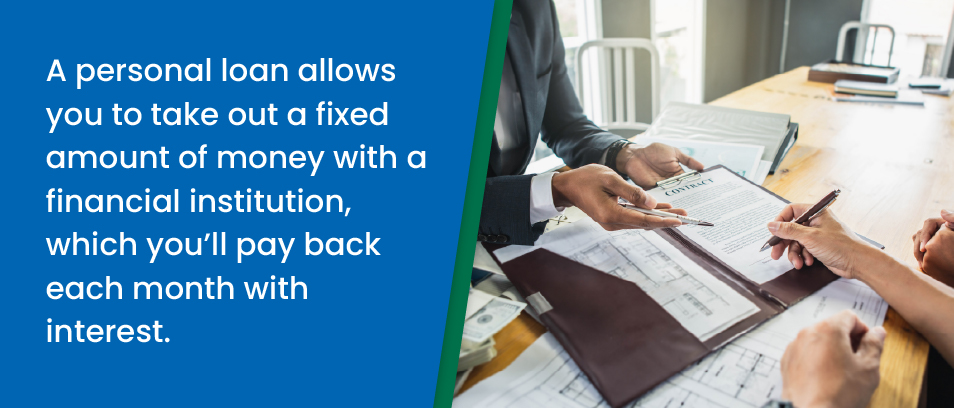 What Can You Do With A Personal Loan?
When you're looking into how to get a personal loan, you'll quickly realize that you can use those funds for just about anything. So how should you spend yours? Let's take a look at some of the most common expenses that people pay for using their personal loans.
Medical Bills
Even with great health insurance, an unexpected illness can mean that bills start flooding in and debt begins to stack up. A 2019 survey found that nearly 20% of households in the US owed medical debt of some amount. If you find yourself facing medical debt, personal loans can help to relieve some stress.
Before you take out a loan, see if you can negotiate your medical bills down so that the total amount owed is less. You may also be able to pay in installments with no interest. If that's not the case though, a personal loan can fund expensive surgeries that may not be covered by your insurance or pay off debts that have been accruing.
Wedding Costs
Weddings are incredibly exciting occasions, but they're expensive! The average cost of a Rockland County wedding in 2021 was around $45,000 and they continue to increase every year. A personal loan
can help to pay most, if not all, of your wedding expenses and allows you to pay off your big day over the next few years.
Start by creating a wedding budget to see how much you'll likely need to borrow. If you're not sure or think that some unexpected expenses might come up, a personal line of credit may be a better option than a traditional unsecured loan. This means that you'll be able to take out exactly what you need, up to a certain limit, and only have to pay off the amount you've borrowed.
Honeymoon
If you've been thinking about a personal loan for your wedding, you may also want to consider one for your honeymoon too. Vacation loans are incredibly common and your honeymoon is, hopefully, a once-in-a-lifetime experience for you and your partner.
If you want to cut down on the amount you need to borrow for your trip, a popular trend is to create a honeymoon fund as a registry item and allow your guests to send you off in style.
Home Renovations or Remodeling
There are plenty of options out there if you're thinking about renovating or remodeling a property, including mortgage refinancing and home equity loans. But if you're not able to use these avenues, a personal loan is a great alternative to consider.
Home Repairs
Sometimes you don't need a full renovation loan but a large repair, like a new roof, can be more than what you've saved. A personal loan can be used for a significant repair like this if you're not able to take out a home equity loan.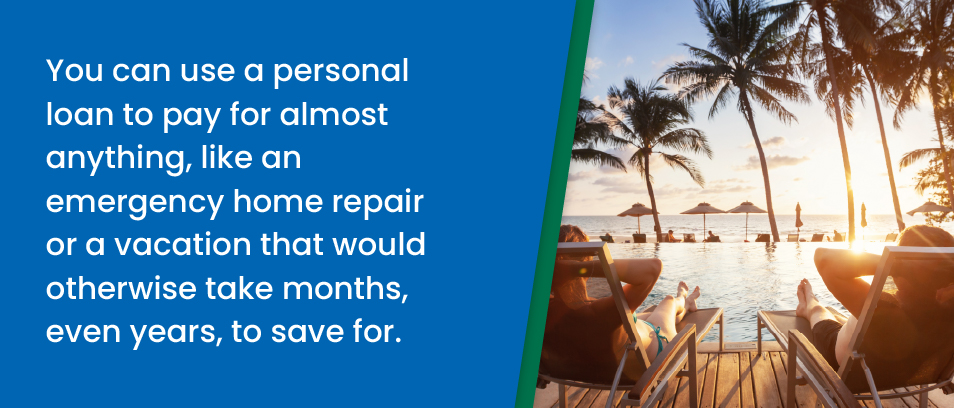 New Appliances or Electronics
Major appliances and electronics like TVs, washers, and dyers all cost money but have a big impact on your quality of life. If you need access to cash to replace these items quickly, a personal loan can help. Even though you'll be paying interest over the long-term, these loans can save you from using laundromats or other alternatives in the immediate future.
Moving Expenses
Moving is costly, no matter how far the distance. Personal loans can finance moving expenses like hiring a truck if you're going DIY or paying for movers to take care of everything for you. Relocating to a new city is even more expensive, so these funds can also be used to pay for hotels or storage as you travel to your new home.
Pay Off Debt
Taking care of other debts, especially those with high interest, can be a big relief. When balance transfers aren't an option, use your personal loan to consolidate existing credit card debt or finally say goodbye to your student loan forever. You can even use your loan money to pay back a friend or family member if you had previously borrowed some cash from them.
Finance A Vehicle
A personal loan is your best option if you're buying a vehicle privately, rather than running down your savings or emergency fund. If you're purchasing from a dealership though, you will likely be eligible for an auto loan with your bank or credit union directly, or even through the dealership itself.
Legal Fees
One of the biggest legal expenses that many people face are divorce costs. In fact, a study by legal publisher Nolo found that the average cost to split from your other half can be more than $15,000 by the time you've paid attorneys and settled any shared assets.
You can also use personal loans for other types of attorney fees, like child custody or alimony disagreements, or putting together a will or trust for after you pass away.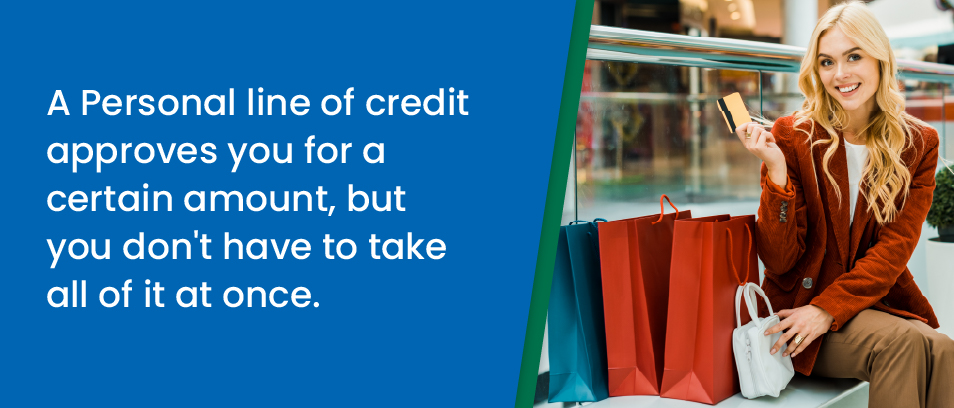 Funeral Expenses
No one likes to think about the end of life. Particularly if the individual dies without life insurance, the costs associated with saying a final goodbye can be financially devastating on top of an already emotionally taxing time.
Paying for a loved one's funeral costs is one of the most common reasons for people to take out a personal loan and can help to relieve some of the stress that these situations can bring.
Holiday Shopping
While you certainly don't want to go into debt while Christmas shopping, a personal loan can make the holidays less financially uncertain. Consider a credit card with a 0% APR introductory offer and pay off the balance before this offer expires.
You may also be able to take advantage of cashback or rewards that come with this kind of personal loan, so look around to see what will benefit you most.
Emergency Expenses
Unexpected emergencies can happen at any time, like a car breakdown or a burst pipe in your home. Having an emergency fund in savings can give you financial peace of mind for when the inevitable unplanned expense occurs. But personal loans are also a good alternative if you need more cash than you have saved or to cover everyday expenses during a period of unemployment.
Everyday Expenses
If you're falling behind on bills or other expenses, a personal loan can quickly help you to catch up. Personal loans are generally better than payday loans, with lower interest and better repayment solutions. To avoid falling into any further debt, it's best to revise your budget and consider where you can make savings so that all of your essential expenses are covered each month.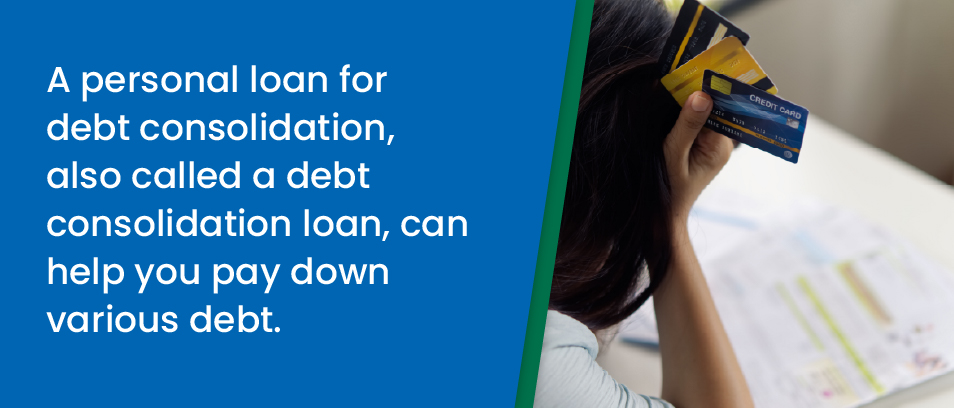 Things That You Can't Use A Personal Loan For
While a personal loan can be used for almost anything, there are a handful of situations that require different methods of funding.
College tuition loans come with a number of different rules and regulations that a lender must follow, which means that a standard personal loan can't be used for these expenses. You should also take into account that federal student loans typically offer the best interest rates, especially for young people with little to no credit history at that point in their lives.
You also can't use a personal loan for the down payment on a home. Both conventional and FHA mortgage lenders forbid the use of personal loan money in this way, which means it won't be possible for you to get a home loan. Instead, you should save money in a high-yield savings account to reach your down payment amount as quickly as possible.
For many lenders, any expenses for setting up and running a business also cannot be paid for using a personal loan. You'll need to take out a dedicated business loan instead. This can vary from lender to lender, so it's best to check with them first to see what options they have available.
Can A Personal Loan Help You?
If you think a personal loan could be beneficial for you, apply online today to see if you qualify for a personal loan from Palisades Credit Union. Contact us with any questions that you might have, or visit us in-branch at our locations in Nanuet, New City, or Orangeburg NY. Paliades CU serves Rockland County NY and Bergen County NJ.
« Return to "Blog"
Go to main navigation