Get Help with Financing Your Dream Home!
At Palisades Credit Union, we understand that finding both the right home and the right mortgage is an individualized process. Our lenders are here not just to give you a home loan but to help you establish a solid foundation for successful homeownership. Whether you're buying your first home or next home, or refinancing your current mortgage, our experienced local mortgage lenders will take the time to listen to your needs and offer personalized, step-by-step advice throughout the mortgage process.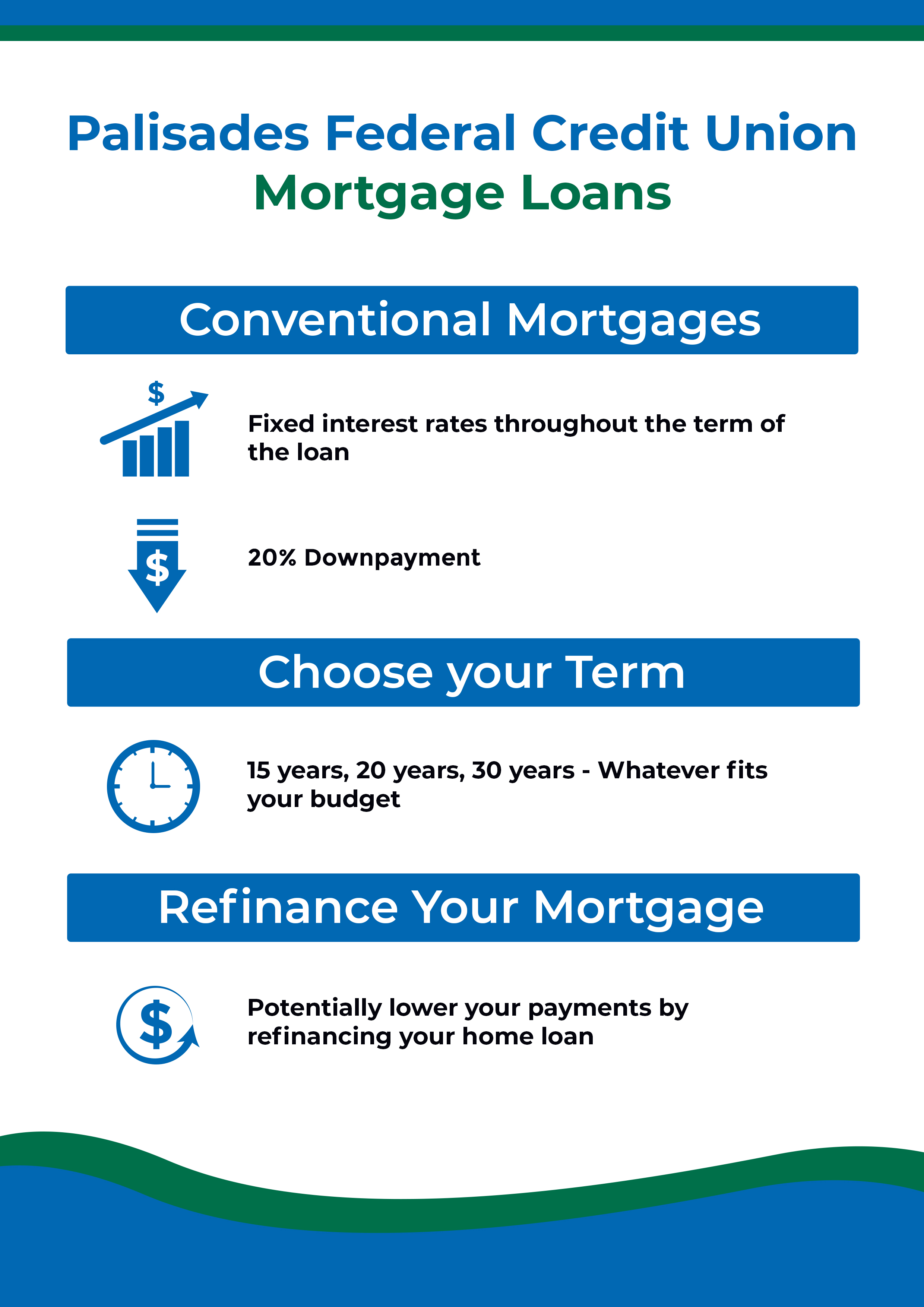 What Kinds of Mortgage Loans Does Palisades Offer?
We are proud to offer our members a variety of home mortgage loan options based on their lending needs.
Fixed-rate conventional mortgages
This is a fixed-mortgage loan originated and serviced directly by Palisades Credit Union and is not backed by a government agency. The interest rate will remain the same throughout the life of the loan. Choose between a 15-, 20-, or 30-year mortgage loan. If you can put 20 percent down on your conventional mortgage, you'll avoid private mortgage insurance premiums.
Mortgage refinance
Palisades can help borrowers save money on existing mortgage loans. If you currently have a mortgage with Palisades or another lending institution, you may be eligible to lower your monthly mortgage payment and save money by refinancing your mortgage. Consider a mortgage refinance when the current rates are lower than your existing mortgage rate, or if you would like to switch from a variable to a fixed-rate mortgage. You can also apply for a cash-out refinance to get your mortgage savings upfront.

Why Choose Palisades Credit Union for Your Mortgage?
As a not-for-profit, member-owned credit union, Palisades is here to serve the financial needs of our members and local community. We've expanded since our founding in 1941 to serve all persons who live, work, worship, or attend school in Rockland County, New York and Bergen County, New Jersey, as well as New York State employees who work in the 5 NYC boroughs; members of Radio Television Broadcast Engineers Local 1212, International Brotherhood of Electrical Workers, AFL-CIO, in New York, NY; and USA Networks employees who work in or are paid from New York, NY.
With over $200 million in assets and more than 14,000 members, our most important goal is to build valued relationships through a lifetime of financial solutions. When you join Palisades Credit Union, you can be sure that we will always strive to bring you first-class financial services and personalized advice. If you're looking for home loans or home refinancing in Orangeburg, New City, or Nanuet, we are confident that you'll find what you're looking for at Palisades Credit Union.
As a member of Palisades Credit Union, you can become eligible for certain benefits such as our Palisades Perks (free notary service and special discounts on other popular services).
Apply For a Mortgage with Palisades CU
Buying a home is often the biggest, and most emotionally rewarding, purchase you'll make in your lifetime. As your local credit union, Palisades' mortgage lenders in Orangeburg, New City, and Nanuet love helping our members through the home buying journey. Whether you're buying your first home, upgrading to a newer, bigger home, or refinancing your existing mortgage you can apply online, in person at your nearest location, or call us at 845-602-4242. Our friendly Rockland and Bergen County mortgage lenders are ready to assist you.

Go to main navigation