A college degree is one of the most valuable investments you can make in your future.
Studies have shown that college graduates make more money over their lifetimes than those without a degree. However, paying for college can be a struggle for many students and their families. Palisades Credit Union is here to help you fill the gap between scholarships, federal aid, and the total cost of attendance. You can use your PCU Student Loan for tuition and books, as well as related costs such as housing, food, transportation, and technology. As a credit union, we offer our members competitive student loan rates with many benefits. And once you finish your education and start repaying your student debt, we can help you consolidate all of your student loans at a better rate and terms, plus one convenient monthly payment.

Student Loan Benefits
We put our members first by offering flexible and affordable loans for college students. As you can see from the benefits below, we try to reward you wherever possible, like for good grades and automatic payment opt-in. Our co-signer release is also a great perk, as it allows your co-signer to be freed from the loan once certain repayment requirements are met. Financing your education doesn't have to be difficult or frustrating when you get a student loan from Palisades Credit Union.
Competitive interest rates
Credit & Academic- based underwriting
Cosigner Release
.25% interest rate reduction when you sign up for automatic payments
No origination fee for all student borrowers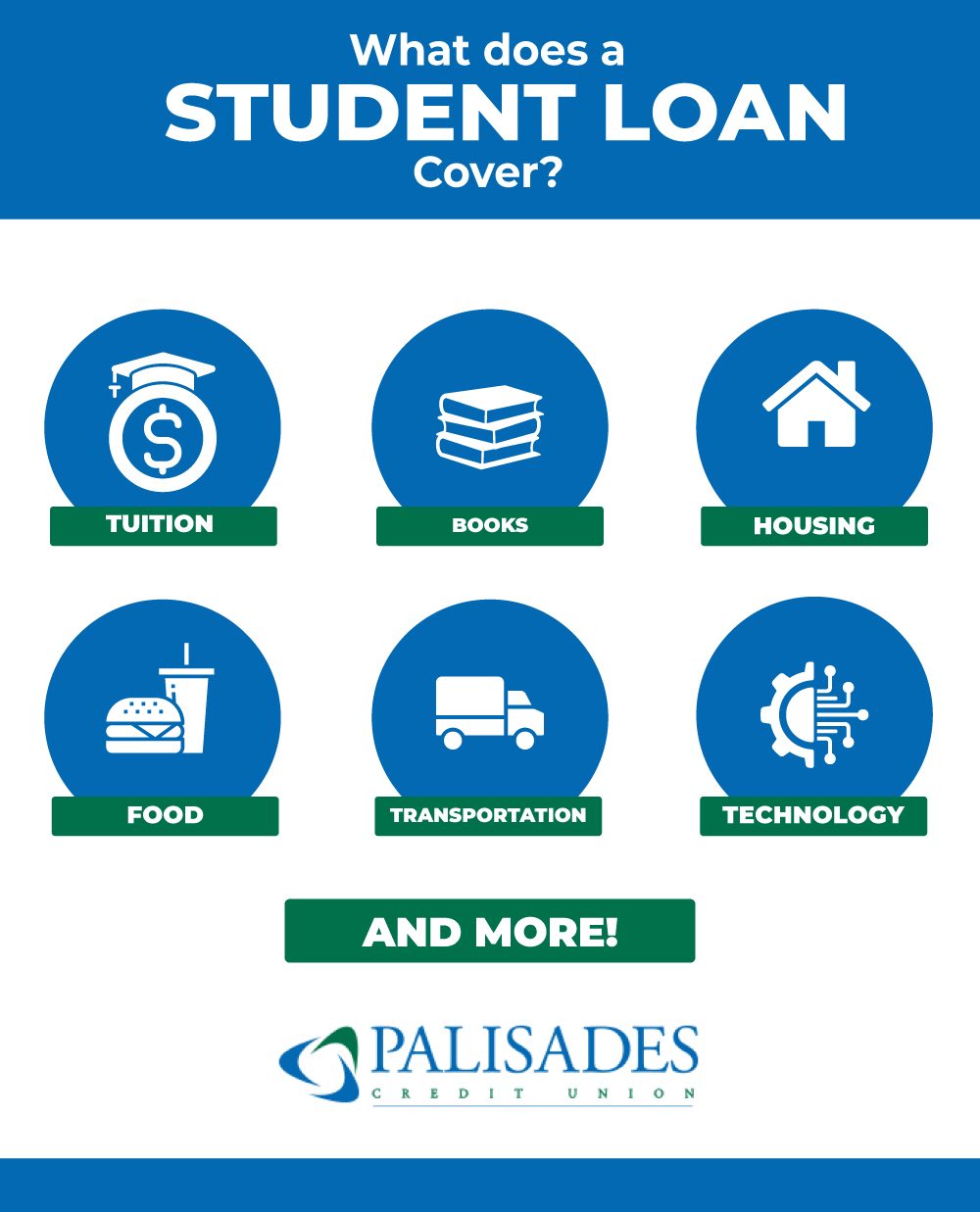 Apply online for a Student Loan from Palisades Credit Union!
We make it easy and convenient to apply for a student loan with a quick online application. You can also visit your nearest PCU location in Nanuet, New City, or Orangeburg, NY.
Palisades Credit Union is a not-for-profit, member-owned financial institution that exists solely to meet the banking needs of our members. From online account opening to ATM-fee refunds, no monthly service fee, and cash-back rewards, we are proud to bring you a full range of personal loan options in Bergen County, Rockland County, and select groups in New York City.
At Palisades Credit Union, our mission is to build valued relationships through a lifetime of financial solutions. With over $200 million in assets and more than 14,000 members, we continuously strive to offer our members first-class financial services. Our focus is on our members and the local community, allowing us to tailor the financial products and services we offer to the needs of Rockland County, New York; Bergen County, New Jersey; and select groups in New York City.
Looking for the best student loan programs and credit union student loans in Rockland or Bergen Counties? Apply for a student loan online today or visit your nearest PCU location in Nanuet, New City, or Orangeburg, NY.
Go to main navigation