How To Apply For Student Loans
Next to buying a home, paying for college can be one of the biggest expenses for a family. It's best to start preparing before the big day comes. Of course, saving in advance will help you cover some of the cost without taking out loans. Check out NY's 529 College Savings Program or New Jersey's 529 College Savings Plan. Still, many students will need to finance at least some of their college education. In this guide, we'll explain the different types of student loans, how they work, and what you need to apply.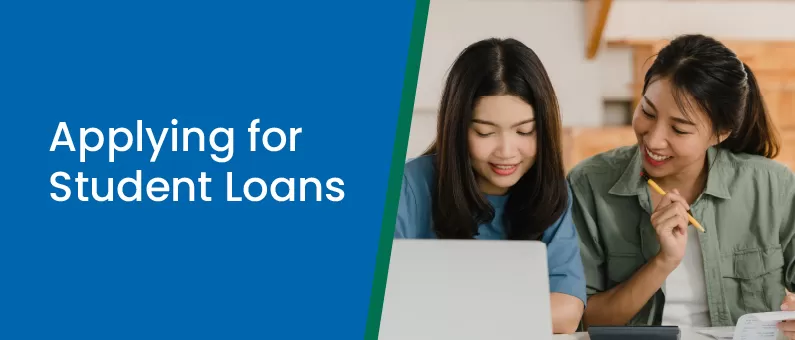 What are the different types of student loans?

Before you begin the application process, you should be aware of the two types of student loans available to students and parents.
Federal Student Loans
The U.S. Department of Education offers Direct Subsidized and Unsubsidized Loans for undergraduate students. Subsidized means that the Department of Education will pay the interest accumulated on the loan while you're in school at least half-time and for six months after you graduate.
Direct Unsubsidized Loans are available for graduate students. Parents can also take out a Direct PLUS Loan to help pay for a child's education.
With all federal student loans, there are annual limits and an aggregate loan limit for how much you can borrow.
Private Student Loans
Private student loans are available from credit unions like Palisades, as well as other lenders. Undergraduate and graduate students, as well as parents, can obtain private student loans to help pay for college. If federal aid isn't enough, private loans can help you make up the difference.
When should I apply for student loans?
Before you can apply for a federal student loan, you'll first need to complete the Free Application For Federal Student Aid (FAFSA), available October 1st of each year. The schools you apply to will use the FAFSA to create a financial aid package for you. While the federal deadline to submit your FAFSA is June 30th, states and individual colleges may have a different priority deadline.
Since you need tax information to fill out the FAFSA, tax season is a good time to start prepping or working on your FAFSA.
Overall, it's best to apply for student loans as early as possible, even the year before you start college. Once you receive a financial aid letter from your college of choice and make a deposit to hold your spot, you can apply for private student loans. Check the tuition due date for your school–this usually falls in July or August before your first semester.
If your situation changes mid-semester, you can also apply for a private or federal student loan any time of year. Set up the loan so the funds are disbursed, meaning the money will go to your school first for tuition and fees. You can opt to receive any leftover funds to use for other college expenses such as housing, books, and transportation.
Tip: Financial aid refers to grants, scholarships, work-study jobs, and student loans. You financial aid package will be based on the cost of the school you choose, as well as your family's financial situation.
Tip: A student loan, whether federal or private, is a debt you will have to re-pay with interest after you leave school. It's best to borrow only what you need to help pay for college. In other words, don't use leftover student loan funds for entertainment, travel, or other discretionary purchases.
What Do You Need For Student Loan Applications?
As mentioned above, you need to complete the FAFSA in order to apply for federal student loans. Follow these steps to fill out your FAFSA:
Create an FSA ID. Both the student and their parent need to have one.
Start the FAFSA. Remember, it opens on October 1st and you should get started as soon as possible.
Student Demographics: Name, birth date, etc. Most of your personal information may already be filled out from the process of obtaining your FSA ID.
List of Schools: Include all the colleges and universities (up to 10) you're considering, even if you haven't applied or been accepted yet. Your FAFSA will automatically be shared with your list of schools.
Dependency Status: This section determines whether or not you must provide parent information. Dependency guidelines are set by Congress–learn more here.
Parent Demographics: If you are determined to be a dependent student, you'll need to provide basic information about your parents.
Financial Information: You can use the IRS's Tax Transcript Tool to easily retrieve your (or your parents') most recent federal tax information. You will also need to provide balances of savings and checking accounts.
Sign and Submit. You and your parent(s) will need to sign with your FSA ID. Don't mix them up–a common error that can delay your financial aid offers.
The purpose of the FAFSA is to determine your Expected Family Contribution (EFC) and eligibility for federal student loans and Pell Grants. The FAFSA also serves as your federal student loan application.
Tip: The EFC is calculated with a formula established by law. It's based on your parents' taxed and untaxed income, assets, and benefits such as unemployment, disability, or Social Security. If your federal aid package of loans, scholarships, grants, and/or work study doesn't cover the full cost of college, you can apply for a private student loan to make up the difference.
What You Need To Apply For a Private Student Loan
Eligibility for federal student loans is determined by financial need. Most of the time, undergraduate students can qualify for federal loans without a co-signer, regardless of credit history (including if you don't have a credit history yet).
In contrast, applying for a private student loan works in the same way as applying for other types of credit. You'll need to provide basic personal and financial information, and agree to a credit check. Most of the time, you'll need a co-signer on your private student loan. That person, usually a parent or other relative, will need to provide personal and financial information and have their credit checked.
Private student loans usually have higher limits than federal loans. With Palisades, for example, you can borrow up to $120,000 in undergraduate student loans and $160,000 for graduate and professional school.
With both federal and private loans, you'll need to re-apply every year that you attend school. This includes filling out the FAFSA each year.

How Does Student Loan Repayment Work?
Unlike other types of loans, such as a personal loan or mortgage, you don't have to make payments on your student loan until after you graduate or leave school. Even then, there is a six month grace period before payments begin.
However, except for federal Subsidized Direct Loans, your Unsubsidized Direct Loans and private loans will start to accrue interest right away. If you or your parents can afford to, making interest-only payments while you were in school will keep your student loan balance from increasing. Otherwise, the interest compounds, meaning it gets added to your original balance and continues to accrue interest.
When it comes to repaying federal student loans, you will generally have 10-25 years to pay off your loan. You can also choose from several repayment plans:
Standard Repayment Plan: Fixed monthly payment amount that will pay off your loans within 10 years.
Graduated Repayment Plan: Monthly payments are lower when repayment begins, then increase every two years to get your loan balance paid off within 10 years.
Extended Repayment Plan: For borrowers with more than $30,000 in Direct Loans. Payments are fixed or graduated to meet a 25-year repayment term.
Revised Pay As You Earn Plan: Monthly payments are limited to 10% of your discretionary income. After 20 years, any outstanding balance will be forgiven.
Pay As You Earn (PAYE) Repayment Plan: Monthly payments are 10% of your discretionary income, but never more than you would have paid under the 10-year Standard Repayment Plan.
Income-Based Repayment Plan (IBR): Your monthly payments will be either 10 or 15 percent of your discretionary income, but never more than you would have paid under the 10-year Standard Repayment Plan.
With private student loans, your repayment term is laid out in the terms of the loan when you apply. You can expect to make fixed monthly payments, at a fixed interest rate, for a pre-determined amount of time. When you have a private student loan from Palisades, you can qualify for a .25% interest rate reduction by signing up for automatic payments.
Consolidating and Refinancing
If you have more than one student loan, you may want to consider consolidation. The main benefit is that you only have one monthly payment, instead of several, and only one loan servicer to deal with. Multiple federal loans can be consolidated into a single Direct Consolidation Loan. Private loans can also be consolidated into one new private student loan. It's important to note that consolidating federal student loans into a private loan means giving up certain benefits, such as your choice of repayment plans as well as deferment and forbearance.
Refinancing your student loans means taking out a new loan at a lower interest rate to pay off your existing student loan balances. Sometimes, you can get a lower interest rate when you consolidate, but if not, you may want to look specifically for a refinance loan.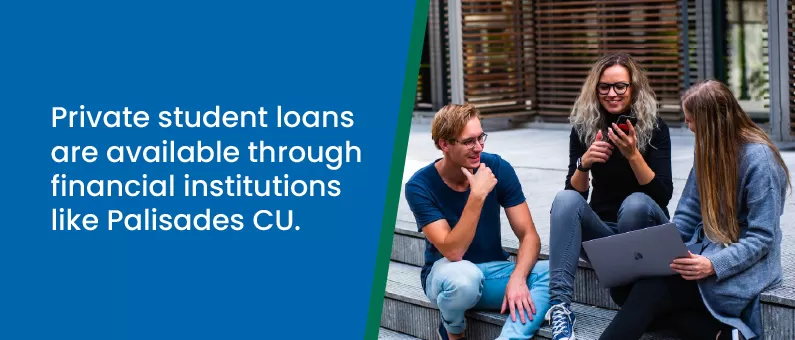 What happens if you stop paying your student loans?
If you miss a student loan payment one month, your loan will be delinquent. After three months of delinquency, your credit history and score will be negatively impacted. If you continue to not make payments, your student loan will go into default. For federal student loans, the consequences of default include:
The entire unpaid balance of your loan and any interest owed will be immediately due
Lose eligibility for benefits such as deferment, forbearance, and choice of repayment plan
You can't receive additional federal student aid
Your credit may be negatively impacted for years, hurting your ability to buy a house or a car
Tax refunds and federal benefit payments may be withheld
Your wages may be garnished
You may get taken to court and have to pay fees associated with the collection process
Private student loans will also go into default and delinquency if you stop making payments. If you have a co-signer on your private student loan, that person will be responsible for making payments if you are not.
If you're struggling to make student loan payments, call your loan servicer or lender to let them know and discuss your options. They may be able to work with you to keep you from becoming delinquent.
Apply Online For a Student Loan From Palisades!
We make it easy and convenient to apply for a new student loan with a quick online application. There is no origination fee. You can also contact us with questions or visit your nearest PCU location in Nanuet, New City, or Orangeburg, NY. For more on student loans, check out these "Student Loan Myths Busted!"
Palisades Credit Union is a not-for-profit, member-owned financial institution that exists solely to meet the banking needs of our members. From online account opening to ATM-fee refunds, no monthly service fee, and cash-back rewards, we are proud to bring you a full range of personal loan options in Bergen County, Rockland County, and select groups in New York City.


« Return to "Blog"
Go to main navigation