How to Safely Manage Your Financial Accounts Online
From Zoom happy hours to grocery delivery, living more and more of your life online also means protecting your finances from digital threats. As of 2021, almost 65% of Americans use online banking. That trend shows no sign of slowing down, so it's important to learn how to stay safe while using online and mobile banking. Keep reading to discover our best tips for protecting your financial information online!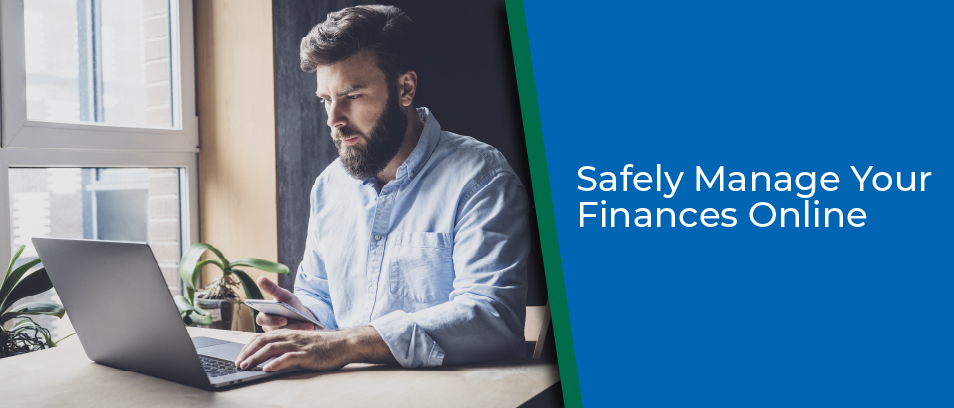 Security tips for using mobile devices
There are many benefits to mobile banking, but with all that convenience comes the responsibility of protecting access to your smartphone and mobile banking app. Follow these tips so that only you can access your account information, not scammers.
Protect physical access to your phone or tablet. Keep your device locked when not in use and require a passcode and/or another verification method such as a face or fingerprint ID.
Install software updates right away. Companies regularly release operating system updates that introduce new features to your device and, most importantly, keep it safe. Because cybercriminals are always looking for OS vulnerabilities to exploit, installing new updates as soon as they are released will help protect the sensitive data on your phone or tablet.
Set up multi-factor authentication when possible. For every account that offers it, establish multi-factor authentication (MFA) to protect access to your email and online accounts, including online banking. Also known as two-factor authentication, MFA just means you have to provide an additional credential, such as a one-time passcode (OTP), after entering your password. This means that even if a fraudster obtained your login credentials, they would not be able to access your account because they wouldn't receive the OTP.
Practice good password habits. Use a password manager to create and store unique passwords for each of your accounts. If you don't use a password manager, create strong passwords (long, combination of letters and numbers, no common phrases or personal data) and try to use a unique password for each of your accounts. Don't store login credentials on your computer or on your desk. Change your passwords every 3-6 months to stay ahead of data breaches.
Don't leave devices unattended. When using your laptop, smartphone, or tablet in public spaces, keep it with you/on your person at all times, such as when going to the bathroom or placing an order at the counter. You wouldn't just leave cash or your Social Security Card lying out for anyone to grab, so treat devices with the same concern.
Be careful on public computers and wifi. When using a computer at the library or other public space, make sure you log out of any accounts, such as email, before walking away. Try not to login to online banking or other sensitive accounts that someone could look over your shoulder at. Also try not to make online purchases or pay bills on public wifi, which is more vulnerable to hackers. If you are often on the go and depend on public wifi, purchase a Virtual Private Network (VPN) to encrypt your browsing activities.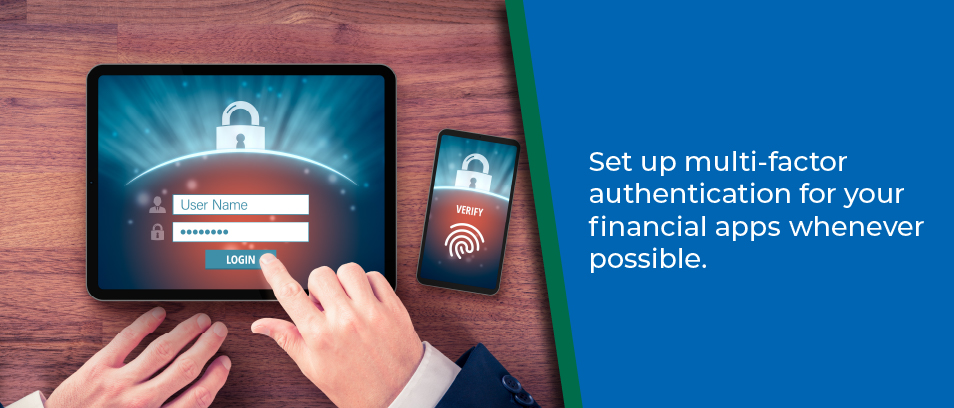 Be proactive about managing your financial accounts online
You can help us protect your financial information by staying proactive. Make it a habit to check your account(s) daily to keep track of recent transactions and spot any suspicious activity right away. With Online & Mobile Banking, your account is at your fingertips 24/7, wherever you are. If you do spot a transaction you don't recognize or didn't authorize, give us a call right away at 845-602-4242 or 800-438-7415. To report a lost or stolen debit card, call 800-472-3272 or 973-682-2652 (outside of the US and Canada).
Make sure you're using legitimate and secure apps
When downloading our mobile banking app, Download the app from the Apple App Store or Google Play. Use our direct URL instead of searching for the app in your device's app store. Scammers impersonate apps from legitimate companies and financial institutions to try and steal your data.
In general, beware of the apps you download and delete any you no longer use. Some developers will create apps with spyware or malware on them just to gain access to your device and/or sensitive information.
Watch out for Phishing scams
Familiarize yourself with the signs of a scam so you can spot one before you fall victim to it. Be wary of emails and texts that come from unknown numbers/addresses or that claim to be from a company you do business with. Reputable communications from your financial institution and other companies will never ask for sensitive personal information, login credentials, or access to your computer. If you use mobile payment apps, you may want to leran about some of the common phishing and other payment app scams.
Hover your cursor over links to see the full URL before clicking and don't download attachments you weren't expecting. If you have any doubts about whether the message is legitimate, call the company back at the customer service number listed on their website. For example, you can always call our Member Contact Center at 845-602-4242 or 800-438-7415. if you have any questions about your Palisades CU accounts or any messages you've received from us.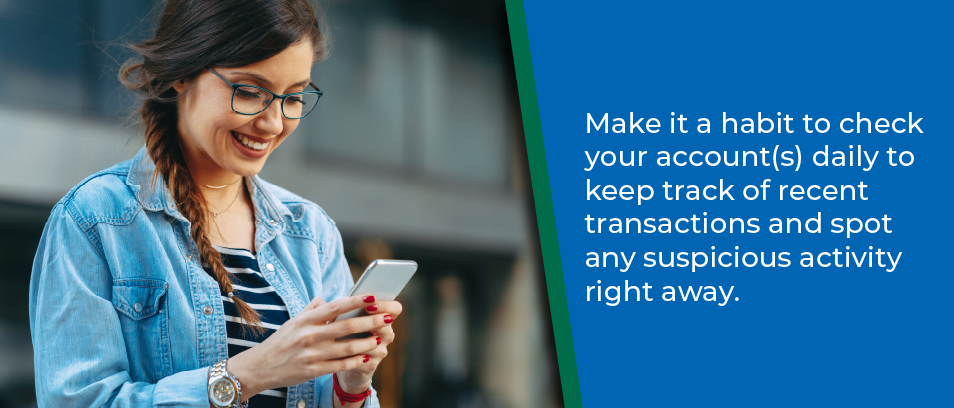 How does the government communicate financial information?
One of the most common scams is the impersonation of the IRS. Understand how the IRS does and doesn't contact taxpayers so you can protect yourself from identity theft. According to the IRS's website:
Most communication from the IRS will occur via regular mail delivered by the USPS.
Exceptions to this, when the IRS may call or visit, include overdue tax bills, to secure a delinquent tax return or delinquent employment tax payment, or to tour a business.
Still, even in exceptional cases you will generally receive one or more notices by mail first.
Even then, taxpayers will generally first receive a letter or sometimes more than one letter, often called notices, from the IRS in the mail.
What the IRS doesn't do:
Make aggressive, demanding, and/or threatening phone calls
Demand a specific payment method, such as a prepaid debit card, gift card, or wire transfer.
The IRS will not ask for your debit or credit card number over the phone.
Insist on immediate tax payment.
Threaten to involve the police, immigration officials, or other law enforcement agencies.
Use email, text messages, or social media to communicate with taxpayers.
You can report suspected IRS scams in the following ways:
Also, the Social Security website has a helpful page on what to do if you get a call claiming there's a problem with your Social Security number or account. You can also create a My Social Security account online to review your current statement, change your address, and manage your benefits.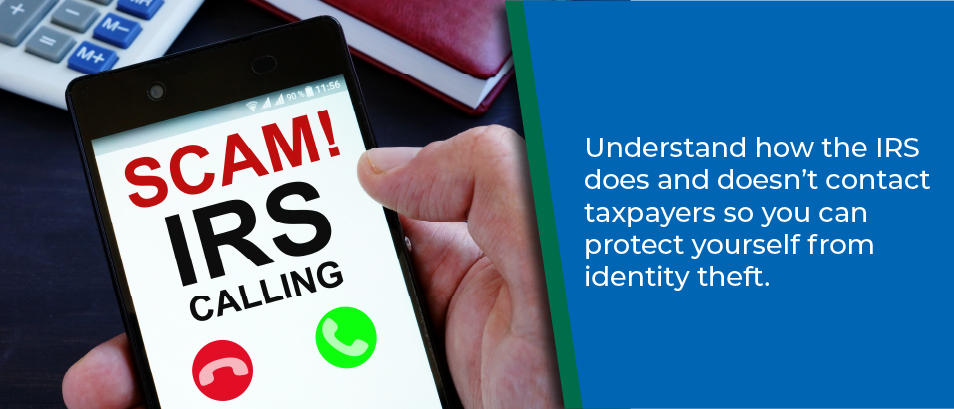 Get started with online and mobile banking today!
Now that you understand how to secure your online banking accounts, you're ready to get started with our secure mobile banking app or, if you already use mobile banking, you can make some changes to make your device more secure. Register for Palisades CU online banking, get our mobile banking app, or safely open a new checking account online! As always, we are here to help if you have any questions or concerns about managing your finances online. Read more cyber security tips from Palisades CU!
Related Blog:
Look Out for Common Cybersecurity Threats
« Return to "Blog"
Go to main navigation