Let the equity in your home work for you as hard as you worked to earn it!
With a Home Equity Line of Credit (HELOC) from Palisades Credit Union, homeowners can tap into the available equity in their homes to finance a range of expenses such as home improvements and college tuition, refinance an existing higher-rate mortgage, or consolidate higher-interest debt.

How do HELOCs work?
A HELOC is a revolving form of credit that uses your home as collateral. During the 10-year active period, you can withdraw money to use however you see fit. Once your HELOC reaches the end of its revolving term, any remaining balance will be repaid with a 15-year term loan.
A HELOC is a slightly more flexible option than a home equity loan. Read more about the differences between a home equity loan vs. a home equity line of credit.
What do Homeowners Use a HELOC for?
The simple answer is anything. With easy online access to your Home Equity Line of Credit and check writing privileges, you can use your HELOC like cash to make online payments or purchases, transfer funds into a linked deposit account, write checks to contractors for home renovations, pay a child's school tuition, and more. Some people open a HELOC in case of an emergency and don't use it right away. There is no obligation to withdraw funds from your HELOC and, with a lower interest rate than a credit card, it's an attractive credit option.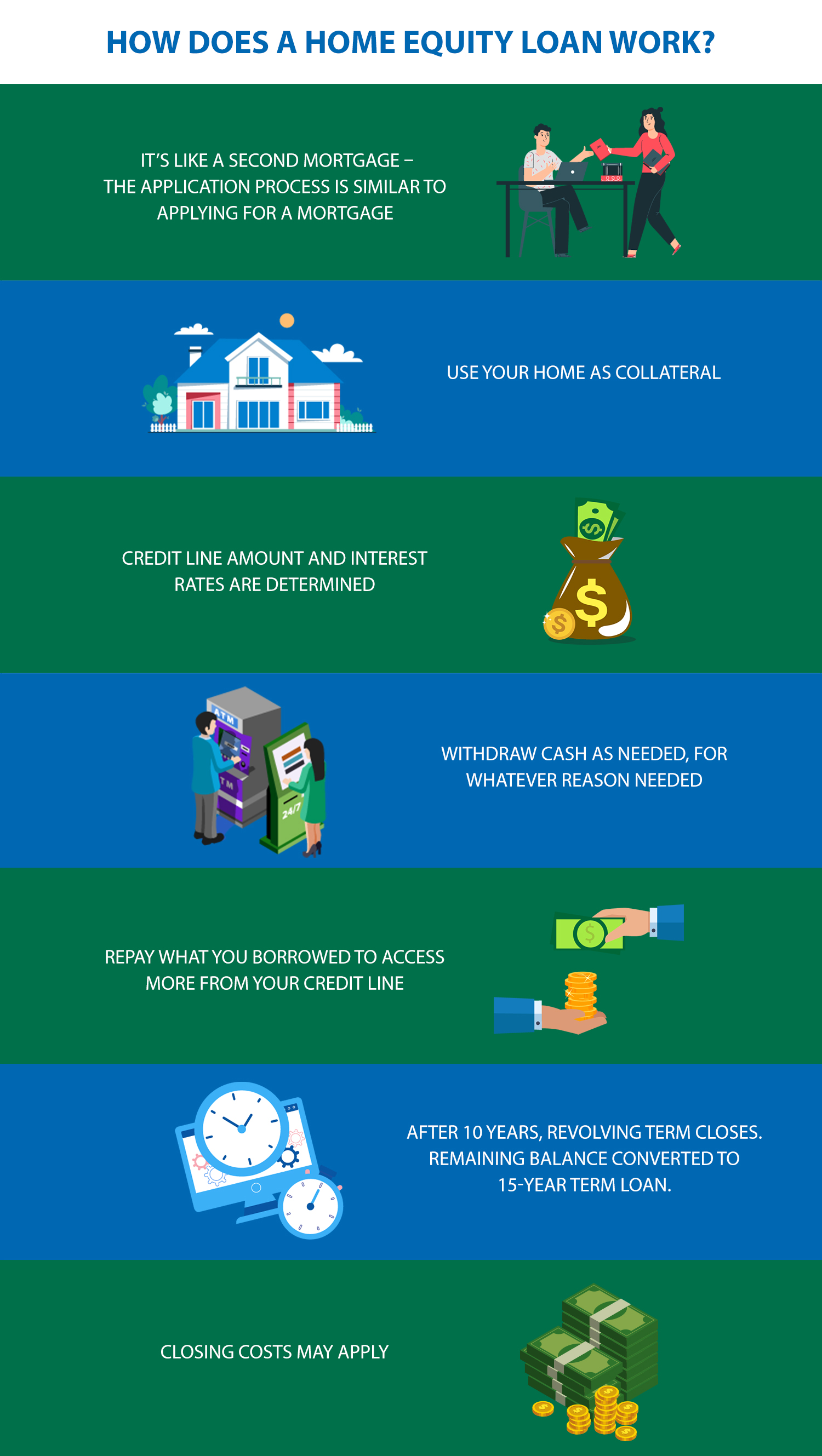 Enjoy the Convenience of a HELOC from Palisades Credit Union:
Only pay for what you use on your line of credit.
Introductory period of 3.74% APR 2 for 12 months, and then rates as low as prime 1 - 0.10%
No Closing Costs on lines up to $150,000. 3
Refinance existing Mortgages / Home Equity Loans.
Set up account activity notifications through Online Banking.
Available on properties in New York, New Jersey, Connecticut, Massachusetts, and Pennsylvania.
Possible tax advantages. Consult with your tax advisor to determine eligibility.
Compare Home Equity Line of Credit Options
Principal & Interest
Pay down your HELOC balance with principal and interest payments from the start. This will mean larger minimum payments but a faster repayment period. This could be a good option for homeowners who don't plan to use all of their available credit or to only use the HELOC in case of an emergency.
Interest-Only
Make interest-only payments for the first 5 years of your HELOC term. You still have the option to pay towards the principal balance any time you wish. This could be a good option when you use your HELOC to finance a big expense, like a home renovation, that will reach its full value upon completion (at which time you might refinance your mortgage and pay off the HELOC).
Apply for a Home Equity Line of Credit online!
Palisades Credit Union is a not-for-profit, member-owned financial institution that exists solely to meet the banking needs of our members. From online account opening to ATM-fee refunds, no monthly service fee, and cash-back rewards, we are proud to bring you the best HELOC options for Bergen County, Rockland County, and select groups in New York City.
At Palisades Credit Union, our mission is to build valued relationships through a lifetime of financial solutions. With over $200 million in assets and more than 14,000 members, we continuously strive to offer our members first-class financial services. Our focus is on our members and the local community, allowing us to tailor the financial products and services we offer to the needs of Rockland County, New York; Bergen County, New Jersey; and select groups in New York City.
Apply for a Home Equity Line of Credit online or visit your nearest PCU location in Nanuet, New City, or Orangeburg, NY.
1 Prime Rate as of 7/26/2023 is 8.50%. HELOCs have a floor rate of 3.50% and a ceiling of 15.00%. Rates start as low as the Wall Street Journal Prime Rate minus .10% for loans in first position with LTV up to 80% and LTV up to 70% for second position. For loans with LTV up to 100% rates start as low as the Prime Rate plus 1.4%
2 APR=Annual Percentage Rate. The fixed introductory rate will be effect the first 12 months after your account is opened, whether or not funds have been advanced from your HELOC during that time. Thereafter, the rate, including the rate on any existing balance, will convert to the applicable Variable APR.
3 Average closing costs for loans of $150,000 are $2,500. The draw period for the credit line is 10 years.
* For interest only Home Equity Lines, loans will consist of principal and interest after the 60th payment with a minimum payment of $100. Upon completion of the draw period, loan payments will be calculated to amortize at 180 months. Minimum loan amount is $25,000, maximum loan amount is $500,000. A Home Equity Line of Credit is secured by a first or second mortgage, which must be the borrower's primary residence and consist of residential 1-4 unit dwelling, condo or Planned Urban Development (PUD). Offer applies only to properties located in NY, NJ, CT, PA and MA. Maximum loan to value ratio is 100%. Borrower may have to pay a closing cost recapture fee if during the first 36 months of the loan the account is closed. Property insurance required. Flood insurance may be required.
Go to main navigation