What is a HELOC For? 7 Ways To Put Your Home Equity To Work For You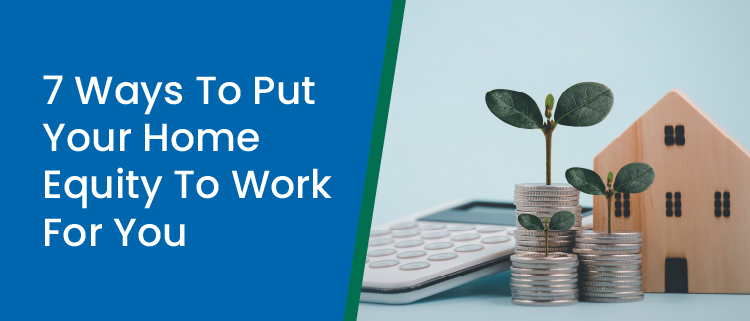 If you've owned your home for a while, you probably have some equity in it now. Equity is the difference between what you owe on your mortgage and your home's current market value. You can build equity by paying down your mortgage principal, as well as by improving your home (aka sweat equity). When your home's value rises with the rest of the real estate market, you also gain equity.
When you need to borrow money for a major expense, borrowing against your equity is usually the most affordable option. Home Equity Loans and Home Equity Lines of Credit are your two options for putting your house's equity to work for you. In this article, we'll share 7 ways to use a HELOC and what to consider before you apply for a HELOC.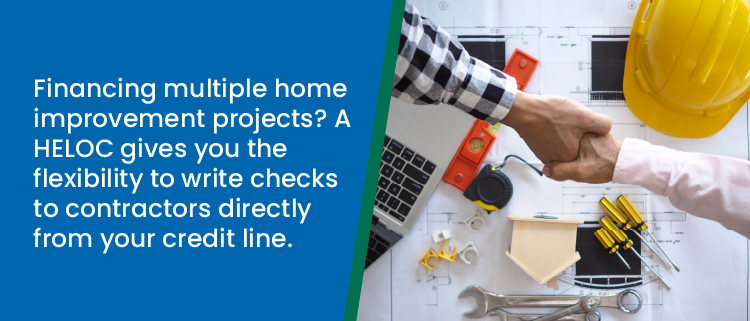 Home Improvements
This is one of the most popular ways to use a HELOC. If there are multiple home improvement projects you want to finance, a HELOC gives you the flexibility to write checks to contractors directly from your credit line. You can also transfer HELOC funds to your checking account to purchase supplies and materials.
While there are no guarantees, updating and improving your home will usually add to its market value. Whether you are getting ready to sell your house now or in the future, you can expect some return on your investment. And, in the meantime, you can enjoy a more functional or aesthetically pleasing space.
With home prices and mortgage rates still high, many homeowners would rather renovate their current space to meet their needs than move to a new home.
Finally, you may be able to take a tax deduction on the interest paid on a HELOC. The HELOC must be secured by your primary residence and you must use the funds to buy, build, or improve your home. Talk to your tax advisor about your specific situation.
Down Payment on an Investment Property
Have you always wanted to purchase a rental unit or units? Being a landlord isn't for everyone, but it can be a way to earn extra income now and in the future, while growing your net worth with the value of your investment property.
You can borrow money from a HELOC on your primary residence to use as a down payment on an investment property. Just remember that defaulting on your HELOC could cause you to lose your primary home. Before purchasing a second property, do some calculations or talk to a financial advisor to make sure you can cover any costs that arise, such as months when the rental is vacant as well as repairs and maintenance.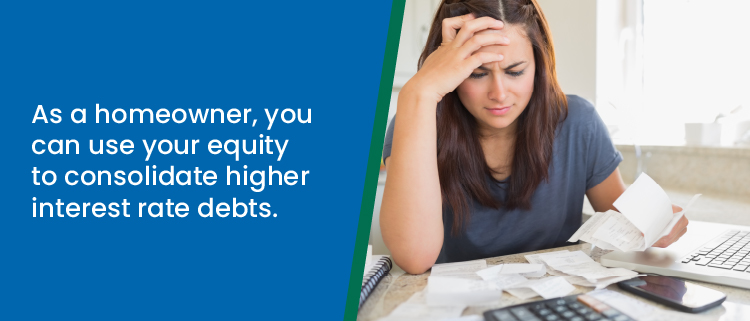 Debt Consolidation
The cost of living in New York and New Jersey is higher than in other parts of the country. And with inflation, it's no wonder that credit card balances increased in the final quarter of 2022, surpassing the pre-pandemic high. New Jersey cardholders have the second highest average balance in the country at $7,084. New York isn't far behind at number 10 with an average balance of $6,491.
Of course, people who carry a balance on their credit cards are usually juggling other debts as well, including car loans, student loans, or personal loans. As a homeowner, you can use your equity to consolidate and refinance higher interest rate debts. You'll save money on interest over the long term and you may be able to pay off your debts faster, lower your overall total monthly debt payments, and enjoy the convenience of making just one payment instead of several.
Before you consolidate credit card debt, it's important to identify the factors that led you to accrue a balance in the first place. Unless you make some changes to prevent it from happening again, you could very well rack up credit card balances again after consolidating. Then your total debt will be higher and you may jeopardize your home if you can't afford to make payments on your mortgage and your HELOC.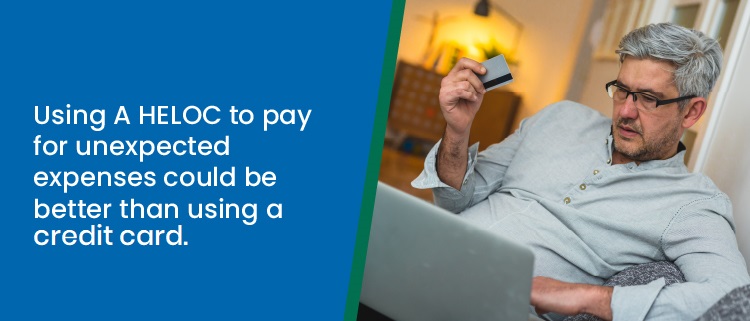 Emergency Fund
If you are among the 63% of Americans living paycheck to paycheck without much or any savings, a HELOC could serve as your emergency fund. With lower interest rates than credit cards, using your HELOC to pay for unexpected expenses could be better than using a credit card. Depending on the terms of your HELOC, you may be able to open it without using it right away. It will be there when you need it, and you will only accrue interest when you draw funds.
Wedding
The average cost of a wedding in New York is $46,000. Whether you're a parent trying to pay for some or all of a child's wedding, or an engaged couple who has to pay for the wedding themselves, it's a large expense. If you don't have enough savings to cover the full cost of your wedding, using a HELOC is certainly better than tapping your retirement savings account or paying with a higher interest debt such as a credit card or personal loan.
Education Expenses
Whether you want to go back to school yourself, or you're helping a child pay for college, a HELOC can help you fill the gaps between what you've saved, any scholarships you and your child receive, and your Expected Family Contribution (EFC).
Other
The bottom line is that you can use your HELOC for anything. There are no restrictions and funds from your HELOC can be transferred into your checking account. So, if you want to, you can use your HELOC for big purchases such as new furniture, computers, or appliances. You could also use it for travel and other discretionary expenses.
When deciding what to use your HELOC for, the most important thing is to budget for the monthly payments you'll need to make on whatever amount you borrow. Generally, it's best to avoid borrowing against your house when not absolutely necessary or for expenses that don't add value to your property. However, a HELOC offers a lower interest rate than a credit card or personal loan, so it's an affordable financing option when you do need to borrow money.
Apply for a HELOC today!
Are you ready to put your home equity to work for you to finance a home improvement, pay for college, consolidate debt, or something else? Palisades Credit Union offers HELOCs with no closing costs on lines up to $150,000 and an introductory period of 3.50% APR for 12 months. Start your HELOC application online or contact us to learn more!
« Return to "Blog"
Go to main navigation