Consolidate Your Debt in 2021
How much debt is on your balance sheet? 80% of Americans carry some form of debt, according to a report from The Pew Charitable Trusts. While mortgages were the most common type of liability, Americans are carrying a variety of debts overall, including student loan balances, credit card balances, auto loans, and more. Even if you're not stressed about the amount of debt you have, making multiple monthly payments to different accounts can be difficult to keep track of. If this describes your situation, make 2021 your year to reduce or eliminate your debt. Debt consolidation can help you organize your debt and make it easier to pay off your various balances. Keep reading to learn more about debt consolidation and how it can help you!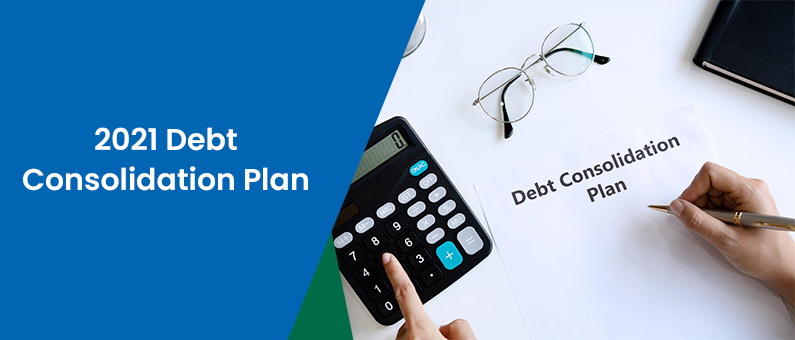 What is Debt Consolidation?
To consolidate is to "combine (a number of things) into a single more effective or coherent whole." When it comes to debt, consolidation means taking out one new loan and using it to pay off multiple existing debts, such as other loans and revolving credit accounts.
Debt consolidation benefits borrowers by turning multiple monthly payments into a single payment. You may also be able to consolidate your debt at a lower interest rate overall, which could reduce your monthly debt payment, help you pay off your debt faster, and save you money on interest in the long run. Those are the primary benefits and reasons people consolidate their debt.
On the other hand, there may be some costs associated with taking out a new loan or transferring a credit card balance. It's important to weigh the costs and benefits to make sure the overall benefit to you is worth it.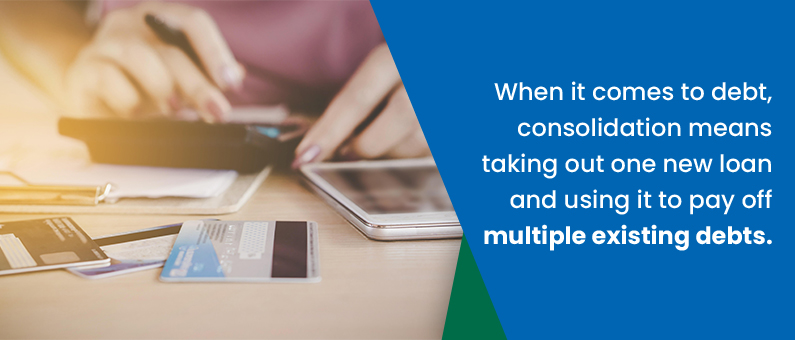 How Does Debt Consolidation Work?
To begin the process of consolidating your debt, list your various debt accounts and total up the balances. Now you know how much you need to borrow to consolidate everything.
Next, compare your options for a debt consolidation loan:
If you're a homeowner, you may be able to refinance your mortgage or use a Home Equity Loan to consolidate your non-mortgage debt.
Balance transfer credit cards usually offer a one-year or other introductory period 0% interest rate. If you know you can pay off the balance within that period, it may be worth moving one or more credit card balances to a new card. (Learn more about credit cards in Rockland County and Bergen County)
Unsecured personal loans can be a good option if you're not able to use your home equity. While unsecured loans will generally have a higher interest rate, it may still be lower than the average credit card rate, for example.
Finally, apply for a debt consolidation loan. The process is similar to applying for other types of loan, except you'll need to share with your lender the debt accounts you plan to pay off with the new loan. Your lender may pay them off directly or require another form of proof to make sure you actually consolidate your debt instead of using the loan for another purpose. Feel free to contact us with any questions you have about the process.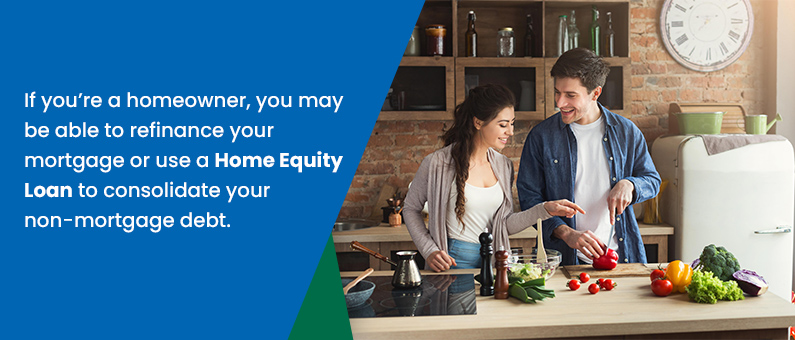 How to Consolidate Student Loan Debt
Average student loan debt is $30,931 in New York and $32,247 in New Jersey, according to Debt.com. Furthermore, many student loan borrowers carry that debt across multiple loans that they took out over the course of college. Consolidating student loan debt is a popular way to simplify your repayment process and potentially save on interest.
To consolidate your student loans with Palisades Credit Union, simply fill out our quick and easy student debt consolidation online application.
How to Consolidate Credit Card Debt
Credit card debt is another popular type of debt for consolidation. In New York, the average credit card debt is $8,764; in New Jersey it's $9,454. If you're struggling with your credit card debt, we can help. Here are some tips to get you started with credit card consolidation.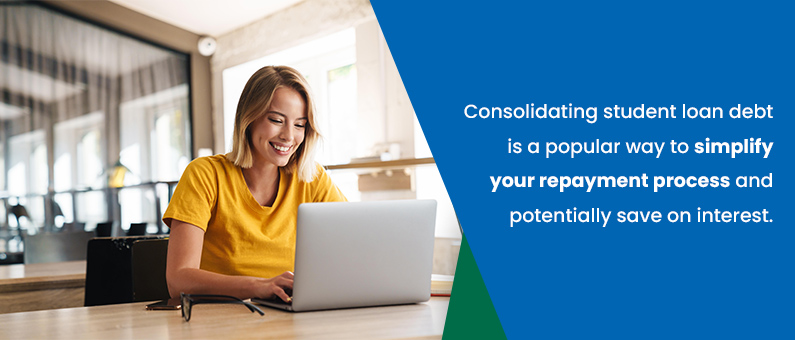 Palisades Credit Union can help you develop a debt consolidation plan!
Do you need help getting your finances under control? At Palisades Credit Union, our mission is to offer better banking and better solutions, including student loan consolidation and other types of personal loans for debt consolidation. To learn more about debt consolidation or to apply for a debt consolidation loan, contact our experienced Financial Sales Representatives or call 845-602-4242. Not a member yet? We have three locations in Nanuet, Orangeburg, and New City, and are open to community members in Rockland County, New York and Bergen County, New Jersey, as well as certain employees and union members. You can reach us by phone or online banking and apply for a consolidation loan online!
Want to improve your financial knowledge this year? Take our Financial Literacy Quiz.
Related Blog:
How to Pay off Your Mortgage Faster
« Return to "Blog"
Go to main navigation