How to Pay for College
How To Pay For College
The average cost of a four-year college in New York is $23,875 per year. In New Jersey, the average is $28,372. As college costs rise, so does the need for financial aid. Yet the most money first-year college students can borrow under the subsidized Federal Stafford Loan program is only $5,500!
What can you do when financial aid isn't enough to cover tuition and supplies? Here are some ways to help you pay for college.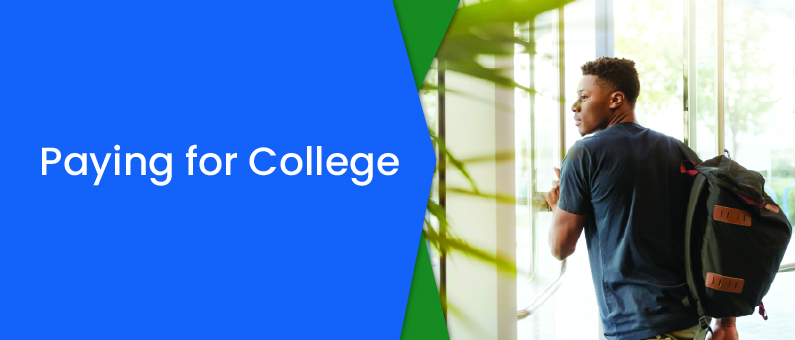 College Savings Plan (529)
If you are investigating how to pay for college for the coming year, it might be a little too late to rely on your savings plan now. If you are thinking ahead to your child's future, the sooner you can start saving the better.
What is a 529 Plan?
A 529 plan is an investment account for college savings and other qualified educational expenses for a designated beneficiary. Interest earned in a 529 plan is taxable when the money is taken out to pay for college. (or other qualified expenses) The earlier you start to save, the higher the tax-free earning potential of your college savings plan.
Under the 2019 SECURE Act, 529 plans can also be used to help with student loan repayments.
Scholarships and Grants
Unlike loans, scholarships and grants do not need to be paid back. Though not everyone can qualify for a scholarship or grant.
Scholarships are often based on academic or athletic achievements. Some scholarships may be restricted to a specific field of study. Scholarships are often awarded upon acceptance to a college or academic program. Though, you should still research other available scholarships based upon your activities or major.
Grants are based on financial need. Eligibility depends on household income (even if the parents are not contributing to the child's education cost). The tuition cost and the attendee's disability status can also have an impact on eligibility. Grant eligibility may be determined after filling out the Free Application for Federal Student Aid (FASFA.)
If you plan on attending college in New York, there are many scholarships and grants available to local students.
Private Student Loans
If you need more than what your savings, scholarships, and Stafford loans will cover, consider a private student loan through a local credit union.
What's The Difference Between Federal And Private Loans?
In the education world, colleges often refer to loans made directly by banks or credit unions as "private" or "alternative" loans to distinguish them from federal loans. Private loans are loans for college students that can be used alone or to supplement federal loans.
Federal Loans
• Financial aid forms required
• Loan limits determined by grade level
• Schools must authorize the loan amount
• Funds are sent to the school
• Satisfactory Academic Progress required to receive additional loans
• Standard 10-year repayment term
• Restrictions on how loan may be used
Private Loans
• Financial aid forms not required
• Higher loan limits
• Faster application process
• Funds may be sent to borrower
• Longer repayment terms
• Repayment options
• Less restrictions on how loan may be used (as for a computer for college or transportation)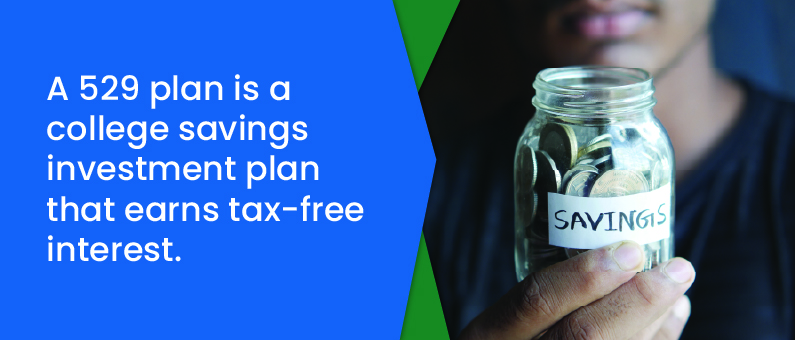 Applying For A Private Loan
Unlike most federal student loan options, you can apply for a private student loan at any time. At Palisades CU, we offer competitive student loan rates with many benefits including:
Competitive interest rates
Credit & Academic based underwriting
Cosigner Release
.25% interest rate reduction when you sign up for automatic payments
No origination fee for all student borrowers
Home Refinance or Home Equity Loans
Parents who want to pay for their child's education, or adults returning to school, have additional loan options. Working adults and parents who have established equity in their homes may be eligible to borrow against their home to pay for college. This can be done with a home equity loan, line of credit, or mortgage refinance.
Both a home equity loan and a home equity line of credit allow you to borrow money against your home's equity. When you take out a home equity loan, you borrow a lump sum to put towards college tuition and other college related expenses. When you take out a home equity line of credit, you are approved to borrow up to the specified loan amount, but you only draw the funds as needed. Take out money for one year, or semester at a time. Learn more about the difference between a home equity loan and home equity line of credit.
A Cash Out Mortgage Refinance is another way to borrow against your home's equity. A Cash Out Refinance gives you cash in exchange for higher mortgage payments. If you decide to refinance your mortgage to fund education, you trade student loan payments for a higher mortgage payment.
A home equity loan, line of credit, or mortgage refinance can be a viable alternative if student loans are not an option. Home loans come with closing costs. And unlike student loans, home equity loan and line of credit interest is not tax deductible in most situations.
Borrowing Against A 401(k)
Retirement plan holders can borrow against their 401(k) to pay for education expenses. One of pros of borrowing against a 401(K) is that you save on interest. Instead of paying the interest to a third-party lender, you pay it back to your own account. The interest rate is also lower than the average student loan rate. The downside is a 401(k) loan must be repaid within 5 years. If the plan holder loses their job, the loan must be repaid within 60 days of the job termination date.
Borrowing against your 401(k) should be a last resort. There are many other student loan options out there that don't include jeopardizing your retirement savings.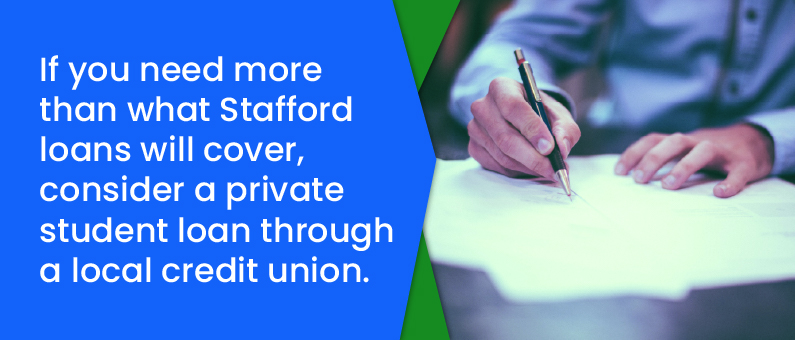 Get A Part Time Job
College may seem like a full-time job but working part-time to cover expenses can help lift a huge financial burden. If you are truly struggling to pay for college, consider taking a smaller class load or going to school part-time so you can work. Going to school longer can be worth it if it means you graduate with less student debt.
Get Ready To Pay For College
Looking for student loans in Orangeburg, New City, or Nanuet or have questions about your other options? Palisades CU provides financial services to members in Rockland and Bergen County. Learn more about our student loan programs or apply for a student loan today.
Not only can we help finance upcoming education expenses, we can also help consolidate existing student loans. Contact us today to learn more or apply online now for quick approval!
View current student loan rates in Rockland and Bergen Counties.
Find more student loan and college planning tips and information by following Palisades Credit Union! Connect with us on Facebook, Twitter, Instagram or LinkedIn.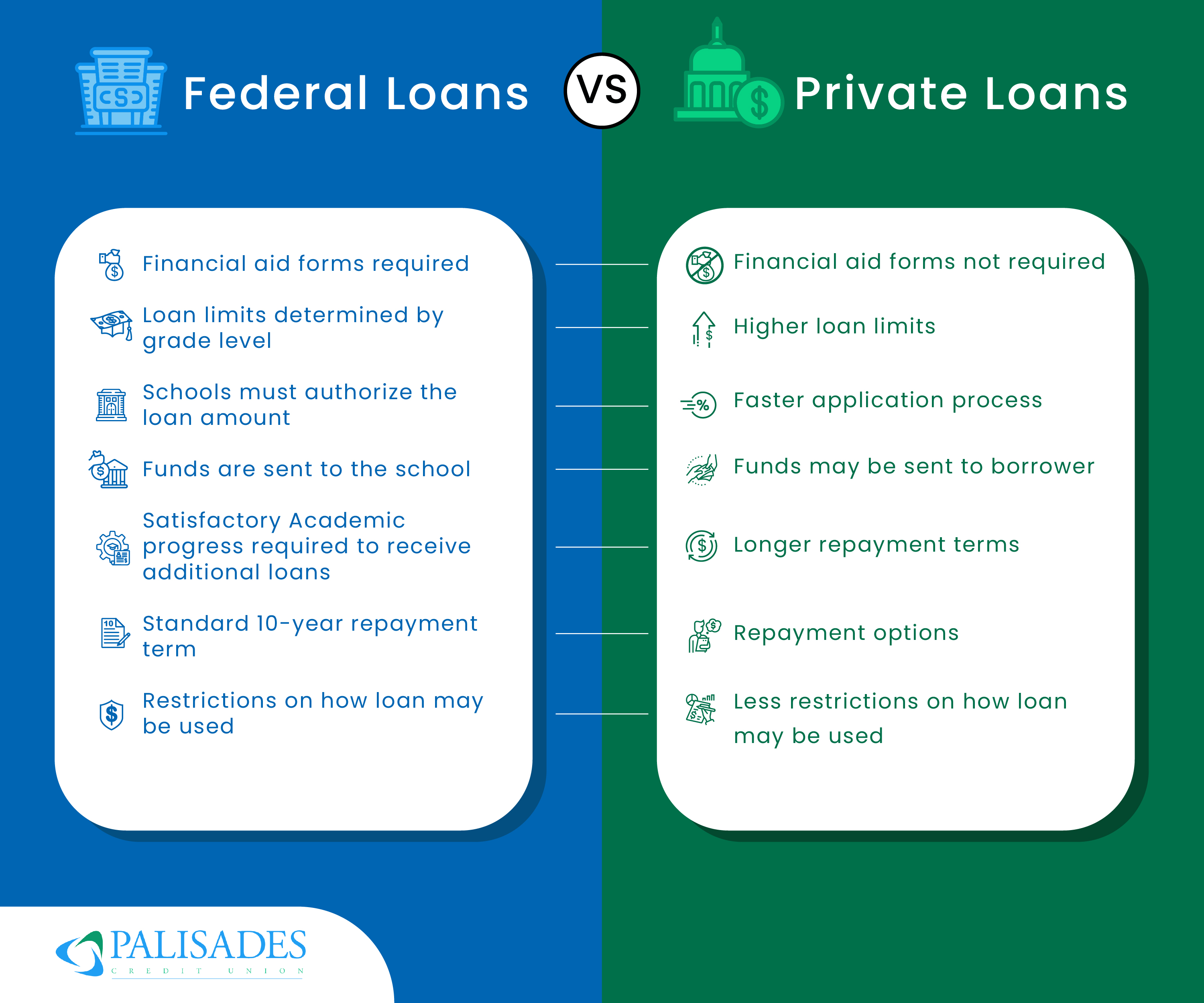 Related Content:
How Much Does College Cost And How Can I Pay For it?
Freshman Finances: Financial Essentials for First-Time College Students
Guide to Opening Financial Accounts for A Child
« Return to "Blog"
Go to main navigation