7 Reasons to Shop with A Credit Card This Holiday Season
Does holiday shopping stress you out? From dealing with crowds at the mall to worrying over whether you got the best deal, shopping for all the people on your gift list can feel like a lot of work. However, it doesn't have to be stressful. When used responsibly, a credit card offers many benefits for your holiday shopping. Keep reading to learn how shopping with a credit card can make your life easier this holiday season!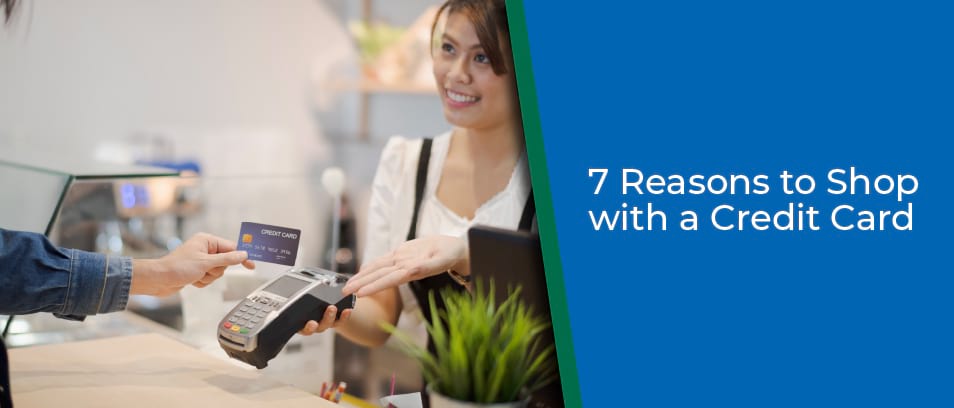 It's Safer than Carrying Cash
While the holiday season inspires generosity and festive spirits, it unfortunately also brings out scammers. If you shop in crowded stores with a wallet full of cash, you could become an unsuspecting victim of a pickpocket and lose all that money. On the other hand, stolen debit and credit cards can easily be canceled and replaced before the thief has a chance to make unauthorized purchases. Even if they do, you won't be liable for charges made on a stolen card.
Use our CardValet app to get mobile alerts whenever your card is used, set spending limits, turn your card on or off, and more!
Zero Fraud Liability
As mentioned above, credit cards offer fraud protection against unauthorized use. The Platinum Rewards Mastercard® from Palisades Credit Union offers zero fraud liability and Mastercard ID Theft Protection.
What is Zero Liability Protection?
As a Mastercard cardholder, Zero Liability applies to purchases made in-store, over the phone, online, or via a mobile device and ATM transactions. This means you will not be held responsible for unauthorized transactions if:
You have used reasonable care in protecting your card from loss or theft
You promptly reported loss or theft to your financial institution.
If you believe there has been unauthorized use of your credit card account and you meet the conditions above, rest easy knowing you have the protection of Mastercard's Zero Liability promise. Call us at 800-438-7415 to report a lost or stolen card or use our CardValet app to get mobile alerts whenever your card is used, set spending limits, turn your card on or off, and more!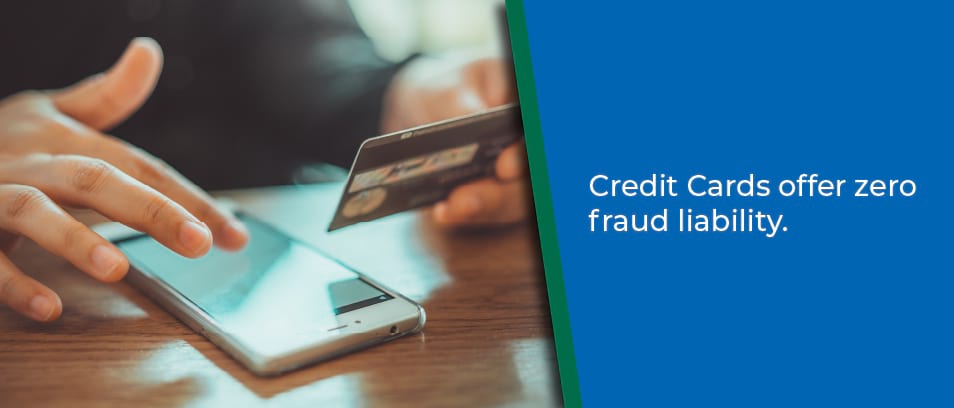 Extended Warranty Coverage
Another benefit of shopping for holiday gifts with your credit card is extended warranty coverage. This allows you to shop in advance with peace of mind, knowing that your recipient can still enjoy warranty protection on their gift.
What is Extended Warranty Protection?
The Extended Warranty on our Platinum Rewards Mastercard® doubles the original manufacturer's warranty up to a maximum of 24 months on most items. Filing a claim is easy—just call 1-800-MasterCard.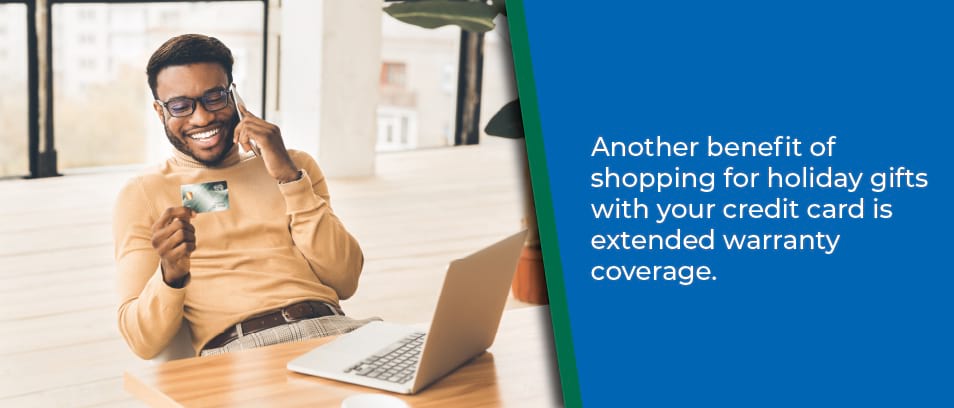 Earn Rewards or Cashback
When you use a rewards credit card for your holiday shopping, you earn points that can be used for a variety of purchases such as travel, merchandise, and gift cards. You can also opt for cash-back to reduce your statement balance, saving you money on your total holiday spending. When you pay with cash, you don't earn rewards points or cash-back. If you're going to do a large amount of shopping anyway, why not reap the rewards? Having one reward credit card to use for all or most of your purchases is also better than signing up for retail-branded credit cards, which don't offer points or cash-back rewards.
After the holidays, continue to use your rewards credit card for regular purchases throughout the year and save your points or cash-back to use for next year's holiday shopping.
Go Home For the Holidays
If you're traveling for the holidays, redeem your rewards points for plane tickets, hotel rooms, and rental cars. Your Platinum Rewards Mastercard® also offers benefits for travelers such as Baggage Delay Insurance, Trip Cancellation/Trip Interruption Insurance, Auto Rental Collision, and Travel Accident Insurance.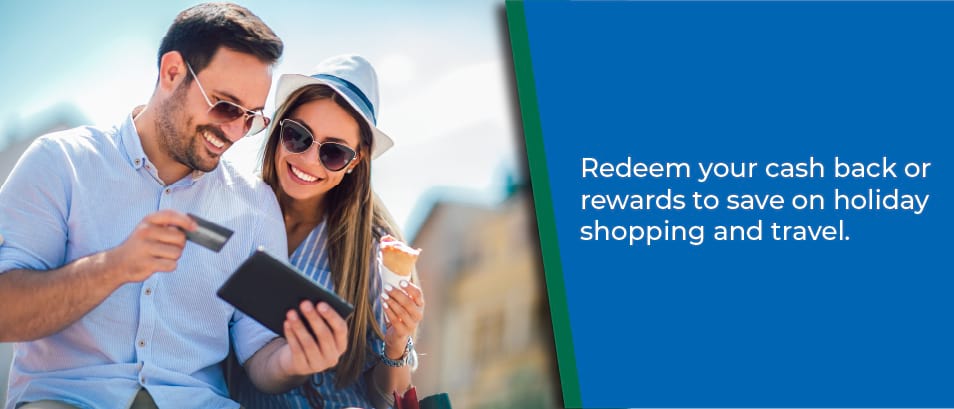 Pay Without Taking out Your Wallet
Another advantage over cash is that you don't even need to take your wallet out. Simply add your credit and debit cards to the digital wallet app on your mobile phone or smartwatch and you can pay with a flick of your device wherever contactless payments are accepted. A mobile wallet is a convenient way to pay that also adds security by not directly revealing your card information.
Build Your Credit
Using a credit card responsibly can help you build your credit. Using your card responsibly means making on-time payments, not charging more than you can afford to pay back, and not carrying a balance. For more tips on credit card usage, check out our blog article on "Credit Card Do's and Don'ts."

Apply for the Platinum Rewards Mastercard® from Palisades Credit Union!
Looking for a rewards credit card, cash back credit card, balance transfer credit card, and/or no annual fee credit card? Apply for our credit union credit card online or visit your nearest PCU location in Nanuet, New City, or Orangeburg, NY. Palisades CU servers qualified residents of Rockland County, NY and Bergen County, NJ.
Related Blogs:
Buy Now Pay Later vs. Credit Cards
Budgeting For the Holidays During Inflation
How To Pay off Your Holiday Spending

« Return to "Blog"
Go to main navigation