Holiday Survival Guide
From worrying about your waistline to your wallet, there are many reasons the holidays can be stressful.
Thankfully, we've put together a Holiday Survival Guide that gives you weekly action items. So, you can spend more time celebrating with friends and family this holiday season.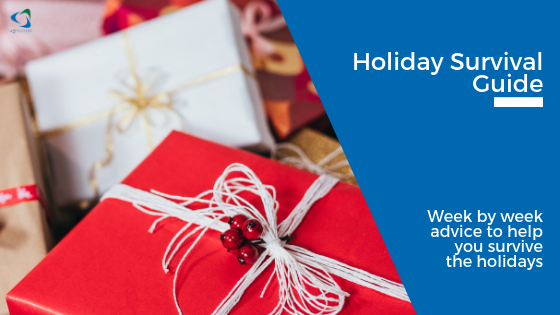 Four Weeks Out
Make a Budget — We have plenty of resources to help you make a budget that works for you. Choose the best budget for you or if you need help with the basics learn how to budget. Don't forget to include not only gifts and travel in your budget, but small purchases that can add up like a new outfit and an uber for the holiday office party. Leave yourself some wiggle room for unexpected purchases too!
Set Limits — Once you know your budget set firm dollar limits for each expense. Create tiers of people you're giving gifts to, such as family on level 1, friends and co-workers on level 2, and garbage men, teachers, and others on level 3. Assign each level a dollar amount that will work for your budget.
Coordinate Travel — If you're traveling for the holidays, now is the time to finalize those plans. Take advantage of Black Friday and Cyber Monday deals if you can and avoid booking fees by purchasing plane tickets on airline websites.
Three Weeks Out
Start Shopping — Begin making purchases for holiday gifts and pay in cash. Studies have found that people paying with cash will spend less than those paying with card. Buying with cash will also make you appreciate your purchase more! If you do pay with card try shopping online and taking advantage of PCU's Love to Shop Perks and other credit card shopping benefits.
Get Creative — If you're crafty or have a special skill, use it to make gifts! Give people a hand-made item, give your services if you're handy around the house, or offer your time as a babysitter.
Shop Around — Once you know who you're shopping for and what the budget is, compare prices to make sure you're getting the best deal. And don't forget to shop around for things like postage and shipping rates, to make sure getting your gifts to their recipients doesn't blow your budget.
Two Weeks Out
Buy in Bulk — Save some money by buying gifts for your kid's teachers and co-workers in bulk. Crowd pleasers like a bottle of wine can often be discounted when you buy a certain number of bottles from a retailer, and if you're making gifts, buying in bulk can save you lots!
Get What You're Owed — Don't forget about any money you may be owed in the end of year rush! This can be from a flexible-spending account, travel and transportation reimbursement from an employer, or even end of year bonuses from insurance providers for doing things like going to the gym. Make a list of any money that may be owed to you and claim it now.
Start Shipping — Avoid paying higher fees for last-minute shipping costs by getting your gifts in the mail now. If you wait until the week before the holidays not only will you spend more time in line at the post office, but you risk your gifts not arriving on time too!
One Week Out
Last Minute Details — It's inevitable that there may be some last-minute gifts you forgot or just weren't expecting to give. This is when the wiggle room in your budget comes in handy. Review your budget this week and see where you stand to make sure you're not overspending at the finish line.
Know When to Stop — Once you've gotten a gift for everyone on your list, it's time to stop shopping. Avoid the mall and other stores where there would be temptation to make another purchase you simply don't need.
Don't Stress — With the holidays so close it can be easy to get overwhelmed with your to-do list or sticking to your budget. Take some time to do something relaxing for yourself this week and check out our tips to take the stress out of finances.
With help from PCU you can enjoy the holiday season while still maintaining control of your finances. We have lots of options to help you save this holiday season. Contact us today to learn more about how we can help you over the holidays!
Related Blogs:
How To Pay off Your Holiday Spending

« Return to "Blog"
Go to main navigation